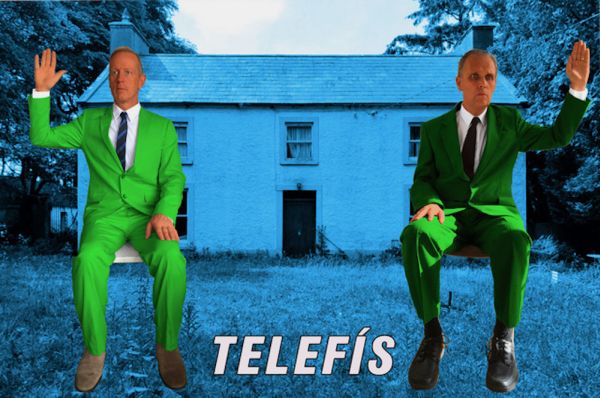 7 December 2021
Telefis – Photo Credit: Jacknife Lee
All the way from London comes the new feel-good single (with glowing video) for one of the most interesting electronic music artists to emerge on the indie music scene this year. It is also not every day that two iconoclastic artists team up with a world-class music video director, so today we will explore the outcome of that audio-visual relationship.
Producer/ mixer/ composer Garret "Jacknife" Lee (U2, R.E.M., Modest Mouse, The Cars, The Killers, Snow Patrol, Crystal Castles, Editors, Taylor Swift) and singer-songwriter Cathal Coughlan, frontman of Microdisney and The Fatima Mansions and acclaimed for his many solo works (including his latest solo album 'Song Of Co-Aklan') present 'Falun Gong Dancer' – their new single under the moniker Telefís (the Irish Gaelic word for Television, pronounced Tele-feesh).
"Falun Gong Dancer' is the latest taste of their debut album 'a hAon' (Number One), which will be released on February 11 via London-based Dimple Discs, following up the 'Mister Imperator' EP, which includes the original version, the 'Mister Imperator (Dub Mix)' and two other remixes.
In contrast with the first two Telefís releases, 'Falun Gong Dancer' is a very stark arrangement, featuring a cyclical, meditative melody over dissolving piano chords and synth pulses, heard in episodic passages which take the listener on a tour of the world – from London, to the US-Mexico border, to the cities of Australasia – in the company of a hapless narrator. Occasional interludes of electronic harmony hint at either a tentative intimacy, or at an isolation which is final and absolute – it remains ambiguous.
"Each episode describes a further incident in his romantic pursuit of the dancer of the song's title, as he (over-?)identifies with her perceived struggles, and hopes to find common cause with her – for his own depleted condition to become their common cause, perhaps. Implicit is the narrator's ticking internal clock, which must surely count down to zero before long. Time is out of joint, and the narrator has been repelled by or expelled from his natural habitat, although we do not learn where his home is or was," says Cathal Coughlan.
The accompanying video was created by American illustrator, photographer, and film director Matt Mahurin (Peter Gabriel, U2, Tom Waits, REM, Tracy Chapman, Sting, Bonnie Raitt, Ice-T, Metallica, David Byrne, Joni Mitchell), who notes, "Just as a unique and powerful piece of music can transport the listener to new and thrilling emotional territory, to be given the opportunity to create the visuals for such a special song left me no choice but to discover images and inspiration that were unexpected yet timeless. The daring expanses of silence, yearning vocals, and compelling lyrics gave me the gift of exploring the essential of the earthly and the curiosity of the cosmic. It's an honor and joy to be trusted by Jacknife and Cathal to help them share their amazing music."
With Jacknife now based in Los Angeles and Cathal based in London, the two spent 2020 trading ideas and musical files during lockdown, hatching plans for a satirical, mischievous examination of Irish history and the pop culture of their lifetimes, what the two have labelled "a corrosive nostalgia".
On the musical side, Jacknife Lee uses his extensive sonic palette to create an irresistible mix of cinematic instrumentals and electro-funk backdrops full of melodic, squelchy synths and thunderous bass-lines, often with a cheeky nod to electro-pop history. He has also created remixes for such artists as Radiohead, U2, Blur, Run-DMC, Pink, Future Sound of London, Christina Aguilera, TLC, Missy Elliott, Busta Rhymes, Eminem, The Raveonettes, Kraftwerk, New Order and Kasabian.
He explains: "Silence can cause tension. Even when recording the song, the pausing became both comforting and frustrating. When I listen to the song now I can't help but try to alter time, trying to force the next line to come sooner, willing it earlier, but it doesn't and won't arrive when I expect it. It always comes a little bit late. I'm active in the space. When the line does come it's soothing and beautiful but the lyric is complex and doesn't resolve anything. And then the silence again. Is the song long? Is it short? It confuses my already recently disturbed perception of time."
The forthcoming 'a hAon' album includes 13 highly unique tracks – part celebration and part satire – in which Telefís explores nostalgia, as experienced in the present day, by natives of what was formerly a culturally sealed-off small country on Europe's very fringe. It also points a critical finger at today's global hierarchies, an inspiration for the strange characters and caricatures that spring from Coughlan's fertile imagination. Stark forms of imagery, bizarre to the modern eye and ear but treated as routine in the pre-globalization world, are pushed at the listener and viewer.
'Falun Gong Dancer' can be downloaded HERE. The 'a hAon' LP will be released on February 11 on CD and vinyl (both with a two-sided lyric sheet insert). Physical pre-orders are now available HERE and the digital release HERE.
The minimalist and introspective "Falun Gong Dancer" is a stark beauty with room for empty space, but also for vibrantly yearning vocals and softly pressed keyboard notes that follow the path of the vocals.
Brief, but potent images fill the music video with added meaning: the map on a car hood that blows away in the breeze; a half-empty chocolates box; a dainty bird hesitantly picking a seed from an open palm…
Also catch up with the duo's initial shenanigans here:
Telefís
Website
Facebook
Bandcamp
Twitter
Instagram
YouTube
Spotify
Apple Music