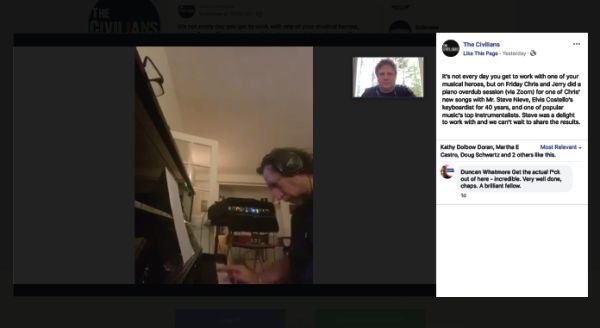 7 December 2021
The Civilians Facebook page screen capture: Steve Nieve recording piano solo as Chris Livesay watches the master at work- Photo courtesy of The Civilians
The Civilians weave of straight-up rock 'n' roll, power pop, psychedelia, folk, punk, and country, and have been described as "the perfect mix of the '60s, the '90s, and right now."
The Seattle band is currently completing work on their third full-length album, Lush and Tumble, for release in spring 2022.
Recorded in Seattle's Earwig Studios, Lush and Tumble is produced by renowned engineer Don Farwell and Civilians' singer/songwriter/guitarist Chris Livesay. He's joined by Kam Gurol (guitar), Doug Schwartz (guitar), Jim Jeffreys (drums), and Jerry Cohen (bass).
The album features guest artist Steve Nieve (piano, organ, Mellotron), Elvis Costello's longtime keyboardist, on several songs, including "Harder than the Truth," and additional backing vocals from Don Farwell.
"Harder than the Truth" is a dark, but beautiful cautionary tale about betrayal and the dangers of self-delusion. "The guy in the song is like the coyote in those old Roadrunner cartoons," says Chris Livesay. "He's run off the cliff but doesn't realize it yet."
"Harder than the Truth" features Steve Nieve on keyboards, including a gorgeous piano solo that perfectly complements the song's haunting atmosphere. The band was thrilled to find out that Nieve was a fan of their first two albums (2019's Over the Bar and 2020's Straight In / Straight Out). So, they sent him a demo of "Harder than the Truth," and the collaboration unfolded from there.
Big Takeover is pleased to host the engaging, time- and place-melding performance music video for the heartfelt "Harder than the Truth."
The video was shot on a soundstage with The Civilians playing in front of a LED wall projecting a photo-real scene. As the song opens, the band appears to be playing on the Seattle waterfront at night. The illusion is shattered when a call alert pops up on the screen.
The band 'answers' the call and Steve Nieve appears, takes over the entire screen, and plays the piano solo from the music room of his home in France.
Nieve wanted to be in the video, but the pandemic prevented any sort of in-person collaboration. So the band came up with a creative way to incorporate his footage (an approach that also reflected their virtual collaboration with Nieve).
The video itself was shot as one continuous take—a camera pullout with no cuts that slowly reveals the band's true location.
Bandcamp
Facebook
Twitter
YouTube