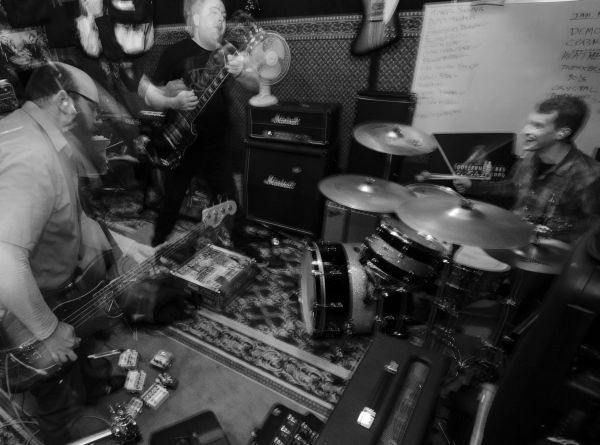 31 March 2021
Songs For Snakes – Photo Credit: Andy Chapman
Songs For Snakes are a melodic indie/punk band from San Francisco in the vein of bands like Jawbreaker and Husker Du.
The band was formed in 2005 by Bill Taylor (Peppercorn, Shoehouse) and has continued to release energetic and catchy tunes through the years with multiple lineups.
The current lineup for this release features Bill Taylor on guitar, keyboards and vocals, Justin Castilla on bass and backing vocals, and Steve Delany on drums and backing vocals.
The band follow up 2018's Crystal Vapour Figure with their 5th full length, entitled Forced Pleasantries, which has a darker and smoother feel with the addition of more melancholy shoegaze elements
The band continue to mix warm melody, raw power and rich rumination to mesmerizing effect. Steve Delany's drums and backing vocals are joined to Justin Castilla's thick and subtle bass lines to form a strong foundation over which Bill Taylor layers multiple vocal harmonies, guitars, and organ sounds.
The recording for the new album started in February 2020 at Sharkbite Studios in Oakland, CA with Scott Evans of Kowloon Walled City engineering. The recording was finished by Bill Taylor at Snake Studios in San Francisco between surgery and chemotherapy treatments for stage 4 colon cancer.
Some of the darkness that Taylor faced during this time found its way into songs like "Her Descent," "Symphonic Deterrent," and "Forced Pleasantries."
The album's subject matter touches upon the chaos of the last four years, childhood trauma, and the passing of Taylor's parents in the last year. During the song-writing period for the album, the band was influenced by bands like Sandrider, Swervedriver, DIIV, Hum, Catherine Wheel, and Ride.
With the release of this album the future looks bright for Songs For Snakes. Veteran members Paul Furusho (drums) and Nick Waters (bass) are returning to the fold and the band is already working on new songs. They are looking forward to playing the new material at shows in the coming year as venues open up again.
Bill Taylor, the songwriter/frontman of Songs For Snakes, kindly took the time to detail the tracks on Forced Pleasantries:
"Confusion is Control"
"The title and chorus of this song were inspired by the chaos during the last administration and how every day was exponentially worse than the previous day. The break down riff reminds me of the Sesame Street song. Do you hear it?"
"Hold Fire"
"The music was inspired by Under the Bushes, Under the Stars era Guided By Voices and the lyrics deal with my mothers' personality change due to dementia and memories from childhood."
"Outdrive Your Lights"
"The music reminds me of one of my favorite bands Snuff and the lyrics focus on childhood trauma and the way that effects everything I do as an adult. The band's first use of palm-muting a la Jawbreaker."
"Symphonic Deterrent"
"The title came to me after being blasted by classical music outside of Burger King in San Francisco. This is an obvious attempt to weaponize the music to keep homeless people away because the volume is insanely high and the music has an ear piercing amount of treble. I think the bridge of the song was inspired by Tame Impala's "Lucidity." This might be our "Stairway"."
"A Vapid Life"
"The music makes me think of the Buzzcocks a bit with Simon & Garfunkel backing vocals and the lyrics are inspired by influencers."
"Forced Pleasantries"
"The music is kinda like a heavier Built To Spill with some shoegaze tossed in. A jazzmaster was caressed during the creation of this song. The subject matter focuses on my realization that I did not really know my mother."
"Her Descent"
"A punky tune with Justin Martin of If It Kills You contributing backing vocals. Trauma, Trauma, Trauma!"
"If Only"
"This song was writing for a Gibson double neck guitar to take advantage of the 6 string neck ringing sympathetically while I play the 12 string. My Bloody Valentine worship on full display here. The lyrics are inspired by a co-worker who made me laugh."