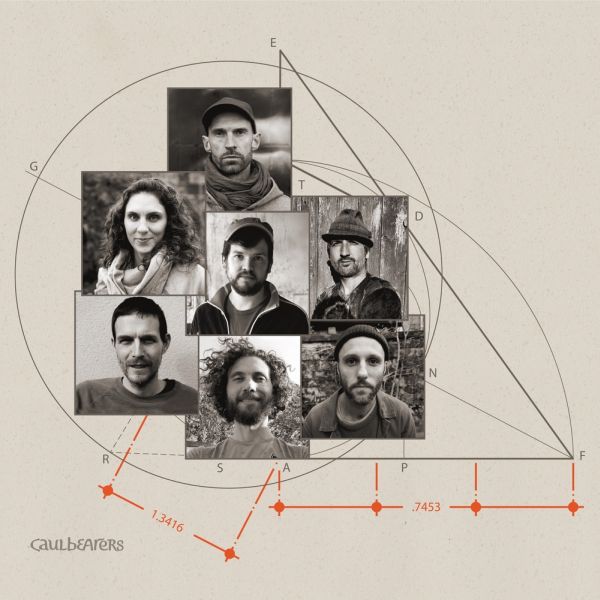 30 March 2021
Caulbearers – Photo Credit: James Stirzaker
A few months ago, we showcased the music of British neo-folk artist Ruth Blake with her single 'Brave Ships'. Today we are pleased to present a beautiful track that she also lends her voice to, albeit as a backing vocalist this time around. Caulbearers is the brainchild of producer singer-songwriter Damien Mahoney. Their new single is called 'Burst Through The Borders' and we've got the premiere today.
Formed in 2007, Caulbearers are a Manchester-based collective of musicians with contributors hailing from around the UK and Europe. A DIY ethic has coursed through the band's work, including releases, design, production and much of the recording process. This hybrid ensemble is known for blending diverse musical styles and fusing them together on stage, weaving nujazz and folk with elements of hip-hop, funk, dub, soul and afrobeat.
As for the current single, 'Burst Through The Borders' is such calming and grounding music, this is a welcome introduction to Caulbearers, whose line-up and even style has undergone a metamorphosis over the years.One could imagine this is what it might sound like were you to cross Bill Laswell and Massive Attack with Laura Marling and Mojave 3.
The delivery and production here are stellar, believable and inspiring. With a tandem of female and male vocals and lyrics that are heartfelt, hopeful and genuine, this impressive offering gives us something to look forward to with a B-side that also features Ruth Blake, this time on lead vocals.
This song is influenced by modern, urban existence and celebrating the sacred in the everyday and the supposedly mundane. Initially written in 2017, the song's lyrics take inspiration from timeless texts by authors such as Idries Shah, Kahlil Gibran and Neil Douglas-Klotz while simultaneously dreaming of a beautiful revolution occurring in the markets, pubs, boardrooms, hospitals and schools of our towns and cities.
"As a species, we have so many difficult challenges to find solutions for, that it can feel overwhelming to know where and how to start. I wanted to write something that had a total faith in the possibility of change, in the ability to transcend the complexities of our modern lives with simplicity. The song imagines this energy of love flooding through the world and transforming the institutions and purposes of our societies and our lives. By its nature, it dismantles the barriers that cause hardship for so many and the borders that separate us from each other. I wanted to write something that included everyone and everything. I was imagining this powerful force, reaching and filling up all these places and the people in them, leaving no one behind," says Damien Mahoney.
Mixed by Seadna Mcphail (Badly Drawn Boy, Jah Wobble, Everything Everything, I Am Kloot, Happy Mondays) and mastered by Jim Spencer (New Order, Johnny Marr, Charlatans, Factory Floor) at Eve Mastering in Greater Manchester, this track features numerous renowned musicians. Among them are drummer Howard Jacobs (808 State, Beth Gibbons, Homelife, Toolshed), guitarist Anton Hunter (Beats and Pieces Big Band, Article XI), cellist Stefan Skrimshire, bassist Nicholas Malin, and additional acoustic guitar by Andrew Mucha. Ruth Blake joins Damien Mahoney on vocals, while acclaimed composer and polyrhythmic pioneer Edward Chilvers contributes piano.
"This song is concerned with the macro and the micro of our experience: The wider, universal picture and the tiniest detail, with a gaze of love and compassion for all and a much needed sense of humor for the cosmic joke that we find ourselves part of. Out of states of difficulty and uncertainty sometimes come the more positive songs! The words can be the healing themselves, a reminder of a way out or through; that all is not lost, that transformation and renewal are possible," says Mahoney.
Caulbearers' music and sound is influenced by an eclectic range of artists, including Bill Laswell, Toots & The Maytals, Massive Attack, Radiohead, Curtis Mayfield, Talking Heads, Andy Weatherall, Brian Eno, Lee Scratch Perry and The Specials.
'Burst Through The Borders' will be released on April 29 and can be pre-ordered from all digital platforms, including Bandcamp (where there are 3 tracks available vs. the 2 downloadable everywhere else).
CREDITS
Written, produced & edited by Damien Mahoney
Rhythm and guitar tracks recorded at Airtight Studios in Manchester
Vocal & instrument recording by Damian Mahoney at his 'Padded Cell' studio
Mixed by Seadna Mcphail
Mastered by Jim Spencer at Eve Mastering in Greater Manchester
Single cover artwork by James Roper
Photos by Jan Schoof. Collages by James Stirzaker
While you are here, please also enjoy the previous 'Over Comes A Cloud' single from Caulbearers, which cemented the fruitful creative relationship existing between Caulbearers and Ruth Blake:
Demonstrating the wide spectre of genres Mahoney is capable of covering, now compare his funky background
Caulbearers
Website
Bandcamp
Facebook
Instagram
Twitter
SoundCloud
YouTube
Spotify
Apple Music
Ruth Blake
Website
Bandcamp
Facebook
Twitter
Instagram
YouTube
SoundCloud
Spotify
Apple Music