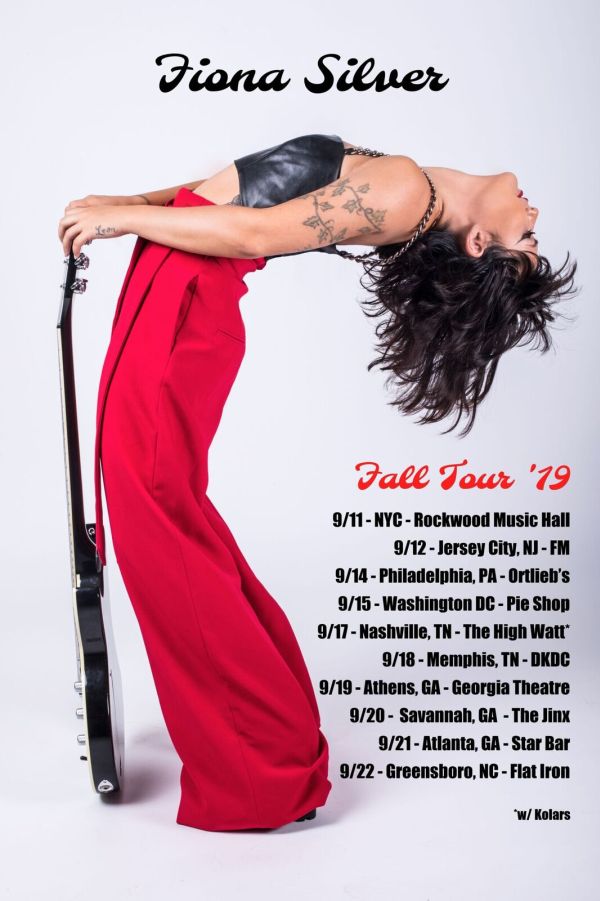 12 September 2019
Fiona Silver tour poster
New York City born-and-raised singer, songwriter, and guitarist Fiona Silver is a rock n roll vixen on the rise, whose evocative artistry will keep you hooked and longing for more. Silver is a genre-defying musician who experiments across the board, from killer blues riffs, to Blondie-infused rock, and powerhouse soul. Her music unfolds like grainy film noir vignettes, captivating narratives of raw emotionality.
This week, Fiona is releasing her latest single, "Dark Blue" from her forthcoming EP, Hostage of Love. Silver playfully uses her lyrics to paint a picture of heartache over this feel-good garage-pop hit anthem, complimented by a classic pop hook that will have you swooning.
"Dark Blue" Pre-Save Link Pre-Save on Spotify now.
Since the release of Silver's critically acclaimed debut album, Little Thunder, Silver has been touring extensively, honing her skills and vision on the road and creating this EP, what will be her most captivating work yet. Fiona will take the stage again this month throughout the north and southeast regions for a Fall Tour in anticipation of her new single.
About this single, Fiona shared, ""Dark Blue" is a metaphor for the ocean of emotions I've felt so many times in life. It's an ironically feel-good song about being heartbroken and trying to hold on. In a way, it can all be summed up by one line in the song, "Baby I'm drowning, why don't you help me swim? Dark Blue…"
Legendary Rock N Roll DJ Rodney Bingenheimer (who broke bands like Joan Jett and the Ramones) has been a vocal advocate for Fiona while he was at KROQ calling her "beyond amazing" — and true to form he just premiered "Dark Blue" on his Sirius XM show on Underground Garage.
FALL HEADLINING TOUR DATES*:
September 11 New York, NY Rockwood Music Hall
September 12 Jersey City, NJ FM
September 14 Philadelphia, PA Ortlieb's
September 15 Washington D.C. The Pie Shop
September 17 Nashville, TN The High Watt (*supporting Kolars)
September 18 Memphis, TN DKDC
September 19 Athens, GA Georgia Theatre
September 20 Savannah, GA The Jinx
September 21 Atlanta, GA Star Bar
September 22 Greensboro, NC Flat Iron
Website
Facebook
Instagram
YouTube