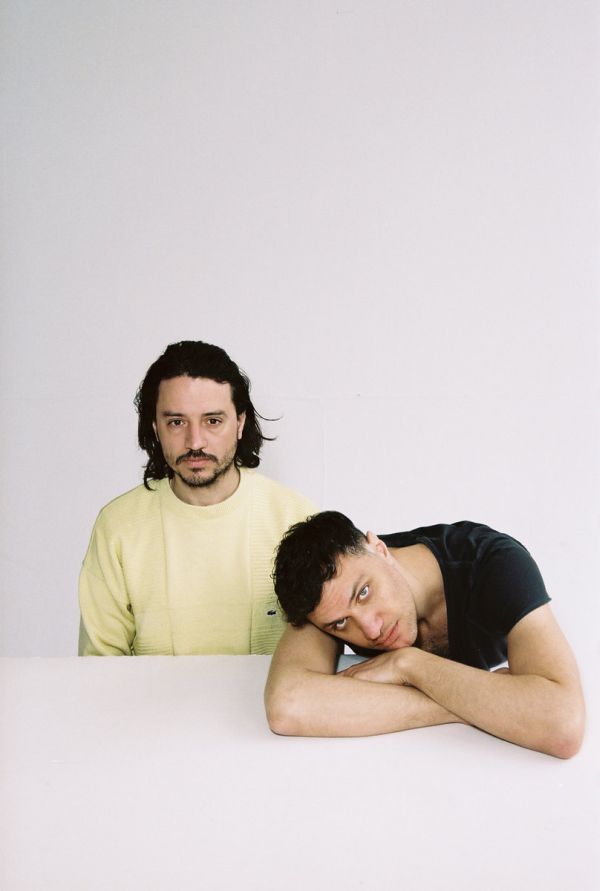 12 October 2020
Egopusher – Photo courtesy of Egopusher
In just a few short years, the Swiss duo known as Egopusher have established themselves as purveyors of a sound that seamlessly fuses their silver-screen score aspirations with a love for dark, cavernous spaces rigged with tight sound systems and filled with pulsating, sweaty bodies.
This past Friday, they released Beyond, their second full-length album, their first on Quiet Love Records. The record features only six songs, which sounds a bit short, but in actuality is more than plenty. With this material, Tobias Preisig (violin, synths) and Alessandro Giannelli (drums, synths) decided to push their sound into a starker, deeper and edgier space.
The sweeping arrangements – full of strings and arpeggios – which defined them on debut LP Blood Red, are found all over these songs, but somehow they just come off more incisive; more confident. The rhythm section is more pumping and definitely exhibits a more pushy, mildly aggressive attitude, unprecedented by anything from their previous output.
We are happy to feature two songs from Beyond, each of which represents one end of the musical spectrum to be found on this record. The first song is the bass heavy, side-chained little beauty called "Sheen." It's the closing song on the record, and its definitive, uncompromising punchline.
It's preceded by a contemplative ambient / neoclassical composition dubbed "Faint". The piece is pure atmosphere, ready-made for the big screen, possibly a scene where humanity is no longer, and what's left of the Earth is something vast, empty, and ice-cold.
Beyond, is a great addition to the Egopusher catalog, and a big leap in the development of their uncanny sonic language, and also proof that they are serious about their craft and where they are heading.