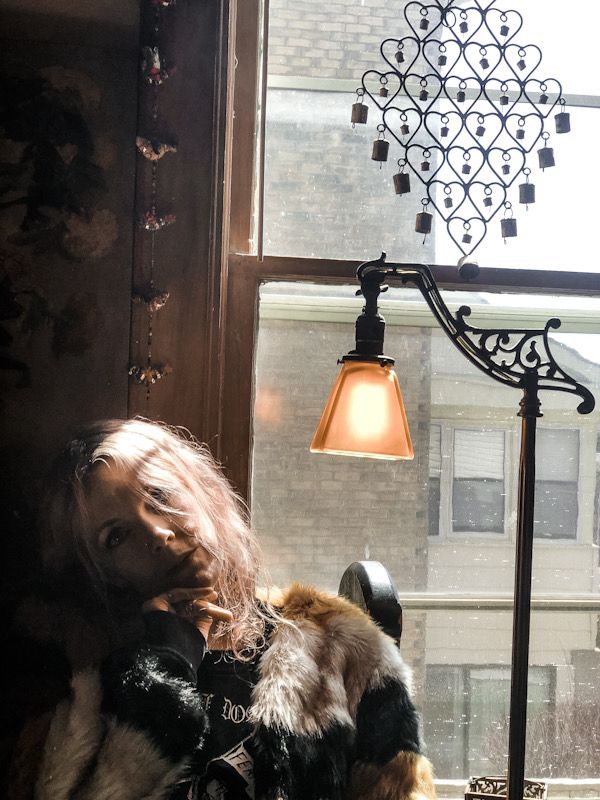 9 October 2020
JEEN (AKA Jeen O'Brien) – Photo courtesy of Jeen O'Brien
Canadian independent rock/pop artist JEEN is releasing her latest album, the self-titled JEEN, today and Big Takeover is pleased to host the premiere of the vibrantly dynamic to gently introspective LP in its entirely.
Jeen O'Brien started in the music industry busking on Queen West in Toronto at 16. It was there she and her band were scooped up by the Jeff Healey team and we're managed by them for the half decade that followed.
After two subsequent solo albums, O'Brien was invited to share lead singing/song-writing duties on Brendan Canning's (Broken Social Scene) Cookie Duster album, When Flying Was Easy.
She then dropped her last name and self produced 3 more solo albums in succession (Tourist, Modern Life, Gift Shop) under the moniker JEEN.
Those LPs garnered regular radio rotation and much deserved attention from the likes of NPR, Billboard, and Buzznet, to name a few high-profile outlets. O'Brien's songs have been used extensively in ad campaigns alongside many TV/film placements (MTV, Google, Master Card, and more).
O'Brien's latest offering is a 12-song full length co-produced by herself and Ian Blurton (Change of Heart, C'mon, Future Now). Recorded at Pro Gold in Toronto in 2019, this album features Ian Blurton on lead guitar, Stephan Szczesniak on drums, Ben O'Brien / Brendan Canning on bass, Jeff Heisholt on synths, and a cameo by Kevin Fox on strings.
JEEN may be her strongest album to date as O'Brien breaks out of the quieter singer-songwriter mold and goes for a fuller and richer sound with the help of the guest musicians. O'Brien relates, "I was so happy to have full production on this record after doing it by myself for so long. There's a shit load of drums and guitars and synths, and it was really great to make a big record like this. I could never do that by myself."
That big, sweeping sound is heard right from the start, with album opener "Friends" ringing out with bright guitar grind and exclamatory vocals. Next number "Anything You Want" gets dreamy, with the sporadic extended pull of strings and airier sighs from O'Brien, but there's still a sharper edge that drives the song.
"For Your Love" is a fiery blast of indie rock with blazing guitar lines, emphatic drum strikes, groovin' bass line, and O'Brien's passionate cries on the chorus sections. An ominous bass line winds through "Harbinger" that melds the quiet and loud, with floating vocals and high-register synth notes dissipating into the atmosphere.
The romping "Idols" goes full synth-pop with a bouncy beat and New Wave flavor, yet still adds a gritty rock taste with O'Brien's bolder vocals. "Monsters" is a sweeping banger, while the sing-song "Weekend" sways with electronic pop sweetness.
"Haunted" flows on a reverberating bass line, percolating percussion, steady drum beat, and percussive swells and dips. Bittersweet album closer "Molotov" starts off with a spare acoustic guitar intro, then rises into a heightened reverie with gleaming guitar chime, sparkling synth notes, soft cymbals shimmer, and O'Brien's wistful rumination.
O'Brien reveals insightful details about JEEN, divulging, "I wrote the first song on this album while my previous record, Gift Shop, was being released in summer 2018. I've been trying to put albums out back-to-back, but no matter what, it always seems to take me two years in between releases. It's a long process, I guess, and this album has a lot of tracks."
"My goal was to get a label to put this out, but when everything got decimated in March I knew I couldn't wait around, so I decided to put it out myself and just make a new one for after the plague. I've never had a day job, so I have nothing to fall back on, so that's my inspiration… and I start going mental if I don't write songs, so that's sort of a more aggressive inspiration as well."
"[It's] produced by me and Ian Blurton… Before this album I had been making records pretty much by myself, just recording more lo-fi records in my attic and then getting a more professional mix before releasing. But when I got Ian on board to mix Gift Shop and help me record "Any Moment," things just clicked from there and I asked him if he'd help me produce my next album."
"I like Ian's vibe and we have some history now, which helps the process. We actually indirectly co-wrote some of the Cookie Duster stuff off [the album] When Flying Was Easy, but had never met at that point, so I demo'd all the songs at home, sent them to Ian, and we went into Pro Gold and blew it up for a few weeks in Feb 2019 ([and] added an additional batch of three [songs] a couple months later). I think we went in with about 15 to 20 songs and came out with 12. It's a pretty long record in a world of singles, so I hope people still like listening to albums."
" I've struggled with whether I should fall in line with more standard singer songwriter approaches but I always end up writing a bit too weird, I just drift too much…I guess its art after all and this is just how I like to make it. I put a lot into every song on this album, so did everyone involved, now all I can hope is that it resonates and makes contact, 'cause that's all there is really – That's the whole thing."
Facebook
Twitter
Instagram
Spotify