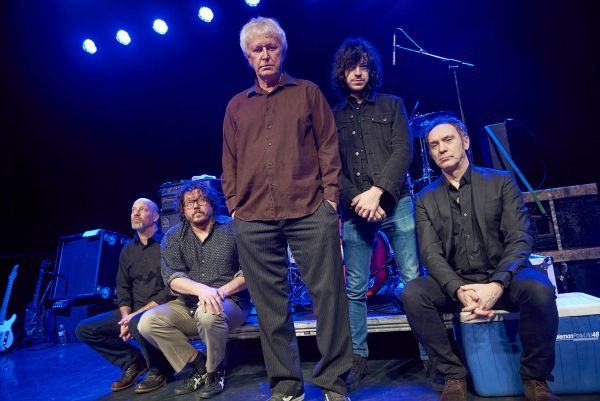 27 January 2020
Guided By Voices – Photo Credit: Tony Nelson
For the 5th anniversary program of Big Takeover Radio on realpunkradio.com, Jack Rabid featured the world premiere by Guided By Voices' "A Man Called Blunder", the second single from the band's forthcoming album Surrender Your Poppy Field. The LP will be in stores on February 20th and is available for pre-order now via GBV Inc.
And the Big Takeover online is excited to host the premiere of"A Man Called Blunder" as well by this legendary indie band founded by the prolific and terrific Robert Pollard.
Always a busy (musical) bee, Pollard is buzzing along this year towards the release of Surrender Your Poppy Field. The album follows up three, count 'em, three, acclaimed and stylistically distinct full-length albums in 2019.
The new album is a head-spinning tour de force with a bit of everything in the mix and is hands-down the most adventurous GBV album ever. There are lo-fi four-track tape recordings, as well as songs recorded with a single microphone in a basement, plus big-studio, fully-produced, hook-laden pop songs, and a LOT in between!
As exploratory and experimental as ever, Pollard and company are also as vital as ever, and "A Man Called Blunder" is just one tiny facet in the myriad nature of Guided By Voices.
This ear-catching track is a chugging indie rocker with a pushing bass line that underscores the rough guitar urgency, propulsive drumming, scintillating cymbals ticks, and Pollard's potently foreboding vocals. Pollard balefully warns, "…there is dread / like lightning before thunder…" in dealing with the repercussions of a man called Blunder. This is definitely a fitting song for these crazy and chaotic socio-political times.
TOUR DATES
Fri 4/3 Ottobar Baltimore, MD
Sat 4/4 Mr. Smalls Pittsburgh, PA
Fri 4/24 Musikfest Cafe Bethlehem, PA
Sat 4/25 College Street Music Hall New Haven, CT
Fri 5/1 Shaky Knees Festival Atlanta, GA
Sat 5/2 Cat's Cradle Carrboro, NC
Fri 5/8 Fremont Theater San Luis Obispo, CA
Sat 5/9 The Regency San Francisco, CA
Fri 7/10 Fine Line Music Hall Minneapolis, MN
Website
Facebook
Twitter
Instagram
YouTube