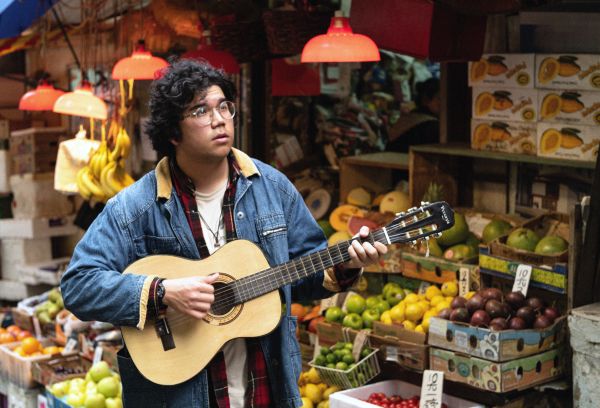 27 January 2020
Chance Emerson in Hong Kong – Photo Credit: Manisha Shah
"I just gave my brother a camera and we went on a walk through Hong Kong," says 19-year-old Providence, RI and Hong Kong-based singer songwriter Chance Emerson.
The resulting endearing music video for Emerson's new single "How Can I" is likely the first directed by an 11-year-old to premiere this year, here at The Big Takeover and any other music site! The song itself is classic pop akin to Paul Simon's peppy take on world music, with wittily perceptive lyrics and sweetly unassuming vocal delivery rolled into a brisk, rhythmic, and engagingly catchy composition.
The video adds another personal layer to the song, showcasing the everyday streets and stores of Hong Kong, where Emerson splits his time.
Emerson's kid brother, Tree, says, "I just took videos of things I thought looked cool. Chance pointed at fun things he saw on our walk, but I found the yogurt cup myself. I'm learning guitar now, so I think next time Chance makes an album he can put me in it and not just in the video."
The elder Emerson's debut album, The Raspberry Men, arrives on March 6th and is the follow-up to his self-released 2017 EP, The Indigo Tapes, which became a local favorite in Emerson's adopted hometown (he attends school in Providence and is originally from Taiwan.) To date, songs from Emerson's EP have earned him just shy of a million Spotify plays.
"'How Can I' is probably the most 'city' song on the album," he says. "It's a fast-paced, energetic piece with disparate influences I never expected to come together. It reminds me of rush hour on the escalator system."
After growing up in Taiwan and before moving to the US, Emerson lived in Hong Kong, which he visits frequently and still considers a second home. "My hope with letting my brother film whatever he wanted was that the video would be an authentic peek into where I grew up," he explains.
"There's a lot happening all the time here. We stopped by the fruit stall in the open-air market. When I was a kid, the owner would give me free lychee. We stopped at the waffle shop, the glasses store where I got my terrible vision corrected, the fish stalls, and went by where I used to take guitar lessons too."
Website
Facebook
Twitter
Instagram