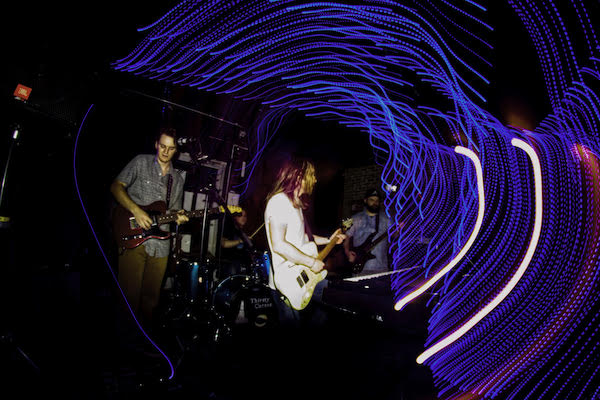 8 February 2022
Thirsty Curses – Photo Credit: Roth Gray
Raleigh, North Carolina, quartet Thirsty Curses are spiritual heirs to the drunken, sardonic and masterful songcraft of the Replacements, Violent Femmes and hometown power-pop heroes Let's Active. The band's forthcoming fourth album, To the Ends of the Earth, is a refined take on the band's punk-pop sound that showcases its most sophisticated hooks to date.
The band recorded most of the album at frontman Wilson Getchell's home studio in Raleigh over summer 2021. The band also spent a day in Bias Studios in Northern Virginia, where they recorded three songs for the album and did piano overdubs on the studio's baby grand.
The moody album bounces between numerous rock subgenres. A majority of the songs on To the Ends of the Earth were written after the completion of the band's last album, 2019's Thirsty Curses. Incidentally, lead singer and songwriter Getchell began writing the album's final track, "A Baptist & a Rabbi," circa 2008, but the song had largely been forgotten and was unfinished. However, during the 2020 lockdowns, Wilson ran across an old demo of the song, ultimately rewrote some of the lyrics and transposed the song from guitar to piano.
To the Ends of the Earth is the first Thirsty Curses album to feature Evan Miller on drums and Alexander Weir on lead guitar. (They replaced Phil Harrington and Kelley Otwell, respectively, who left the band over the course of the COVID-19 pandemic.) Hannah Chapman — who sang on "GDMNT," a song featured on Thirsty Curses' self-titled album — provided guest backup vocals on "Tell Me the Truth."
Listen to the Big Takeover's exclusive premiere of the new Thirsty Curses song "Are You Still There?" right here:
To the Ends of the Earth will be available on CD and download on March 4. Thirsty Curses will play a record-release show at Ruby Deluxe in Raleigh on that day, followed by a gig at Hugger Mugger Brewing in Sanford, North Carolina, on March 19.
Thirsty Curses-related links: