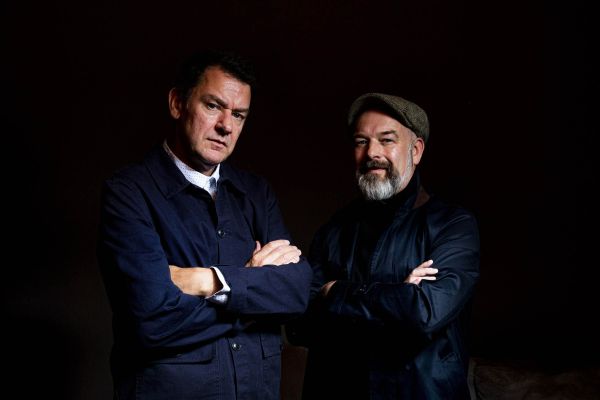 4 May 2021
The Gorstey Lea Street Choir – Photo Credit: Stern Duo
Britain's The Gorstey Lea Street Choir are gearing up to release their new album '..from Prince's Park to Farsley – Volume I via Britain's 500 Broadcast Recording Co. This is one of the watershed moments in the early days of the Gorstey songwriting process when they first started working together after a friendship that blossomed over 35 years ago.
Today we present the lead track "Bluebird, Hollywood… Domino," a psychedelic delight that will bring you to a state of bliss or trigger flashbacks to brilliant musical offerings of yesteryear with possible associations including Ride, The LA's, The Charlatans and R.E.M. Superb musical mastery, fascinating dynamics and professionalism in production.
The rousing "Bluebird, Hollywood… Domino" flows with a mellow determination, winding along with reflective vocal harmonies, heartfelt emotions, and a rich melting pot of prominent drum strikes, limber bass line, reverberating percussion, and bright psych-tinged guitar lines.
'Bluebird, Hollywood… Domino' was recorded at the Gorstey Shack (Russ's converted garage) and Magic Garden Studios in Wolverhampton with producer Gavin Monaghan (Robert Plant, Editors, Ocean Colour Scene, Scott Matthews, Squeeze, Goldblade), who also produced and mixed this track.
The forthcoming album also involves mixing (and a guest cello performance) by legendary producer George Shilling (Blur, Primal Scream, Cathal Coughlan, Teenage Fanclub, Mike Oldfield). Ride frontman and renowned producer Mark Gardener provided oversight and mastering at his OX4 Sound Studio near Oxford.
Based in the former Staffordshire mining town of Burntwood, their music runs with the moods, widely described as dystopian, electric, hopeful, hopeless, and thoughtful… The sort of sounds Henry Spencer would have played if he had a Sony Walkman.
…from Prince's Park to Farsley – Volume I is the follow-up to the duo's extended play one album, which was released in December 2020 and received support from BBC 6 Music, BBC Introducing, Amazing Radio, and a whole host of DAB and worldwide radio stations.
The Gorstey Lea Street Choir are Michael Clapham and Russ Phillips, two friends on a life-long journey, having met as teenagers in the mid-'80s, it took until 2016 for them to turn their teenage plans — discussed back when both were involved in aspiring Manchester bands — into a reality with the birth of this project, which happened after reuniting casually for Russ' birthday party that year and a subsequent impromptu gig.
"It's about time we got together and did some music Michael, what do you reckon? No pressure. I have converted my garage into a recording studio, you should come around and we'll have a play." says Michael Clapham.
After 15 plus years of not playing an instrument, singing or songwriting, Michael dove back in with a ferver that led to such a massive response from the crowd and landlord alike, with 2 songs turning into 2 hours and a guaranteed booking the next month. 'What's your band name boys? 'The Gorstey Lea Street Choir' is quickly retorted an amalgam of that first meeting point and Van Morrison's LP His Band and The Street Choir.
A door is unlocked, a journey is born… After reconnecting with an old friend in producer legend Gavin Monaghan, they first enter Wolverhampton's Magic Garden studios in Wolverhampton in 2018, finally releasing their quite brilliant debut single 'The British Isles', featured an inspired spoken-word intro from their hero, Joe Strummer, in 2019. Chris Hawkins from BBC Radio 6 Music picked up on the track, kicking things off, and after a hiatus of 35 years!
"This song is a cautionary tale of days gone by, what may have been and where we are now, we are two man in our 'mid lives' (average age 51 and a half!!!), we have a lot to look back and learn from and a lot to look forward too!!! It's amazing what we have created, two middle aged men fumbling around with some of our favorite musical toys in Russ's converted garage," says Michael Clapham.
Russ adds, "The music also came very quickly, the lyrics locked in with a 3/4 6/8 or a triplet time signature, we feel 'the waltz' type feel has something to do with our story telling Celtic roots, it's a time signature we first visited on our debut EP 'extended play one' with the track 'Saint Marie', we love writing in this vein and have more songs written this way, nowadays with everything done on computers a lot of songs just seem to be written to a 4/4 formula… and this track has all the hallmarks of these influences wrapped up in the elements of the track, we are both very proud of what this track and the upcoming mini LP represents, plus we also cannot wait for you to hear the re-imaginations that our friend and collaborator Choque (Black Star Liner) has created to go alongside the 4 original tracks."
As of May 13, 'Bluebird, Hollywood… Domino' will be available everywhere digitally and can be pre-saved on Spotify
The full album …from Prince's Park to Farsley – Volume I will be released on July 9 and can already be pre-ordered via label's Bandcamp
and pre-saved on Spotify
SINGLE CREDITS
Written and arranged by Michael Clapham and Russ Phillips
Performed by The Gorstey Lea Street Choir
Gavin Monaghan – recording, mixing and production
Recorded at the Gorstey Shack and Magic Garden Studios
Mark Gardener – supervision & mastereing at OX4 Sound Studio
The Gorstey Lea Street Choir
Facebook
Twitter
Instagram
Bandcamp
SoundCloud
YouTube
Spotify