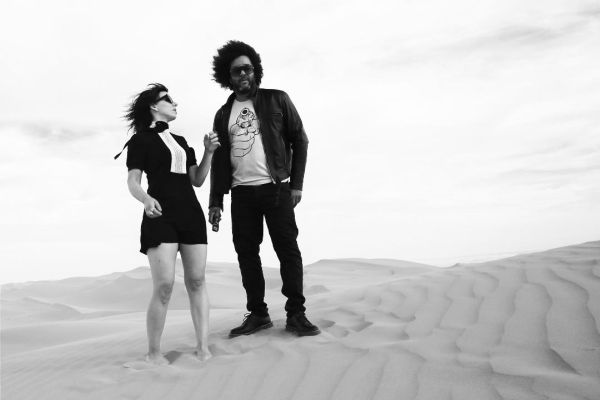 22 August 2019
LANDROID – (L-R): Cooper Gillespie, Greg Gordon. Photo Credit: LANDROID
""Ça Plane Pour Moi" wasn't even going to be on the record, but we had a few extra hours in the studio one day, so we recorded it," explains Cooper Gillespie, one half of the Landers, California-based desert duo LANDROID.
"We liked it so much, we decided to throw it on the album. It was challenging singing the lyrics because they come in at strange times and, while I do speak a little French, the words are pretty much nonsensical, so there was no logical thought pattern to follow. I cussed a lot while recording vocals that day!"
Cooper Gillespie (vocals, guitar, bass) and Greg Gordon (drums, sequences) of LANDROID are veteran performers who have traveled the world as professional musicians. Now they live in the California town of Landers. Population: 2,632.
The music that Gillespie and Gordon are making as LANDROID, so named as a reference to their new home, is as vast as the environment in which it was created.
Following years of playing variations on the Los Angeles-based punk and rock circuit, Gillespie and Gordon settled in a desert land and became a desert band. The duo's debut album Imperial Dunes arrives on September 13th via their own Mojave Beach Records label.
The Big Takeover is mighty pleased to be hosting the premiere of this fun cover of the 1977 classic by Plastic Bertrand. Already a sweeping and up-beat track, LANDROID add a bit of warmth and sweetness to it with Gillespie's softer vocals and a post-punk touch with the deeper running bass line.
Website
Facebook
Twitter
Instagram
YouTube
SoundCloud