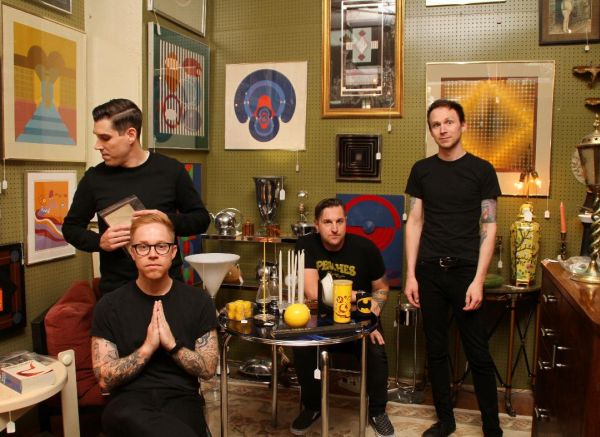 22 August 2019
Extra Arms – Photo Credit: Jodi Lynn Burton
Coming off the heels of 2018's acclaimed Headacher, Detroit-based indie rock/power pop band Extra Arms is set to release a brand new album titled Up From Here on October 25th via Dadstache Records in the U.S. and Get Party Records in Canada.
According to founder and frontman Ryan Allen, this is a 22-minute concept record. That's right, 22 minutes.Allen went through a divorce during the writing of the LP. He decided to write songs from the perspective of letting go and the stages from grief to acceptance. It's not meant to be a downer record, as there is an emphasis on finding a positive, new way of life for yourself.
Equal doses of power pop and punk, this is for the fan who has Jellyfish, Superchunk, Cheap Trick, and various Wipers and Ramones releases in their collection. Citing influences from Bob Mould to Superdrag to Ted Leo, there is a love of rich melody with a lot of amplification reflected on Up From Here.
Allen (vocals, guitar) is joined by guitarist Michael Gallacher, bassist Ryan Marshall, and new drummer Daniel Stover. The album was recorded in five days this past June with producer Paul Miner (Touché Amoré, New Found Glory, Thrice),
The Big Takeover is stoked to be hosting the premiere of "No Enemies", a tuneful blast of pure power pop amped up with punk rock fervor. Jagged guitar crunch and drive, supple bass line stretch, kicky drum beats, and crisp cymbals hits create a stirring mix for Allen to express his heartfelt lyrics with a passionate, yet melodic vocal delivery.
Pre-Order Up From Here HERE
9/6 at Montrose Saloon, Chicago, IL w/ Bishop's Daredevil Stunt Club & The Peeves
9/7 at Lo-Fi, Ann Arbor, MI w/ Modern Lady Fitness, Bishop's Daredevil Stunt Club & Jake Riley and the Social Workers
9/12 at Small's, Hamtramck, MI w/ Hot Snakes & Des Demonas
11/2 at Bowlero, Royal Oak, MI – "Up From Here" LP Release Show w/ Hidebehind
Website
Facebook
Instagram
Bandcamp