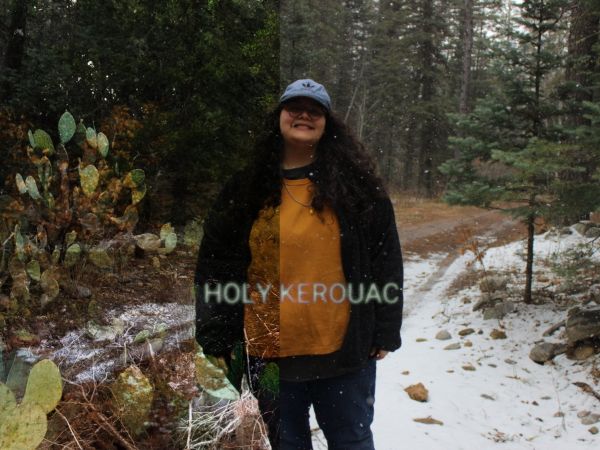 5 March 2020
Holy Kerouac – Photo courtesy of Holy Kerouac
Hailing from the Gulf Coast of Texas, Holy Kerouac is a solo project by Clarissa Rodriguez. Initially created in friendly competition with best friends Micah Culverhouse (Psychedelia) and Josh Arnold to make music that was entirely different from the indie/punk projects they had shared before,
Holy Kerouac will be releasing their debut EP, Closer Now, More Than Ever, on April 10th via Ohio label Lonely Ghost Records and are currently finishing their first full length LP.
Connecting a range of pop-punk, emo, and indie synth pop influences through piercing synths and passionate vocal melodies, Holy Kerouac creates a lo-fi-indie, potent sound. The songs on the EP resonate with nostalgic energy and reflective lyricism. Bridging the gap between former sound and new sound, Rodriguez allows their pop-punk and emo influences to shine through somber finger-picking and distorted guitar parts.
The Big Takeover is pleased to host the premiere of longing, but vibrant indie rocker "Caved In," the closing song on Closer Now, More Than Ever.
Heartfelt exclamations of bittersweet lyrics are expressed with a strong wistfulness. The sentiments flow along with the wandering, slightly buzzed guitar angle (think prime '90s American indie rock as a reference point), active bass line tug, and emphatic drums 'n' cymbals acrobatics.
Rodriguez reveals details behind the meaning of the EP's songs, commenting, "Closer Now, More Than Ever was written and recorded in several small rooms across Lake Jackson and Austin, Texas. Lyrically, the record is about recalling people who used to be in your life and having to reconcile the impact they had on you. It is about growing and grief, in the same breath, [offering a] meaningful take on closure. The sound that accompanies is somber and urgent. [The EP was] mixed and mastered by Daniel Zasandy."