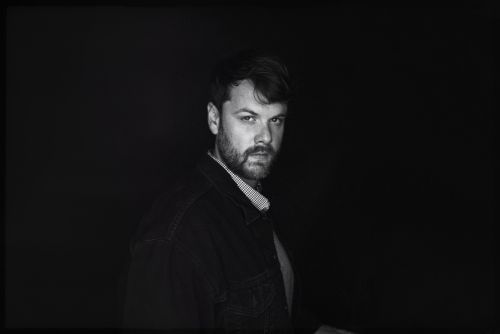 12 August 2019
Johnny Stranger – Photo Credit: Madelynn Elyse
Johnny Stranger is the long-running progressive/alternative rock band of veteran musician Peter Anthony. The singer-songwriter is at the core of Johnny Stranger, releasing four acclaimed albums since 2006.
Anthony has been on a decade's hiatus, but is soon returning with his fifth album, Valkyrie. The Big Takeover is proud to host the premiere "Follow In My Footsteps", a resonant and culturally relevant track from the LP.
Johnny Stranger's sound has evolved over the years, along with line-up changes and moves throughout the U.S. The band formed in Washington State, but eventually Anthony crossed the whole country to touch down in Boston. He then took a break from the band and settled in Los Angeles, working in the music industry as a songwriter, producer, and mixer.
It was a long, dark, and questioning time for Anthony, until he finally realized that his band Johnny Stranger is his calling. Fans have been clamoring for the re-release of the past four albums, which is also in the works.
"Follow In My Footsteps" is a vivid and vital return to the music fore. The narrative track is a lyrically heavy rumination on war that is lifted up by restless and explosive alt-rock sonics.
Moving from reflective verses to anthemic chorus sections, Anthony is pure passionate emotion, channeling the viewpoint of a soldier's son as his father leaves his family to go off to fight – and reveals the familial tradition/mindset that will likely put his son in the same position in the future.
Fiery and gritty guitar churn, a deep bass line, bashed cymbals, emphatic drum strikes, and Anthony's dramatic exclamations all come together in a powerful and intense roil of turmoil – at once thought-provoking and compelling to listen to.
Anthony gives some insight into the meaning behind the song, stating, ""Follow in my Footsteps" was written back in 2007, as the Iraq and Afghanistan Wars were slogging along. I wrote it about a child seeing their father leaving for war and the child's vow to follow on his father's crusade."
"War echoes through the generations and I wanted to reflect that from the most innocent point-of-view that I could. No matter what culture the child fights for, his vow to hurt others comes from his love for his father. It's important to remember that heroes and villains are more grey than they are black and white."
"I was thinking about human nature. With all the horrific things that we as a species are capable of, they can start from such an innocent place."
Website
Spotify
Instagram
Twitter
Facebook
YouTube