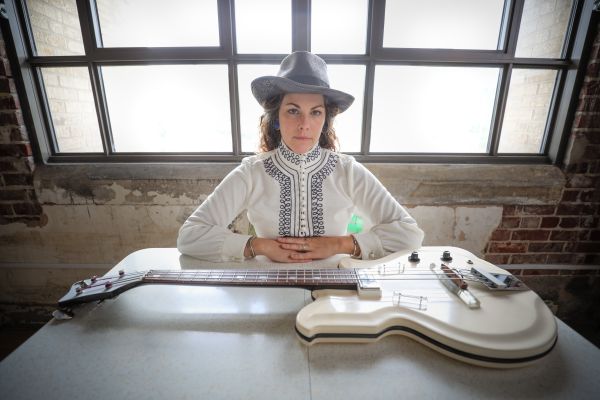 9 August 2019
Amy LaVere – Photo Credit: Jamie Harmon
Memphis-based artist Amy LaVere is releasing her new album Painting Blue and The Big Takeover is excited to be hosting the U.S. premiere in full today. Painting Blue comes out August 16th via Nine Mile Records (Glorietta, David Wax Museum, Carson McHone, Patrick Sweany).
There's something uniquely fun about Amy LaVere, even when she's breaking your heart. She is well known among songwriters and critics alike. NPR's Robert Siegel says she "specializes in lyrics that are more barbed than her sweet soprano prepares you for." LaVere's growing catalog of material and steady critical acclaim suggest a first-tier presence on the Americana and indie-folk/punk circuits.
LaVere's live performances are anything but predictable. She might appear on stage with a full band, sporting a mask and pink wig, or simply be a natural in blue jeans and sandals, but her upright bass and clever song delivery that are constants. She's performed in venues as wide-ranging as St. Andrew's Hall in London and Memphis' famed dive bar Earnestine and Hazel's. There's no room she can't find an audience in and charm it to pieces.
Born in Shreveport, Louisiana, this future bard moved continuously throughout childhood due to her father's job. She spent notable parts of her life in Canada, Texas, Maryland, Illinois, Ohio, and Michigan. Outside of Detroit and only just entering high school, LaVere formed her first band and began writing and performing. Music fans first discovered this "sweet soprano" on This World is Not My Home in 2005, but it was her *Jim Dickinson*-produced breakout album Anchors & Anvils two years later that put Amy LaVere on the map.
Stranger Me, the 2011 release on Archer Records, was called "the break-up album of the year" by Spin. Paste said it was "among the year's best," and it earned a first listen feature from NPR's All Things Considered. She followed it in 2014 with another critical smash: Runaway's Diary, a concept album based on her own experience as a teenage runaway, produced by Luther Dickinson (North Mississippi Allstars). American Songwriter called it "boundary pushing… heartfelt, reflective, challenging and consistently compelling." NPR Music's Robert Christgau said it was her best yet. Of Hallelujah I'm A Dreamer (Archer Records, 2015) No Depression said simply: "pure bliss."
Painting Blue, which was produced by her husband Will Sexton, captures perfectly the moment that LaVere is in. Sexton's masterful production and LaVere's soft, clarinet-like vocals pour over you, pushing and pulling, stirring and calming. As we've come to expect, this record is honest, revealing, and sounds uniquely like no one else.
Lead single "No Battle Hymn" is an instrumentally fast-paced, yet vocally reflective piano-popper. Touches of warm horns and wavering organ notes grace the laid-back, shuffling "You're Not in Memphis."
When LaVere murmurs softly, "This heart of mine is a wreck / and it scares me half to death." on melancholic folk-pop number "Love I've Missed", you believe her and are sad that it's so.
LaVere delivers a spare, but involving cover of the classic "Shipbuilding", adding accordion inflection and subdued male harmonies on the chorus sections. Upbeat album-ender "Painting Blue (on Everything)" struts with a pronounced drum beat, and swoons with bittersweet violin strings.
Amy LaVere's tour dates at Nine Mile Records and purchase tickets HERE
TOUR DATES:
Aug 9 Nashville TN The Basement
Aug 10 Memphis TN Crosstown Theater
Aug 11 New Orleans LA Cafe Istanbul
Aug 15 Denton TX Dan's Silverleaf
Aug 16 OKC The Blue Door
Aug 17 Kansas City MO Knuckleheads
Aug 18 Des Moines IA Vaudeville Mews
Aug 20 Minneapolis MN 7th Street Entry
Aug 21 Milwaukee WI The Cooperage
Aug 22 Chicago IL The Hideout
Aug 24 Grand Rapids MI Tip Top Deluxe
Aug 27 Akron OH The Rialto Theater
Aug 28 Rochester NY Abeline's
Aug 29 NYC Rockwood Music Hall 7pm
Aug 30 Wash DC Hill Country BBQ h
Aug 31 Philadelphia PA The Boot and Saddle
Sept 7 Knoxville TN Barley's Taproom
Sept 8 Atlanta GA Eddie's Attic
Sept 12 Nashville TN Drifters Nine Mile Day Party
Sept 11 Little Rock AR The White Water Tavern
Sept 21 Richardson TX Six Springs
Sept 27 Los Angeles CA McCabe's Guitar Shop
Oct 1 Bend OR Volcanic Pub Theater
Oct 2 Portland OR Secret Society
Oct 3 Seattle WA Hotel Albatross
Oct 24 Minneapolis*
Oct 25 Kansas City*
Oct 26 St. Louis*
Amy LaVere Website
Nine Mile Records Website