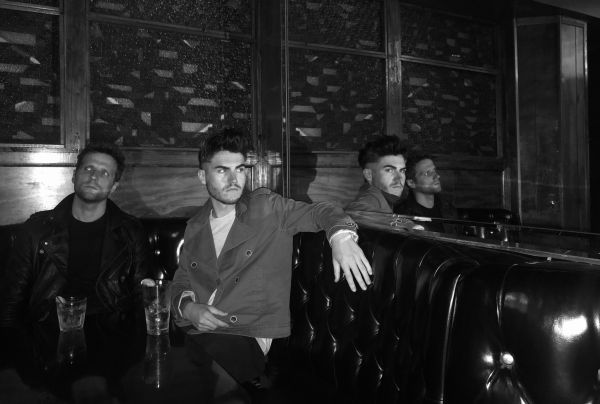 9 October 2019
Gone Sugar Die – Photo courtesy of Gone Sugar Die
Canadian/American synth-punk collective Gone Sugar Die features bassist Mike Hindert (The Bravery), keyboardist and vocalist Patrick McWilliams (The Cut Losses), drummer Anthony Burulcich (The Bravery, Weezer, Morrissey), and guitarist Marshall Gallagher (Teenage Wrist, 3OH!3).
The super-group has been releasing a run of singles and videos over the past several months, with the intent of unveiling a debut EP in the future.
The guiding principle for core members McWilliams and Hindert is to make thought-provoking music with sharp aesthetics that the world can dance to. They create pop songs built on a foundation of punk authenticity, energized by garage rock vitality, and driven by unswerving passion.
The band delivers a smart, but explosive mix of shadowy romance that melds gritty synth-punk with gleaming indie pop. It's the kind of sonic collision that can inspire ethereal rapture – and spark up the club dancefloor.
Gone Sugar Die have recently been playing secret shows and just performed for Emo Nite at The Echoplex in LA on October 4th, a buzzed-about event that has hosted A-listers including Halsey and Post Malone.
The Big Takeover is dead thrilled to be hosting the premiere of the latest track from the band, the scintillating "Grey Eyes", as well as hosting a brief video clip of the notorious Jackass actor and skateboarding legend Bam Margera giving a shout-out to Gone Sugar Die and mentioning their new song,
"Grey Eyes" officially goes wide on October 11th, but The Big Takeover has the exclusive audio stream a couple days ahead of its release. The song was produced by Gallagher and mastered by Michelle Mancini (Portugal the Man, Mashmello, Fitz and the Tantrums).
The track flows like a darkly sparkling river, pushing forward with a steadily pumping beat and sprinkled with lightly glowing keyboard notes. Echoed guitar chime floats in the ether, along with McWilliams' wistfully reflective vocals.
As his voice swirls around the supple bass line, an electric guitar storm begins to brew, finally unleashing its jagged shards into the crystalline atmosphere.
Facebook
Twitter
Instagram
YouTube
Spotify
SoundCloud