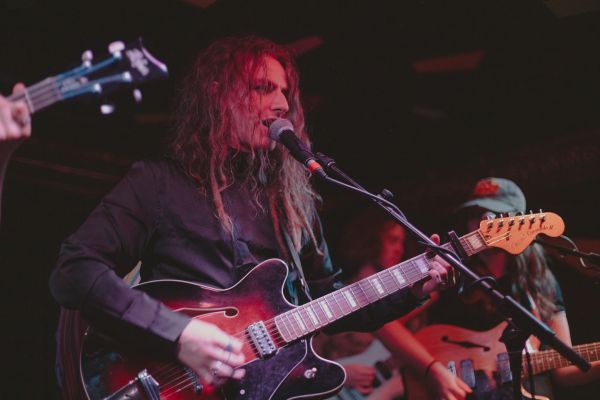 7 September 2021
The Kundalini Genie – live – Photo Credit: Victoria Kerr
Score one for Scotland. Again. Caledonia sure produces a lot of good music lately – well, perhaps for a long time now when you consider the legacy they've left through such artists as Cocteau Twins, The Buzzcocks, Trash Can Sinatras, Amy MacDonald, Annie Lennox, Belle & Sebastien, Teenage Fanclub, Edwyn Collins, The Proclaimers, Mogwai, and Chris Connelly , who we just recently covered. And that's the just tip of the iceberg in terms of the country's offerings.
We have the pleasure of introducing you to yet another Scottish artist – this time with a more psychedelic bent – enter trippy space-gazers The Kundalini Genie, a Glasgow-based band who are gearing up to release their fifth studio album Half In, Half Out.
Today, we present the mesmerizing, psych-tinged indie rock title track that hypnotically pushes with fiery guitar cycles, shadowy bass line, muffled drum thumps, and dispassionately droning vocals.
We can credit the band for being guided by their own creative radar, rebutting current tendencies on the musical landscape and shrugging outside expectations for this LP. On Half In, Half Out, The Kundalini Genie deliver solid melody, hooks and tides of effects-pedal and drive-induced beautiful chaos, while treating us to some fantastic psychedelic interplay between the band members.
On this long-player, frontman / singer-songwriter Robbie Wilson (who also plays sitar, guitar, vocals) is joined by Jason Houston (guitar, vocals), Melissa Rennie (guitar, keys, vocals), Lloyd Ledingham (bass, vocals), Louis Martin (guitar, vocals), and Grant Robertson (drums).
"This song is about assholes, really. People who aren't nice. People who think they're better than you, or too cool for you, or higher and mightier than you, it's also about when those people inevitably fall short of their own high opinion of themselves and make themselves look a fool, in a nutshell," says Robbie Wilson.
Mixed by Jason Shaw (Cambodian Space Project, Frankie Teardrop, Sonic Jesus, Aerofall), the album was mastered by RIDE's Mark Gardener at OX4 Sound Studio in Oxford.
"Robbie Wilson (Kundalini Genie) is a total force and a total star in the making . He's so driven and I loved mastering his record," says Mark Gardener.
It's only been a year since the band's 11:11 album, released via Space Ranch Records (Europe) and Little Cloud Records (USA), but the band is prolific and makes a regular habit of outdoing themselves with each successive release. Their forthcoming album may very well be the pinnacle of their menu to date, their sound embracing the best of Spacemen 3, Swervedriver and The Dandy Warhols.
With live shows involving eclectic displays of voodoo mojo and sound that ripples through the audience like a sonic tranquilizer, to date the band has performed in support of The Brian Jonestown Massacre, The Warlocks, The Underground Youth, The Myrrors, The Stevenson Ranch Davidians, Triptides, New Candys and Spindrift, in addition to participation in numerous festivals.
On September 8, you can pick up the 'Half In, Half Out' single anywhere where digital music is sold. The full album will be released on November 12 digitally, on vinyl-style CD, and on aubergine-coloured 12" vinyl with reverse board artwork. It can be pre-ordered via Bandcamp
Check live dates below for gigs with Black Market Karma, The Telescopes, Dead Rabbits, Firefriend and as headliners.
CREDITS
Written by Robbie Wilson
Recorded by Jason Shaw and Robbie Wilson
Mixed by Jason Shaw
Mastered by Mark Gardener at OX4 Sound
Robbie Wilson (vocals, guitars, bass, drums, percussion, keys, harmonica)
Jason Houston (guitar, vocals)
Jason Shaw (guitars)
Album artwork by Cyllan Wednesday
LIVE DATES
Sept 11 Manchester – The White Hotel (with The Telescopes, Dead Rabbits)
Oct 01 Cumbernauld – Cumbernauld Theatre
Oct 26 London – Victoria Dalston (with Black Market Karma)
Oct 27 Glasgow – 13th Note (with Black Market Karma)
Oct 29 Rotherham – TBA
Oct 30 Liverpool – EBGBs (Phantasmagoria)
Nov 04 Birmingham – TBA
Dec 07 Glasgow – Nice N Sleazy (with Firefriend)
Do also check out some of their awesome past offerings:
The Kundalini Genie
Bandcamp
Facebook
Twitter
SoundCloud
YouTube
Apple Music
Spotify