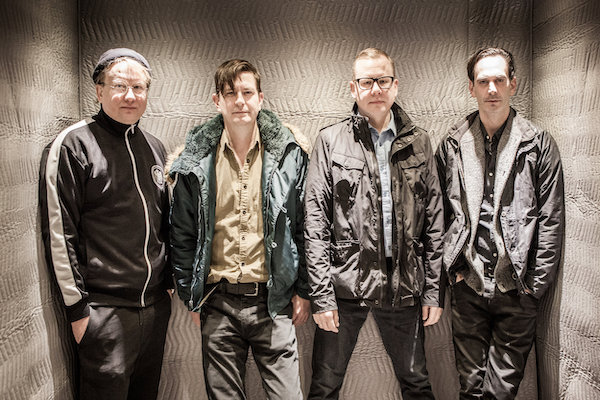 25 January 2022
Eldridge Rodriguez – Photo Credit: Patrick Ruth
Eldridge Rodriguez have been releasing albums and singles since 2007's This Conspiracy Against Us. The band formed as an offshoot of Boston's now-defunct indie-rock heroes the Beatings, releasing all their work through their own Midriff Records imprint.
"Have I Gone Too Far" b/w "All My Favorite Clowns Are Dead" is the second single recently released by the art pop/indie rock band, and it follows the "Megalodon" single released in September 2021. The Big Takeover described that song as: "Kicking off with a simmering, staccato pace of sporadically blasting guitar riffs and a laid-back drum-beat groove, the song rises with intensity on the chorus sections, blazing with a pressing bass line, a web of dynamic and fiery guitar interplay, kinetic drums and cymbals strikes, and passionately yearning vocals."
"Have I Gone Too Far" is a marked change in tone from the band's previous single. Musically, the single takes a post-punk approach with angular, meandering guitars set against a pounding backbeat until it erupts in gang choruses and synths.
Written in May 2020, "Have I Gone Too Far" attempts to lyrically capture the day-to day-isolation, monotony and depression that went along with quarantining during the early months of the pandemic: The cold uncertainty of what was permissible now versus what were common human interactions in pre-pandemic times, such as sex and companionship, now tainted by clinical questions and hours spent imagining a richer past while living in a lonely, sterile reality.
The B-side of the single, "All My Favorite Clowns Are Dead," is a bouncy, noise-pop track that changes directions multiple times in its three-plus minutes and explores American culture's fickle fascination with and dismissal of celebrity.
In late February 2020, Midriff Records put out the eighth release by Eldridge Rodriguez, titled Slightest of Treason, an album rallying against the shift toward conservative dogma in U.S. politics. By mid-March, the live music scene was dead, and staff at media outlets were still figuring out how to work remotely. Slightest of Treason got lost in the chaos.
The band (whose members live in both NYC and Boston) returned to Bluetone Studios (owned and operated by bassist David Grabowski) and started to safely work on the Slightest of Treason follow-up. The tracks from those sessions will be included on a currently untitled album due in the spring/summer, with more singles to precede it.
Check out the two brand-new singles from Eldridge Rodriguez here: