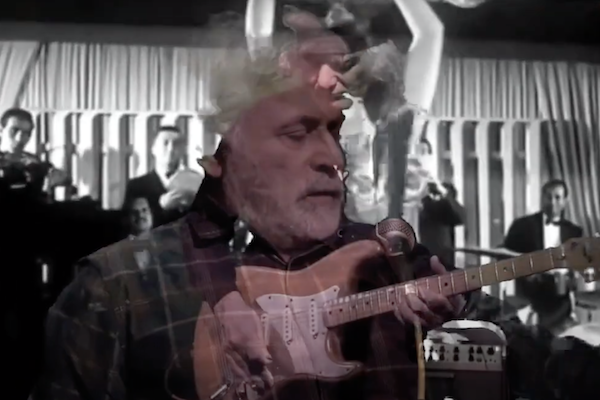 24 January 2022
Vapor Vespers – Photo Credit: D.b. Schell/Green Kill Art
Experimental duo Vapor Vespers is kicking off 2022 with the release of another quirky, funk-tinged single, "Bent Omelette (DADA #1)." This music-powered spoken word offering is a preview to what's in store on the spring release of their sophomore album, Ghosts Before Breakfast, the follow-up to their critically acclaimed 2020 debut, One Act Sonix and recent trio of singles: 2021's "Sex" and "You Changed"; and "Valise," released earlier this month.
Vapor Vespers is the transcontinental brainchild of NYC- and Hudson Valley-based multi-instrumentalist/producer Sal Cataldi (also known as Spaghetti Eastern Music) and award-winning Alaska playwright, actor and slam poet Mark Muro.
The pair, whose musical and personal relationship dates back to their teen years in Queens, New York, first bonded over their love of boundary-pushing musicians like Miles Davis, Sun Ra and Frank Zappa; and the audio recordings of writers/poets/music-powered spoken word performers like William Burroughs, Charles Bukowski, the Last Poets and John Cooper Clarke.
"Bent Omelette (DADA #1)" is a fat, backbeat-driven jazzy blues/word salad salute to DADA, the early 20th century movement in art and literature based on deliberate irrationality and negation of traditional artistic values, a reaction to the horrors of WWI.
"Think Burroughs' cut-ups meeting the Meters in a dark alley of the mind," the band told the Big Takeover.
The song and video are quintessential Vapor Vespers, capturing the duo's chilled-out introverted gaze held steady by bracing space-funk. Underground radio institution WFMU called the band's music "a supremely cool fusion of spoken word and progressive sound."
There's an internal logic to the words that strain prettily against their real world meaning, suggesting an all-too American cartoonish sense of normalcy, like the couplet Muro intones at the conclusion: "Oily, oily. Roll up your dreams and slide down Lois Lane." The video to this tune includes some astounding images from Hans Richter's 1927 DADA cinema classic, "Ghosts Before Breakfast," which inspired the title of the duo's forthcoming album.
Check out the Big Takeover's exclusive premiere of the video:
 

Vapor Vespers-related links
: