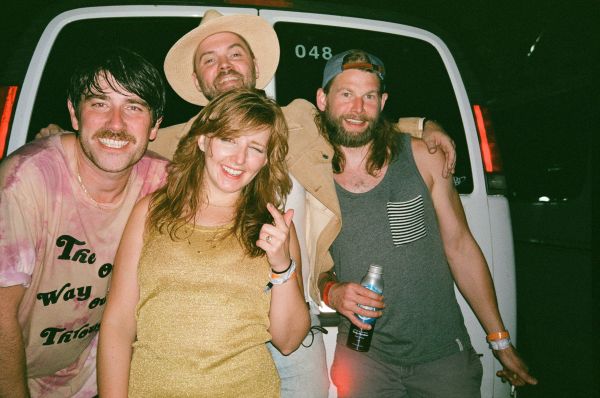 25 October 2021
Smokey Brights post-Treefort Fest – Photo Credit: Dana Robinson Slote
Seattle's Smokey Brights revel in dichotomy. Fronted by married songwriters Kim West and Ryan Devlin, the band carries strong feminine and masculine energies as the couple trade lead vocals. The group straddles that invisible line between the dark and the bright with deeply personal lyrics overlaying a propulsive, punk energy.
Smokey Brights are an institution in their home region of the Pacific Northwest, packing venues and festival stages with their explosive, emotionally affecting live show. The group, comprised of West, Devlin, drummer Nick Krivchenia, and bassist Luke Rägnar, has recently been finding a broader audience touring in Europe (Rolling Stone France called them "indie rock gems"), as well across the States (American Songwriter has described the band as having "that motor-revving, wistful quality…truly American.")
Big Takeover is pleased to host the premiere of the heartfelt single "Honey Eye" today. It leads with an honest catalog of anxieties: environmental, political, and personal.
Smokey Brights shine on the vibrant and restless track that swirls with a driving bass line, subtle guitar riffs, tinkering percussion, flitting synth notes, and ever-shifting drum beat.
Mid-way through the song intensifies into a full-on rocker as all the dynamic instrumentation comes to the fore amid expressively exclaimed vocals.
The falling chord progression and murky chaos of synths soundtrack those pit-of-the-stomach type worries we all know and dread.
But this track also finds resolve and light in the darkness; like many Smokey's songs, it's a love song at its core. "Honey Eye" is a sincere and desperate love letter from one worried lover to the other. As the world seems to crash down around them, their resolve is to live and love as deeply as possible, while they still can.
"Don't despair just 'cause you feel it. Don't give up just 'cause they steal it. The truth is still the truth, a movement's gotta move. Honey I just want to rock the world with you. Before it splits in two. (Don't know what else to do.) If you and I can dream it, maybe we'll help the world to see it, make something that inspires. We could lift each other higher."
"Honey Eye" and the accompanying single "Unity" are Smokey Brights' first offerings since their acclaimed 2020 full length I Love You But Damn (Freakout Records). The songs were recorded and mixed in Seattle by producer Andy Park (Death Cab for Cutie, Deftones, Princess Nokia) and engineer Sam Rosson (Great Grandpa, Sydney Sprague).
Smokey Brights can be seen headlining Freakout Festival in Seattle this November, with tour dates in the US and Central Europe set for 2022.
Pre-Save/Order "Honey Eye" HERE
Website
Facebook
Twitter
Instagram