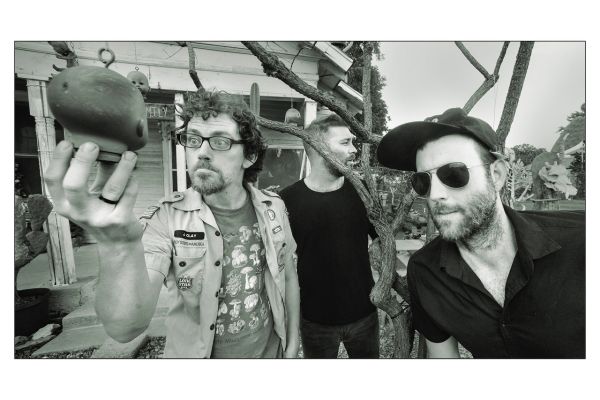 28 November 2018
Darwin's Finches – Photo Credit: Richard Tomcala
With a name making reference to obscure minutia of Charles Darwin's research regarding the adaptive evolution of birds' beaks, one might expect a certain esoteric character to a band. And Darwin's Finches is certainly an anomaly of its own. But that doesn't mean that they're not a brilliantly catchy band.
In fact, Good Morning Creatures II, the trio's third album is a tart and twangy, hook-filled 10-song batch of great rock songs that sound as if they've evolved completely out of contact with the rest of the rock world.
The Galveston, Texas-based band of pranksters formed around a biology class in 2006 and got their start crashing biker bars and playing shows that provoked fisticuffs. So, as you can see, Darwin's Finches aren't a cookie cutter-normal type of band.
Good Morning Creatures II recalls late-'80s weirdo indie rock tinged with psychedelic Western vibes, kind of like Camper Van Beethoven, Butthole Surfers, Alice Donut, and the Pixies combined with the demented melodies of The Frogs. Guitarist, vocalist, and bandleader Justin Clay sports a master crooner's wail, sounding something akin to a young Paul Westerberg.
Clay and a rotating cast of players have performed not only at biker bars, but art museums, random national parks, and also the usual shows at clubs that have somehow ended with fruit fights. Their apex, so far, was a three-hour show at the legendary Balinese Room that ended with a guitar sacrificed to the Gulf of Mexico.
After Clay took a break from music in 2012 to enjoy his family and the birth of his son, he returned 2014 and was joined long-time friend and fellow Texas psych/folkmaster Jandek for shows in the UK. Upon his return home, Justin reformed Darwin's Finches with long-time music partners, Cody Honey on drums and Morgan Moody on bass.
The Big Takeover is pleased to host the premiere of "Hosea!", a foreboding and potent number off of Good Morning Creatures II. With a burgeoning atmosphere as fraught as a coming storm and taut as stretched wire,
"Hosea!" relentlessly chugs along with sizzling, but heavy guitar grind, pushing drum beats, and burnished cymbals hits. Clay adds to the palpable tension, cutting through with a frustrated, yet defiant desperation.
Possibly targeting modern political events, a charged Clay twists and howls out, "Failure of the monarchy / Will you bring about the Restoration?", channeling a people at the end of their rope. It's time for a revolution.
Good Morning Creatures II will be available on LP and download on December 14th via Artificial Head Record & Tapes (AHRT).
Pre-order Good Morning Creatures II at Bandcamp
Darwin's Finches Facebook
Artificial Head Record & Tapes Facebook
Artificial Head Record & Tapes Instagram
comments powered by