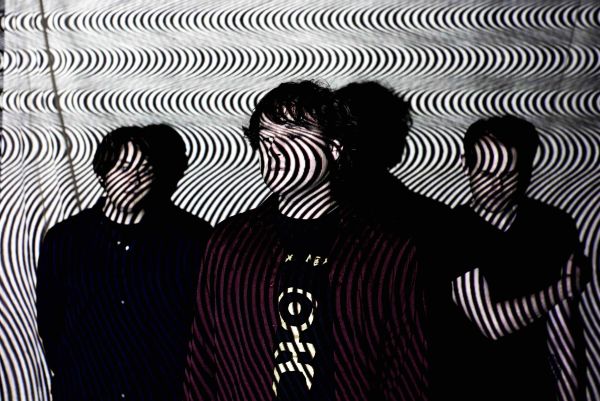 27 November 2018
Burning House – Photo Credit: George Evans
So often a city can be associated in the memories of millions with a particular artist emerging thereof. In the case of Northampton, it's definitely Bauhaus. When it comes to Southampton, Band of Skulls and Creeper immediately come to mind. However, music connection with a location was not always so and, just as certain bands and singers have emerged to become household names, so may the collective we introduce you to today.
The Big Takeover has the pleasure of premiering the new "Mirror Song" video from British noisegaze (a mix of alt-rock and shoegaze), indie rock, and psych-rock three-piece Burning House. This video was produced and directed by Callum Scott-Dyson of CSD Videography.
The song and video are ertainly a highly impressive glimpse into what Burning House's long-awaited album Anthropocene holds, which we won't get to hear the rest of it until early 2019. The track "Peach" is also offered as a second track for the Bandcamp version of this single.
Thriving amid the boisterous fuzz and feedback of their new single "Mirror Song", Burning House have found themselves in compelling sonic territory, not far from early Swervedriver, My Bloody Valentine, and even Jesus And Mary Chain.
Burning House whips up an exhilarating whirlwind of sound that delightfully excoriates the ears with zig-zagging guitar burn amid a punchy, changeable drum tempo, rubberband-stretching bass line, and hazy, but upbeat and gently striving-forward vocals.
The video flies by with zipping, shadowy clips of the band members performing overlaid with fast flashes of bright colors and sepia tones. Images drift and flit by all while the band gets down to business, unleashing a supersonic rocket into the atmosphere. Hang on and go for a stellar ride!
In contrast, the second track to this new single, entitled "Peach" is a winning cocktail of Teenage Fanclub and Starsailor with Dinosaur Jr. and Weezer thrown in. The trio have a marked talent for fusing '80s and early '90s U.S. college rock with the reverb- and fuzz-laden radiation of first-wave British shoegazers.
As of late, Burning House have opened for the legendary Wire, after earning the appreciation of Colin Newman. The trio's euphoric sound has also led to playing all over the south coast with the likes of Moon Duo, Shonen Knife, Is Bliss, and Kagoule.
Formed in 2013, Burning House is comprised of frontman, guitarist, and songwriter Aaron Mills, drummer Dominic Taylor, and bassist Patrick White.
Fusing elements of shoegaze and American indie rock, we find elements of Elliott Smith, Swans, Deerhunter, Teenage Fanclub, Slint, and The Pixies in their music.
"Lyrically I was inspired by Jorge Luis Borges, in particular 'labyrinths", The Mirror stage in Psychology, and the poetic cinema of Andrei Tarkovsky. All these components served as a scaffold to the final product, both aesthetically and lyrically," says Aaron Mills.
""Mirror Song" is about reflections, the reflections we make and ones we actively seek. Our secret and emergent energies that dictate motives realized only posthumously."
After gingerly approaching BBC 6 Music's indie doyen Steve Lamacq with a 4-track demo while in Southampton, Lamacq was so enthralled that he chose Burning House to appear on 6 Music's new bands line-up.
"Mirror Song" will be released on November 9th via online stores and streaming platforms, including Spotify and iTunes, as well as Bandcamp.
CREDITS
Recorded at Valley Studios, Winchester
Engineered by Ben Startup and Tali Trow
Mixed and Mastered by Peter Fletcher at First Love Studios
Music and words by Aaron Mills
Performed by Burning House
Aaron Mills: Vocals, Guitars, Samples
Patrick White: Bass
Ash Babb: Drums
Photography by George Evans
Video produced and directed by Callum Scott-Dyson of CSD Videography
Also check out the video for "Peach":
Also check out their Tracer EP, which released on October 7th.
Facebook
SoundCloud
Instagram
Bandcamp
Twitter
YouTube
iTunes
Spotify