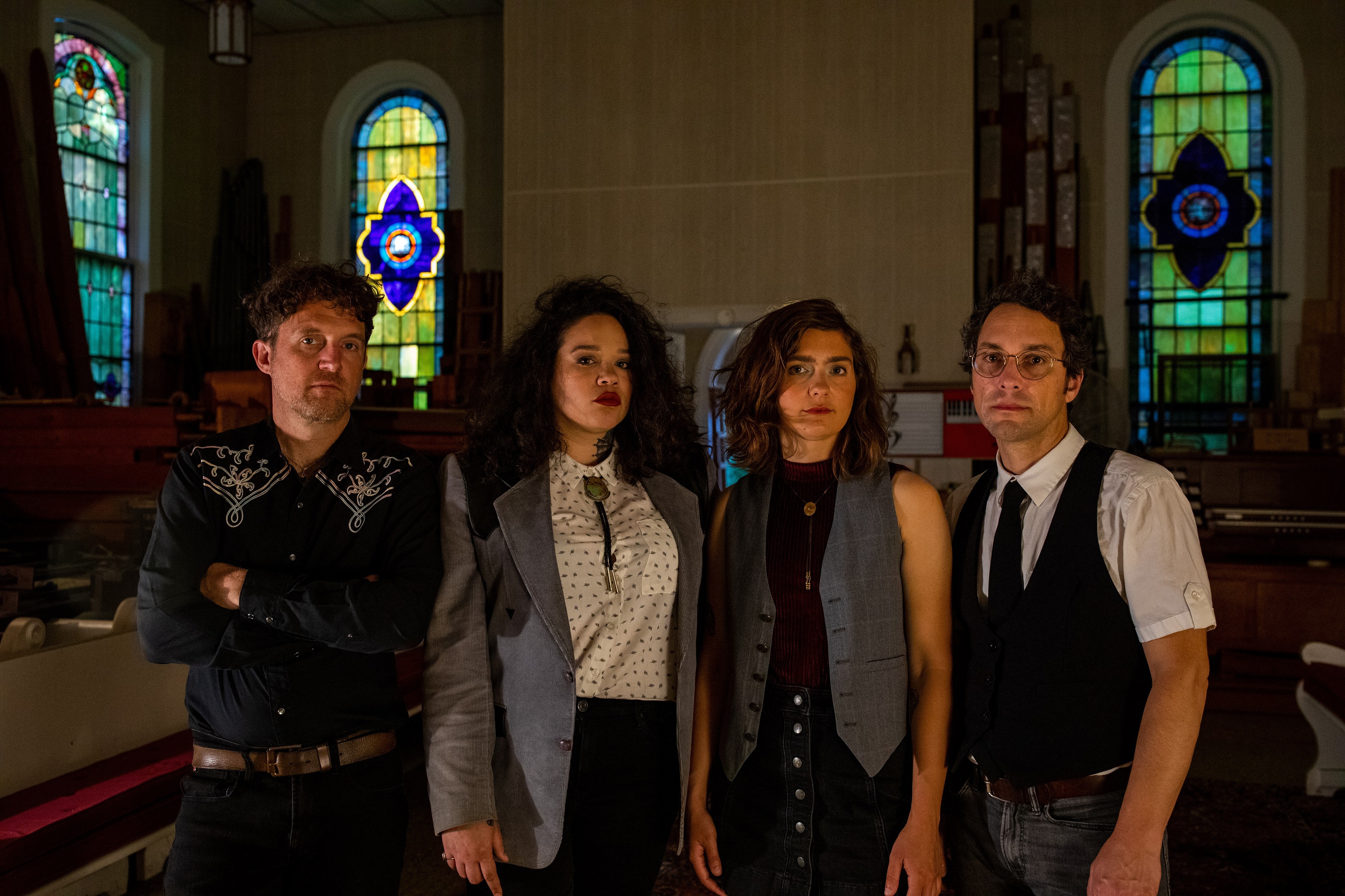 3 October 2022
Those Looks want to make you believers. In yourself, in your friends, in your community, in how things can be better when we work together. The indie rock four-piece is riding out of the pandemic on nothing but #partyfaith. Just three years ago, most of the band didn't know how to play their instruments, but they have recently emerged with a collection of catchy tunes, smooth as a velvet wave and gritty as a sandy bottom. Their debut full-length album, Cults Near Me, will be released by Mint 400 Records on November 11th. The first of two singles, "Hymnal" is exclusively available here at The Big Takeover until they hit all streaming platforms this Friday, October 7th.
"Hymnal" grapples with both the extreme confidence and the heavy responsibility that comes with convincing people to believe in new ideas. Those Looks certainly could not have made this record without convincing people to believe in their ideas. "Everything we do is only possible because we have the support of such talented and generous friends and fellow artists in our scene who believe in each other," says lead singer, Kelly Bolding.
"I'm Fine" represents the flip-side to that warm fuzzy feeling of support and trust in a relationship, when someone you had faith in has let you down. It can be so painful, but you have to realize when to move on and have confidence in yourself, as conveyed by the guitar part in the chorus which exudes an angry kind of swagger.
Bolding is an enigma and a most unassuming lead singer, penning most of the lyrics although all members contribute just about equally to the songwriting. Sylvia Barrantes' tasteful guitar hooks have gravitational force with whammy bar techniques that bend space and time. Her backing vocals take the dreamy "Tangier" to the distant shores of a bygone era. Randall Newman's bass especially shines when he hits the grooves in songs like "Tonight" and "You Know Where," and Ellis' minimalist backbeat pulls you out of your seat and onto the dance floor.
Produced by Steven Xia at the band's converted church rehearsal space, Cults Near Me ranges from grungy 90s-style rock to more breezy, surfy moods, grounded by thoughtful lyrics and three-part harmonies throughout. Barrantes laughs, "As we were writing 'Hymnal', we typed the word 'cult' into a search engine and got a search suggestion for 'cults near me' as if we were shopping around for a good restaurant. We decided that had to be our album title."
Are you a believer now? If so, it's time to get on the bus.