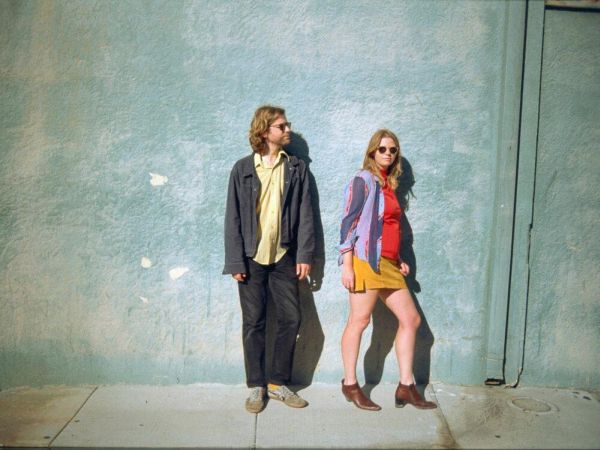 6 May 2021
Sugar Candy Mountain – Photo Credit: Julian Whatley
Sugar Candy Mountain's new album, Impression, is a carousel ride through time with the Bonnie & Clyde of psych-pop, where classic meets contemporary. The thirteen track LP arrives on May 28 from Org Music in partnership with PIAPTK Records.
Ash Reiter (vocals, guitar) and Will Halsey (vocals, drums, guitar, keyboards).of Sugar Candy Mountain segue seamlessly from tripped-out Tropicália, soul-inspired grooves, kaleidoscopic psych jams, classic '70s reverie, and nods to Krautrock on the full length without ever skipping a beat.
Along the way Reiter's honeyed voice hovers seductively between breaking and beauty, taking us on a sensational ride through the ups and downs of apocalyptic visions, tender sunlit musings on love, and deep gazes of self-reflection.
This is the band's third full-length working with dream-pop guru/co-producer Jason Quever of Papercuts, and the third featuring cover art from acclaimed New York artist Jess Willa Wheaton (an old friend from high school). A proven winning team, the results are once again neo-lysergic, illuminating magic.
Big Takeover is pleased to host the premiere of the dreamy title track today. "Impression" is akin to an Impressionistic painting, using a palette of soft-focus sonic dabs and sweeps (reverberating guitar ripples, wavering organ notes, skipping drum beats) and gently drawn out vocals from Reiter.
Producer Jason Quever has this to say about working on the song:
"Recording is the most fun for me when it's highly collaborative, and the Sugar Candy Mountain track "Impression" is one of my favorite examples of that. This was one of the last projects tracked out of the now defunct recording studio I had in Downtown LA before moving back to Northern California, and I'm so glad to have that as a last memory there."
"At first, they just had the chords written, and when we were tracking, we expanded on the groove from there until it started to feel like a great song. It still needed an ending, so we wrote the jam section in the studio, with the shimmering Moog working perfectly under their funky leads. When Ash's lush vocals were added later, it was a real treat to hear since I didn't know their vision for that; it turned into a real earworm!"
Ash Reiter follows up, commenting, "It's also worth noting that we met Jason Quever when Will (Halsey) drummed on a recording session for The Blank Tapes at Jason's original studio back in San Francisco. Jason liked Will's playing and we both loved Papercuts records and Jason production on them. I forget which happened first but Will started drumming for Papercuts and we started recording the songs that would make up our album 666 with Jason."
"I think we work so well together because both in the parts he plays on our songs and his production style he compliments our commitment to classic sounds with a modern sentimentality. He is also a great editor. Often Jason is the one reigning us in when we are overdoing it on a song or conversely pointing out when a song is missing something. When you have become so close to a piece it's extremely helpful to have an outside ear that you trust to give perspective."
"Now many years, shows and albums later we're all good pals. In fact, when Jason and his wife relocated from LA and they moved to the same small tucked away Bay Area town as us. Now we only have to walk a couple blocks to get to his studio, which has been very convenient especially with a new baby. It gave us a chance to bring our son to the occasional recording and mixing session- at least when he was little enough to not run around and get his paws on the gear and instruments. Impression is album number three with Jason but surely not the last."
Bandcamp
Spotify
Website
Facebook
Twitter
Instagram
YouTube