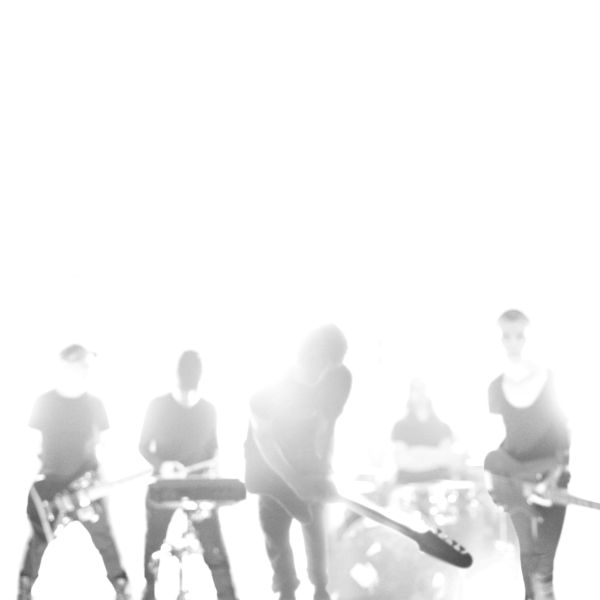 5 May 2021
Last Ice – Photo Credit: Last Ice
What happens when you combine Austin, Texas-based future punk duo Bloody Knives and Portland, OR/Atlanta, GA-located darkwave trio We Are Parasols into one super music group? The compelling alchemy that is Last Ice who, as this united force, have released their bewitching eponymous album this past February via No Movement Records.
This collaboration between two bands melds industrial music, darkwave, and shoegaze into a wide range of stylistic expression on Last Ice. Beauty and noise exist in equal measure; light and dark, dreamy and harsh are perfectly balanced with ethereal synths-driven reveries accosted by grinding guitar lines and blown-out drum sounds.
Last Ice's latest single"Chains" is the epitome of melodic songwriting and coruscating ambiance sporadically battered by scouring, fuzzed-out sonics. Dusky vocal shade alternates with airily glowing vocal notes throughout, adding even more captivating contrast to the track.
Big Takeover is extremely pleased to host the premiere of the atmospheric performance music video for "Chains."
The resulting video clip is an engaging visual representation of a band separated by miles and state lines. The footage that was combined of each band member in an individual frame of the video highlights the two groups' reliance on technology at a time when close social interaction isn't possible.
We Are Parasol's Jeremy Wilkins delves into interesting detail about the making of the music video, explaining, ""Chains" is a performance video by a band that has never actually played together. The footage of one half of the band was shot in a living room in Portland, Oregon, while the other half filmed themselves at a house in Austin, Texas. Then I assembled and edited the footage."
"Much like our first music video [for] "Prayer," this video is half of what it was supposed to be. For "Prayer" a large portion of the footage we filmed was lost on a damaged hard-drive and Preston [Maddox of Bloody Knives] managed to edit together a far more abstract version of the original story."
"For "Chains" there was supposed to be an animated story taking place within black panels, shown sporadically between band members playing on the white panels. The animation project never came together so we decided to make a pure, straightforward performance video. I'm not sure what the end result of either video would have been in a world where they had developed as we originally planned, but I strongly suspect that each video, especially "Chains," is superior due to our need to work around limitations and change direction."
"I think the video for "Chains" perfectly captures the mood of the song; shoegaze, flash, and noise, as well as the personalities of the individual band members. It gives you the viewer a feel for what it might be like if Last Ice were to ever get the chance to perform live."
Jeremy Wilkins also kindly took the time to take part in a Q&A and give more details about this exciting new band and their music:
Hello Jeremy! So, to dive right into it, what is the songwriting process like across state lines? How has technology shaped what you are able to accomplish as a band?
"The entire record is built from pre-existing material from both the Bloody Knives and We Are Parasols halves of the band. Bloody Knives had a record that they had recorded and then shelved that we initially just wanted to hear, as fans. But after Preston sent it to us we suggested that it would be fun to rework some of their tracks and add our own parts almost as an experimental remix project."
"They liked the idea and suggested we send them some of our material so they could do the same. We didn't have anything unreleased so we sent them the tracks from our EP, No Center Line, because, as source material goes, those particular songs of ours seemed to focus on many of the same themes as the unreleased Bloody Knives tracks."
"So, the idea of working remotely was sort of baked into the process and concept of the record from the beginning. I never had any doubt it would work…In fact, I suspect it would have been a much harder record to make if we were all together. We're all kind of solitary people when it comes to our creative processes."
"I think technology, not just the internet for sharing, but also the nearly unlimited potential of digital recording has done a lot to shape, not just Last Ice, but both We Are Parasols and Bloody Knives individually. I think the fact that both bands have sort of a hybrid human-electronic approach to music writing and production is one of the things we bonded on while we were on tour and when we decided to start Last Ice."
"None of us are purists one way or the other; if a song sounds great played and recorded live then that's what's best, but if a song's meaning and emotion is conveyed better with programmed parts, chopped into pieces and resampled 10 times, then that's the approach to take!"
"There's a pretty healthy mix of that in Last Ice and definitely within "Chains," there are a lot of live and purposefully imperfect instruments and voices blended with meticulously programmed electronics and effect processing."
You had mentioned that some of the original ideas for the video included animation and a more narrative approach. What happened with those other video ideas?
"Maybe I shouldn't have mentioned that! HAHA. There was a lot of time between the initial concept of the video and the completion. I had worked up the original idea with a friend who was going to do the animation sometime in 2019. Then we filmed all the performance footage [of] D, Alec, and [me] while Alec was out playing some We Are Parasols shows before the pandemic hit. I didn't get the final footage of Preston and Jake till over a year later for various perfectly reasonable tech and scheduling reasons. But in the meantime the world kind of broke, right?"
"I think the motivation for my friend and [me] to work on the animation got lost somewhere in 2020. So, when I finally had all the performance footage at the beginning of 2021, I decided to just focus on that and do something more simple, less ambitious, less overwhelming. I don't often abandon ideas or take the easier path, but I think time, distraction, and a healthy dose of Covid-era depression did what they did, and in this case, I think it probably made for a better video."
"I think right now people are more interested in a live-looking, dare I say "fun" performance video, without the dark animated piece that was going to be about death following someone running in the background."
The end product turned out excellent! It's a really enjoyable video. What was it like filming everyone playing individually, and was it difficult to sync up?
"Thank you. I'm really proud of the final product."
"Filming the We Are Parasols half (D, Alec, and [me]) was actually super-fun and easy. We shot it in our living room with a couple lights we borrowed from a friend and this amazing iPhone app called Filmic Pro. It was fun to learn how to play the song even if just for the video, and I think D got to be more herself and wasn't portraying a character or persona like she does in most of our We Are Parasols videos. I didn't even really notice that about her until I was editing."
"I think the Bloody Knives half was a little harder, maybe less fun for them because, maybe unfairly, they were tasked with matching the lighting and angles that I had established with our footage. There were some reshoots to try to match the footage closer, but after a couple tries and some creative editing we got it to work."
"I wouldn't say syncing was hard. It was more about getting the lighting, color, and tone to match. Luckily, I also work as a photo retoucher so I have spent quite a lot of time over the past 15 years obsessing over color and lighting. I feel like editing music videos, which I'm fairly new to, perfectly combines my years of experience as both a musician and a photo retoucher."
Last Ice Bandcamp
Last Ice on No Movement Records Website
Bloody Knives Bandcamp
Bloody Knives Facebook
Bloody Knives Twitter
Bloody Knives Instagram
We Are Parasols Bandcamp
We Are Parasols Facebook