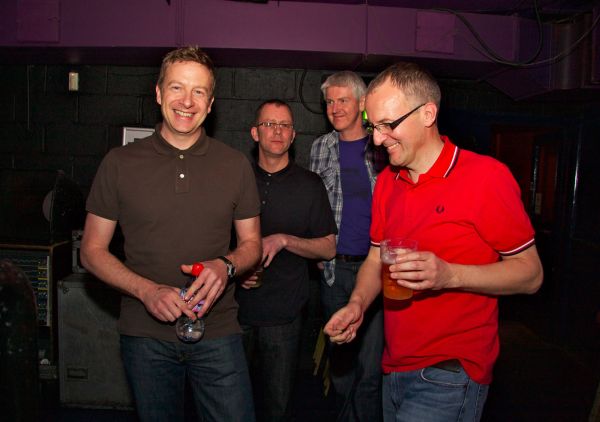 19 March 2019
The Claim – Photo Credit: Gary Williams
Friday marks two special occasions in the life of one band. Not just any band, but British C86-styled indie darlings The Claim. You could say that one of these events ties their past to the present and one ties their present to the future. Let's approach this chronologically. First of all, they'll be re-releasing their seminal 1988 album Boomy Tella via A Turntable Friend Records on vinyl and also CD for the first time. The album has been re-mastered for this limited edition of 300 copies, using the original 1/4 inch tapes.
The second is a huge announcement for fans of The Claim, many of whom didn't expect the band to be producing any new material. But here they are, about to release their first new album in 20 years. Today we premiere 'Journey', the first track off their forthcoming album New Industrial Ballads, which will see its release on May 24.
"Journey" is a brisk and buoyant number that keeps spirits light with strummed guitars and sweeping-forward momentum. In contrast, the vocals and lyrics are more direct, but no less engaging, running along with the flow of up-tempo instrumentation.
Hailing from Cliffe in Kent, The Claim were one of the major players in the thriving 'Medway Scene', which emerged from the Medway Towns in the 1980's alongside such bands as The Prisoners, Thee Milkshakes, The Dentists, Wipe Out and more. Theirs was a mod-influenced pop that seriously influenced on the sound of Blur's earliest works. By 1993, after numerous releases, the band had split.
In 2009, Cherry Red Records paid tribute to The Claim's earlier recordings via their Black Path compilation. This long-overdue compilation of the band's finest work introduced a new generation to their timeless music.
As for the re-issue of Boomy Tella, the green vinyl gatefold offers the original 10 tracks (with download code), while the 14-track CD comes as a 6-page gatefold package. The additional four tracks were unreleased demo tracks from 1988-1990 – 'Business Boy', 'God Cliffe And Me', 'Fallen Hero' and 'Untitled'.
The gatefold package for both vinyl and CD includes lyrics and rare photos from their archives, as well as liner notes from the band's guitarist David Arnold, who also played on early releases by The Jasmine Minks, the first band signed to Alan McGee's Creation Records. The vinyl comes with a download of the 10 album tracks plus 4 bonus tracks.
This music should appeal to fans of The Smiths, The Jasmine Minks, The Railway Children, early Blur, The Jam, The Dentists, early Wedding Present and The Prisoners. The tracks that most stand out upon first listen are perhaps Not So Simple Sharon Says, God Cliffe and Me, Down By The Chimney and Love Letter.
Boomy Tella can be ordered now on CD and vinyl via A Turntable Friend Records and digitally via Bandcamp.
The Claim will be celebrating both their Boomy Tella LP and 'Journey' single launch on March 23 at the 100 Club, with very special guests The Jasmine Minks, Treasures of Mexico (ex Dentists) and DJ Vic Templar. This show is also a curtain raiser for The Claim's new album. Tickets can be obtained HERE
TRACK LIST
1) Not So Simple Sharon Says
2) Love Letter
3) Beneath The Reach
4) All About Hope
5) Las Regas El Resoto
6) Down By The Chimney
7) Mrs Shepherd
8) Sanity Starts At Home
9) On My Way
10) Christopher
11) Business Boy (Demo) (CD and download only)
12) God Cliffe and Me (Demo) (CD and download only)
13) Fallen Hero (Demo) (CD and download only)
14) Untitled (Demo) (CD and download only)
Also check out their new re-issue of Boomy Tella LP and some other great music from further back
The Claim
The Claim at A Turntable Friend Records
Bandcamp
Facebook
Twitter
Spotify
iTunes