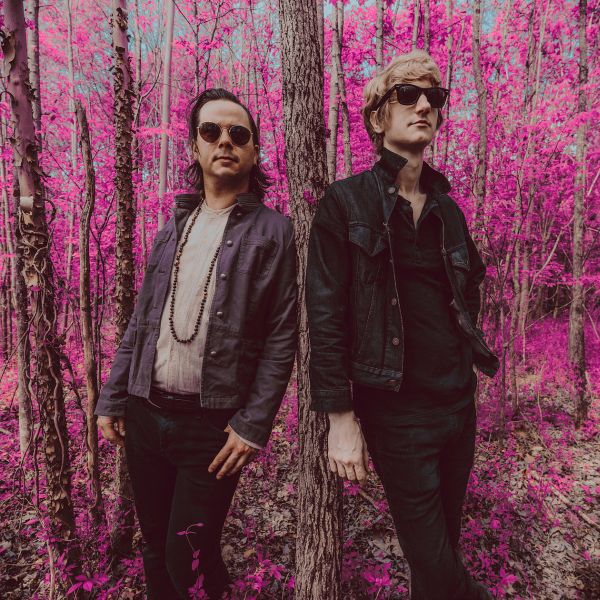 19 March 2019
Fox Grin – Photo Credit: Jason Lee Denton
Nashville-via-Atlanta outfit Fox Grin returns from hibernation this early spring with Dusk, a kaleidoscopic explosion of sparkling indie pop and vibrant art rock soundscapes. Officially arriving on March 22nd, it marks the band's third full-length album and second in two years following 2018's excellent King of Spades.
Primarily a duo comprised of Thomas Chapman (vocals/guitar/keys) and David Bean (bass/backing vocals), the band's sound is characterized by innovative song formulas, classical yet contemporary arrangements, strong rock grooves, and powerful melodies peppered with vocal harmonies.
The Big Takeover is mighty delighted to host the premiere of the full LP right here. A drifting and brief instrumental opening sets the stage for next song "In White", a shining indie rock tale that dazzles with art pop orchestration and gorgeous vocal harmonies. The leads into the lush and radiant "Shangri-la" that reverberates with mellifluous guitar lines, pulled strings, a supple, lower bass line, an active drum beat. Chapman sings in a velvety soft, slightly hazy tone as the track begins to swirl to psychedelic heights.
"Broken Watch" is a dreamy slice of nocturnal-dream beauty, while "Follow the Rabbit" delivers pastoral folk with acoustic instruments and wavering flute notes. The indie rock track "Slow Motion" rises on burning guitar lines and exclaimed vocals, while that dreamstate feeling continues to flow. Power popper "Eclipse" successfully merges melodic, hushed vocals and harmonies with orchestral touches.
The kinetic indie rocker "Skull Candy" propels forward with a forceful drum beat and running bass line. Chiming guitar notes and dashed off piano plunks keep the atmosphere buoyant. Restlessly loping instrumental "The Hunt" adds a darker tone to the proceedings, with a hurried tempo and emphatic almost-metal guitar push. The last track, "Rain", is spare and quieter, focusing on echoed piano notes, a tapping beat, and winding synths that fade out at the finish.
Says Fox Grin founding member Thom Chapman, "We love when albums have a full and complete concept. With Dusk we wanted the sonic palette to reflect bright and colorful songs at the beginning of the album and slowly transition into darker thematic and sonic territories. By the end of the album we really wanted to convey a feeling of night-time and darkness.
THUR 3/21 – Nashville, TN (The Five Spot)
THUR 3/28 – Athens, GA (Georgia Theatre Rooftop)
FRI 3/29 – Knoxville, TN (Scruffy City Hall)
SAT 3/30 – Elizabethtown, KY (Flywheel Brewing)
FRI 7/12 – Atlanta, GA (Fernbank's After Dark Music Series)
Website
Instagram
Facebook
Spotify