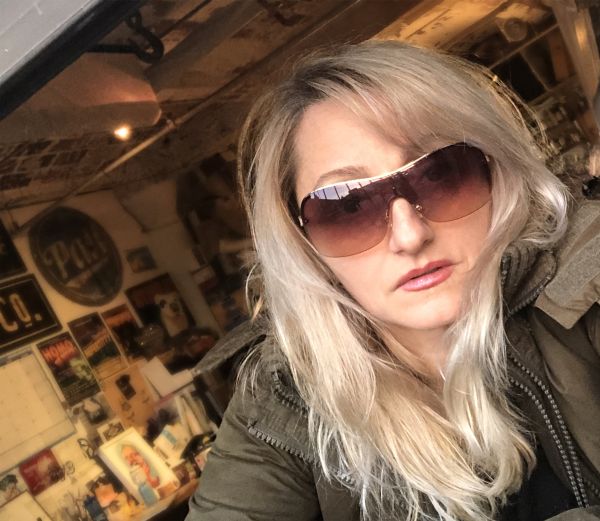 22 February 2019
Gina Volpe – Photo Hugh Jhant
NYC multi-platform (musician, fine artist, composer) artist Gina Volpe is back with a run of captivating and varied tracks that she's been recently releasing as singles series named Winter To Spring. Feelings of loss, rage, and even playful hopefulness give each song its own story, style, and mood.
This past January Volpe kick-started her singles series with the feminist anthem and punch-in-the gut "Time to Come," which splashed its way into Rolling Stone:, which commented, "[Volpe] channels modern angst via detuned metal guitars and rattling 808 beats on her new solo single."
With Volpe's latest tune, "Make It Good", which The Big Takeover is thrilled to premiere, she takes an entirely approach, putting her guitar aside for a moment to pump out a burly bass line over bouncy electronic beats and hooky melodies.
Volpe builds up a mysterious atmosphere rife with her seductive, but cool delivery, ticking percussion, and sinuously winding synth lines. The beat hits hard as it punches through the jittery electronics. As the track progress, a varied array of sounds is introduced of that range from industrial scrapes to rock guitar jags.
The result is a quirky, stylistically hybrid pop tune with a tongue-in-cheek attitude about grit and resolve, with Volpe chanting, "Don't play it small / Let's take it all!" It's the perfect soundtrack to the new VANS ad campaign featuring Volpe on stage at CBGB's in the '90s with her band Lunachicks.
Known as a blistering lead guitarist, Gina Volpe made the leap to frontwoman in the early 2000s when she launched her own band, Bantam. The music was more dissonant, complex, and dark, with the Village Voice raving it combined "brute force with bewitching melodies."
By 2006, Volpe decided to take a pause from life on the road and focus her work behind the scenes. She set up a home studio and began scoring for films, expanded her output as a visual artist, composed and produced the off-Broadway rock musical Homo The Musical, and even served as the motion capture model for the female guitarist and bassist characters in the blockbuster video game Rock Band.
In 2017, Volpe decided it was time to finally do what she had been dreaming of all along, her solo record, so she teamed up with producer Barb Morrison to record Different Animal.The explosive and exhilarating songs blend analog and electronic elements into a thoroughly modern sound. That same year, Volpe also joined forces with shock rocker Peaches to perform at Samantha Bee's spectacular event, Not The White House Correspondents Dinner.
Emboldened by the positive reception of her solo EP and her latest single releases, Volpe has embarked on the next leg of her musical journey.
comments powered by