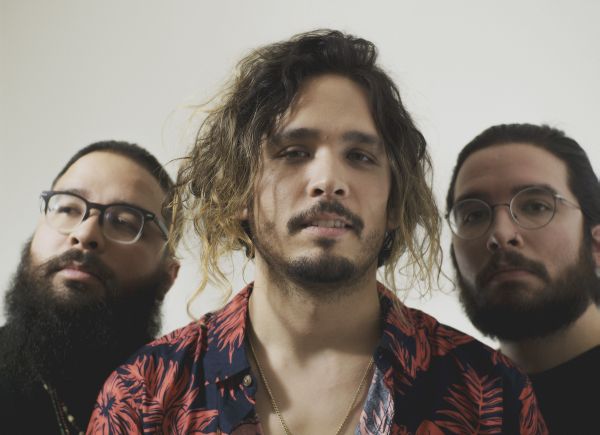 22 February 2019
Idyll Green – Photo Credit: Rachel Villanueva
Today Idyll Green (ex- Hacienda, Fast Five), three talented brothers from San Antonio, share their debut EP, When Love Ends, Be The Water. The Big Takeover is pleased to host its premiere right here so you can listen to it in full.
The five songs on the EP shine a light on Chicano culture in a way that's incredibly dynamic, and part of this EP's charm is the poetry book that shares the name of the album, written by the band's own Rene Villanueva and illustrated by Rikkianne Van Kirk, who also did the album and single artwork. The companion to the EP is on sale now and acts as a true companion to the music and brings fans even deeper into their culture.
The band says, "Water, like stories, holds no shape. That's why we felt it was better to break up the narrative into the music and the book." It's easy to say this work is progressive, but it's how it succeeds that's really special. It's autobiographical without being static or egotistical. A laid-back vibe brings warmth while remaining effortlessly chilled out.
The synergy between the brothers is uncanny when it comes to their creative process. This record, unlike their previous work, was not recorded in Nashville with longtime collaborator Dan Auerbach of The Black Keys, who says, "They have consistently impressed me with their natural chemistry."
Songwriting became the most important part of their future as musicians, and this EP was so personal that they needed to make in their home studio South Texas. San Antonio is such a major player in the songs — it feels like a character in this EP's story.
The genre of When Love Ends, Be The Water is closest to Alt-R&B, which is a departure from the band's previous garage / indie-rock leaning projects in Hacienda and The Fast Five, which had incredible notoriety and got the brothers on MTV, Rolling Stone, The Late Show with David Letterman, Late Night with Conan O'Brien, and more.
The laid-back and funky backbone of the songs make this EP more of a stoner classic for intellectuals and more palatable. This is key because the lyrics are meant to shine, and the melodies are there to guide fans through the story (this is even more fun with the book of poetry in hand).
The South Texas energy brings a mellow heat that feels romantic and dreamy that separates it from the fast pace of the east coast and the super slowed down pace of the west. "We were tired of being called 'too Mexican' or 'not Mexican enough,' 'too vintage', or 'not the right vintage' so many people had ideas of what we should be," Rene says, "but we should be the ones to decide that. Idyll Green is our space to be whoever we want." That's likely why the stories Rene tells are often true stories about his life. It's authentic because it's real. Not too much or too little: just his perspective on real moments in time.
This is best seen in the two videos that were released with this EP: "Moonlit Magic" and "Jukebox Gentleman."
"Moonlit Magic," the first single from the new project, is very close to the brother's hearts that also takes place at a surreal South Texas dive bar. It's a love story that captures the tension of unexpectedly finding a connection through music.
Rene explains, "It's everything we love about Chicano culture in Texas. Mixing Jaime's Hip Hop beats, Abe's moody Alt-R&B production, a nod to Houston Legend Johnny Nash, fine whiskey, a '57 Chevy and falling in love, "Moonlit Magic" has the kind of creative vibe that permeates late-night South Texas. San Antonio has such a diverse history of art and music and it's inspiring to live here and feel that every day. Everything written for this upcoming EP, When Love Ends, Be The Water, is autobiographical and that means finding our identity in the words, music and visuals; we're telling our story our way. Having that freedom was the biggest reason we decided to stay independent as artists."
Describing the single itself, Rene says, "We have these late-night summer river parties where the guys would drive out to the country to meet friends and on one night, I met and lost a good friend and love. The song has this Johnny Nash inspired vibe that's referenced in the lyrics. We wanted it to be fun but still have this magical-strangeness to music. In the outro, you can hear a recording of a nighttime campfire under the guitars."
"Jukebox Gentleman," according to the band, "is a meta-song in that it is based on a true story where Rene is actually trying to find a date at a dive bar. The song plays with the idea of pseudo-bravado, a theme that's typical in R&B/Pop, and it makes fun of Rene's natural loner awkwardness. It aims to look deeper at the dynamic of a male-female, in-pursuit-of-finding-love kind of relationship that's often used in pop as a backdrop for the story itself. The track starts with the song being picked in the jukebox and ends when, and this is true, Rene was punched into the back alley and left alone to figure out what that meant."
To discover more about Idyll Green and dive further into their world, definitely give this amazing EP a listen, and the book of poetry a read. You can enjoy these five songs without the larger backstory, but peeling the fried onion is half the fun.
TRACKLISTING
01. 4 Days in SA
02. Jukebox Gentleman
03. Moonlit Magic
04. Hooked On Her Love
05. Be The Water
TOUR DATES
Feb 23 – [Head]Space (EP release party) at Grey Moon Vintage – San Antonio, TX
Mar 6 – (Rene only) Music and Poetry Reading at Cactus Record – Houston, TX
Website
Facebook
Twitter
Instagram