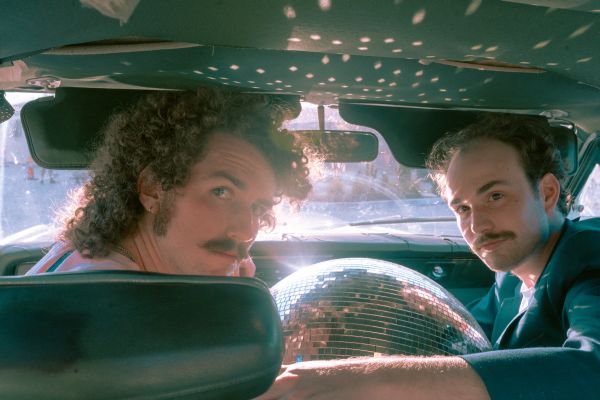 30 November 2020
Dolphin Group – Photo courtesy of Dolphin Group
Chattanooga TN-based Dolphin Group is a disco basement indie pop band who are dropping their newest single, "Making Magic," on December 4th and Big Takeover is pleased to host the premiere of the groovin' and effervescent track today.
Dolphin Group made their first splash last month with debut single "Protozoa" and established their water-themed, post-world-ending, sincere dance pop sound.
"Making Magic" refines their aesthetic by taking elements from the '70s style of disco balls, gold chains, and mustaches, while adding a flair for the 2000s techno the band members grew up with.
Dolphin Group is a collaboration between childhood friends, Zach Ruppert and Colin James. The duo began recording their debut album at home in 2018 with the intention of making an upbeat and exciting project inspired by the unique energy of '80s icons such as Prince and the B-52's, but with an aquatic twist.
James' background in jazz drums and percussion combines well with Ruppert's skill as a producer and bassist. Synthesizers, guitars, and vocals shine alongside the funky rhythmic backbone that the two create.
The duo has since morphed into a five-piece on stage that also features Connor Harlan, Natalie Beatty, and Ashton Reilly in order to perform the layered arrangements crafted in the studio.
The band dig into the meaning and creation of "Making Magic," explaining, "This song also started with an idea from our friend and collaborator Code, who works at Moog. Code came in with the bass line, which was inspired by Piper's "Hot Sand." Piper is a Tokyo-based beachy funk-soul-fusion city pop band formed in the '80s by Keisuke Yamamoto and their aquatic brand of city funk is the perfect influence for Dolphin Group. The "Hot Sand" bass line is this ultra-melodic funky bass riff that carries the song."
"At the time we were looking for a fifth live member and so the lyrics sort of evoke a "pitch" to this supposed imaginary fifth member who didn't exist yet. At the time I (Zach) was reading a good bit of Nietzsche's Zarathustra – typical for a home recording English Major I know – and the lyrics bear a bit of that influence, especially the line about my will doubling and clinging to me. Zarathustra almost seems like a pitch from Nietzsche to the reader to see his point of view – and that was the feeling I was trying to evoke."
"This song went through more iterations than any Dolphin Group song, but it really came alive when we decided to make the transition to the chorus, especially the last two times, really over the top – almost like a big drop in a crazy electronic song like "Sandstorm" by Darude. When we would play this track live, before the pandemic, it felt super-triumphant because of the crazy-big 'drops,' but also because we eventually found the 5th member and forever-friend we'd been dreaming of: Natalie Beatty. Since her inclusion in the band, the song has almost taken a kindhearted, sugary-sweet tone like The Flaming Lips' "The Spiderbite Song," or something."