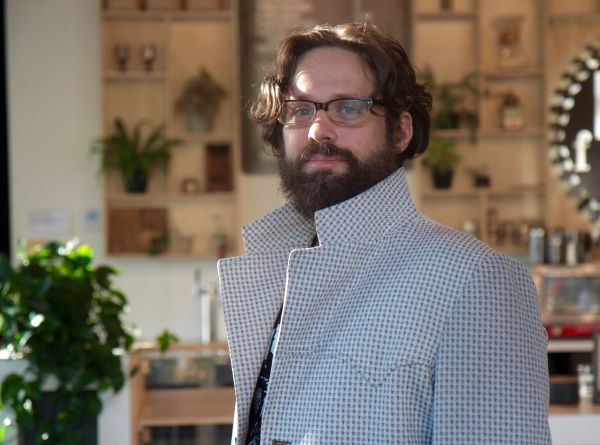 7 November 2018
Andy Dixon of Gumshoe – Photo courtesy of HHBTM Records
The music of Athens, Georgia's Gumshoe is an ever-changing structure built on the foundation of frontman Andy Dixon's unique and bleak to bittersweet lyrics. He follows the great outsider troubadour tradition while adding bits of country, rock, and/or blues to the mix.
Started in 2011, Gumshoe released its debut album The Bad Route Down in 2014, and was nominated for an Athens Music Award in the Americana category the following year.
Since then, they've released two Christmas singles, including last year's anti-Trump anthem "Santa, Lock up Trump." With the addition of free jazz drummer John Norris in late 2014, Gumshoe took on a sharper edge, and bassist Jef Whatley came on board in 2017 to form the current trio.
Dixon honed his writing with short fiction and long poetry, along with a half decade as a sports journalist at newspapers from southern Georgia to Philadelphia. He stumbled into music by making several albums of sound collage and experimental electronic under the name monkE. At age 28, he picked up a friend's guitar and began to put words and music together.
Informed by his compulsive reading of crime noir novels, his extended stays in Zen monasteries, and a habit of hiking in the Georgia woods that dates back to his days as an Eagle Scout, Dixon's lyrics range from questioning one's own sanity amid dizzying celestial math, to tragic, drugged-up rural misadventures and a woman whose dreams are not-unpleasantly frequented by the ghost of the scoundrel Richard Nixon.
The Big Takeover is pleased to host the premiere of the more straightforward, but very affecting dirge "Never Enough", taken from the upcoming album The Governor's Brother, which arrives on November 16th via HHBTM Records. "Never Enough" is a sonically low-key, slowly wandering track with a folk-blues imprint and it's especially riveting due to Dixon's ruefully mourning, world-weary vocals and lyrics that match his vocal impact.
Dixon sheds some light on "Never Enough", revealing the following details:
"I had been working on this song for a coupla months and couldn't quite figure out how to sing it."
"I was writing late at night, trying not to wake up my roommate – playing an unplugged electric. Suddenly I started singing in this whispered, sickly falsetto and all the problematic lines fell into place. I recorded a demo on my iPhone right then to send to the rest of the band, but it was too quiet – so i jacked it up till it distorted and for good measure threw on a bunch of tinny lo-fi reverb."
"That demo got out to friends, and has been listened to maybe more than all my other songs combined. We went into the studio to record it, and I was sicker than can be imagined. Pseudoephedrine was keeping me upright and my head was a balloon on a string. I had a 101 fever and a steady, high-tide of cough medicine in my blood."
"We got a take of the song that I was sure was the one. It clocked in at 9 minutes, and John was moving in such slow motion that the snare sounded less like a firecracker and more like a bowling ball on a trampoline. Luckily, after we listened back to it, Jesse Mangum – the producer and one of my closest friends – stood up to me and told me it was boringly slow, and he wouldn't back down, even when I got offended and mean."
"I went back to the live room to try it again, with my blood pumping a little faster, and we got a great take – the one on the album – it's all live but the vocals."
"When I played it for the folks who had loved the demo, the response was universally unenthusiastic. The instruments sounded great but my vocals were lacking – which confirmed what I felt. Over the course of several sessions, I recorded and patched together so many different takes, and eventually settled on one I could live with, and moved on to other songs."
"Eight months later we were all but finished with the album, and i decided to much chagrin to try the vocals again. I captured some of that creepy desperation from the demo, which made it easier to find the right effects for it, and now I dig it. I hope other folks do."
comments powered by