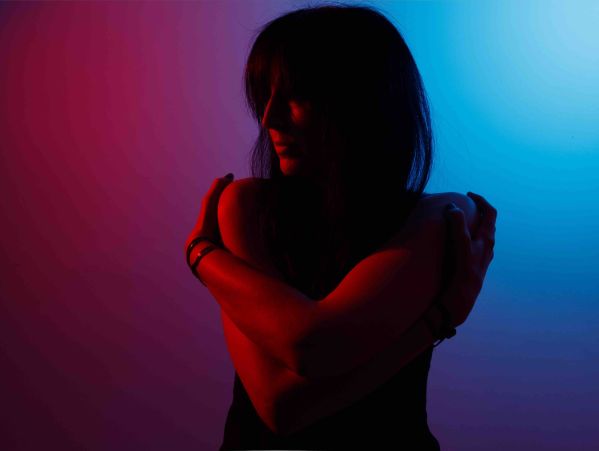 6 November 2018
Evi Vine – Photo Credit: Paul Harries
Not long ago, The Big Takeover introduced you to a brilliant product involving and curated by Michael Ciravolo called Beauty in Chaos, which recently released the song "Man of Faith", involving Simon Gallup of The Cure, along with Wayne Hussey of The Mission. Other participants in this project include members of Ministry, Cheap Trick, The Offspring, King's X, and Ice-T, among others. This is connected to today's premiere two-fold. Not only did Evi Vine also participate in Beauty in Chaos, but so too did Simon Gallup contribute to Evi's new single "Sabbath".
This track offers a sweet and heavy preview of their long-awaited long-play Black Light White Dark, due out on vinyl and CD in February 2019, as well as digitally worldwide. Ever astounding, Evi's voice sits comfortably between Beth Gibbons (Portishead) and Roisin Murphy (Moloko) – all the darkness is there and yet her timbre is perfect throughout. As an initial offering from the band's new album, it would be no overstatement to say they will blow you out of the water and make you eager to hear the rest of the album.
"Sabbath" features Evi Vine's gossamer vocals and precise orchestration, cleverly woven together with bass guitar by the very talented Simon Gallup of The Cure and guitar by Peter Yates of Fields of the Nephilim. With only 300 copies made in this first pressing and Evi Vine and Simon Gallup being as popular as they are, these are likely to disappear really quickly.
Produced by Dave Izumi (Nordic Giants, Ed Harcourt, Magic Numbers) and mixed by Phill Brown (Talk Talk, Jimmy Hendrix, Led Zeppelin, John Martyn, Robert Palmer), this album also features contributions from several other celebrated artists. Apart from Simon Gallup (The Cure), this album also involves Martyn Barker (Shriekback, Billy Bragg, Marianne Faithfull, Goldfrapp), Peter Yates (Fields of the Nephilim), and Geraldine Swayne (Faust).
The group is made up of Evi Vine, Steven Hill, Matt Tye, and David 'GB' Smith. Their music explores the dark elemental nature of the human heart, as well as environmental and post-apocalyptic themes. Evi Vine's sound is both sublime and haunting. Creating a unique and uncompromising atmosphere, the effect is reverential, physical music, evoking a rare experience that is beautiful, sparse, and deeply intimate.
"I know a lot of people are being shaped by experiences in our lives, ghosts of childhood, self-destructive pain and sorrow, all our personal struggles, doubt, and change. I can feel the earth dying and it makes me so sad. We write reflective songs about the circular patterns of man, and reflecting beauty and violence in the world," says Evi Vine.
"We recorded live for the first time, which meant we were perhaps able to express the energy in the room together, vibing off one another and experimenting with new sounds, in a new space. Writing in the room was a new experience for us. Its the first time we've gone in with no finished songs. We had a few ideas and riffs but took the time to let them breath and worked on them until we felt we had captured a special moment. After producing two albums essentially at home, this feels like a re-birth for the band."
Evi Vine's self-released debut album …And So The Morning Comes was heralded as "the underground gem of 2011" by Drowned in Sound, and championed by Simon Raymonde (Bella Union, Cocteau Twins) as his album of the year. Directed by Oscar winning Nick Brooks (Fight Club, The Matrix, The Girl with the Dragon Tattoo), Evi joined with internationally acclaimed photographer Patrick Fraser to make the stunning video "For the Dreamers".
Their second album Give Your Heart to The Hawks (2015) was co-produced by Richard Formby (Mogwai, Spacemen 3, Wild Beasts) and mixed by the legendary Phill Brown (Beth Gibbons, John Martyn, Talk Talk, Led Zeppelin, Robert Palmer). The album also featured Martyn Barker, Peter Yates, Tatia Starkey (My Vitriol/Lola Colt), and Billy Cote (Madder Rose).
Evi's career has been filled with color. She formed this band while living in LA, quickly getting a support show opening for Slash at the Whiskey-agogo. She has collaborated with Graham Revell (SPK, The Crow Soundtrack), The Eden House, Tony Pettit (Fields of the Nephilim), and Peter Yates (Fields of the Nephilim). In 2016, Evi sang on Phillip Clemo's DreamMap' album, together with Talk Talk's Simon Edwards and Martin Ditcham, subsequently making appearances on BBC6, BBC3 Late Junction and Jazz FM. Recently, Evi Vine contributed backing vocals on The Mission's 2016 album Another Fall From Grace, which hit the UK Top 40 album chart.
In recent years, Evi Vine has toured with The Mission, Chameleons Vox, Wayne Hussey, And Also The Trees, Phillip Boa and The Voodoo Club, and Her Name is Calla. After hearing Evi Vine's debut album and including it among his top five albums, Wayne Hussey invited them to tour with him in 2016 and subsequently with The Mission in 2017. Invited on stage to sing three songs by The Mission, the seed was sown and Vine joined The Mission as featured vocalist for their 30th Anniversary Tour.
"The new album is intense – dark, layered, wonderfully atmospheric, fragile, and at times stripped bare – an album to get lost in… and then surface with Evi's haunting and delicate vocals and the endless space," explains Phill Brown.
The Cure's Simon Gallup elaborated on his involvement in this project: "Hammersmith …me drunk …meet Evi for the first time I mumble that I'd love to play on a couple of tracks …don't hear anything for ages then an email out of the blue …Three songs …feel nervous but really enjoy the songs …a day trip to the coast and a lovely welcome with dogs ..have beer and made to feel even more welcome ..worry that what I'm playing isn't right or not going to fit in but enjoy myself and the warmth of everything ..have to dash as there is a prom on …a very bad hill start and a dash back down the motorway ..a quick day that had started 20 months before."
"Sabbath" will be released on December 6th via online stores and streaming platforms, including Spotify, iTunes, and Bandcamp.
The full Black Light White Dark album can now be pre-ordered via the band's Website or as a bundle HERE.
TRACK LIST
1. I am the Waves
2. Afterlight
3. Sabbath
4. My Only Son
5. We Are Made of Stars
6. Sad Song No.9
CREDITS
Written by Evi Vine, Steven Hill, Matt Tye, David Gb Smith
Evi Vine – Vox, Guitars, Production
Steven Hill – Guitars, Keyboards, Production
Matt Tye – Bass
David 'GB' Smith – Drums
Simon Gallup – Bass
Peter Yates – Guitar
Produced & mixed by Dave Izumi at Echozoo Studios, Eastbourne
Engineered by Phill Brown
Mastered by Aneek Thapar
Artwork by Nejc Janzekovic
Photography by Paul Harries
Also check out the video for "For The Dreamers", which was mentioned above:
and Evi Vine's most recent video for "I See Her In Colour":
EVI VINE
Website
Facebook
Bandcamp
Instagram
YouTube
Twitter
iTunes
Spotify