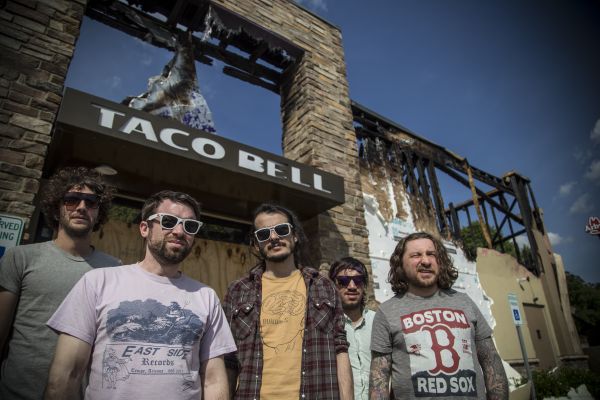 18 January 2019
Aneurysm – Photo Credit: Tyler Hallett
Boston-based punk/noise rock band Aneurysm have announced the upcoming release of their raw and rampaging debut album Awareness, set to be unleashed on February 1st. Aneurysm have dropped several singles and EPs so far and have played roughly 200 wild and highly acclaimed shows.
The band has now put their raging and cathartic sound and spirit to disc/wax with Awareness, which was recorded at GodCity Studio in Salem, MA, by Chris Johnson (bassist of Deafheaven and Doomriders) and mastered by Will Killingsworth (The Body, Magrudergrind). The artwork and layout were created by Mark McCoy, whose work has graced the covers of albums by Pig Destroyer and Full of Hell.
Awareness is comprised of ten tracks' worth of swaggering, melodic noise rock that charges forward through the same sewers as Nirvana, Unsane, and Turbonegro.
Burly drums and distorted bass pound out frantic punk rock rhythms, as dual guitars weave ragged blankets of noisy melody. Vocalist Michael McGee (who spent much of the '00s fronting noise-core blasters the _ Network) snarls, screams, and croons, with lyrics that are stark and poetic – world-weary reflections on sex, drugs, cops, death, and of course, rock n' roll.
The Big Takeover is supremely psyched to host the premiere of "Newport", a sludgy, yet emotionally spiked cut off of Awareness. Casually spun-out guitar lines careen through the track amid emphatic drum strikes, while McGee attacks with throat-shredding shouts.
The driving pace whips up to frenzy by song's end, as bashed drums pound out a kinetic tattoo, tangled guitars scramble their wires, and a frustrated McGee lashes out with unhinged fury.
The release of Awareness is a joint effort between Tor Johnson Records (vinyl), Constant Disappointment Records (vinyl and CD), and Suspended Soul Records (cassette).
Pre-order exclusive "crown yellow" color vinyl at Tor Johnson Records
Pre-order exclusive "creamsicle" color vinyl and CD at Constant Disappointment Records
TOUR DATES
Feb 1 – Florence, MA at 13th Floor Lounge
Feb 4 – Asheville, NC at Static Age
Feb 5 – Nashville, TN at Drkmttr
Feb 8 – Austin, TX at Beerland
Feb 10 – Arlington, TX at Division Brewery
Feb 11 – Memphis, TN @ Hi-Tone
Feb 12 – Atlanta, GA at 529
Feb 13 – Raleigh, NC at Slim's
Feb 16 – Waterbury, CT at Brooklyn Cafe
Feb 17 – Providence, RI at The Dusk