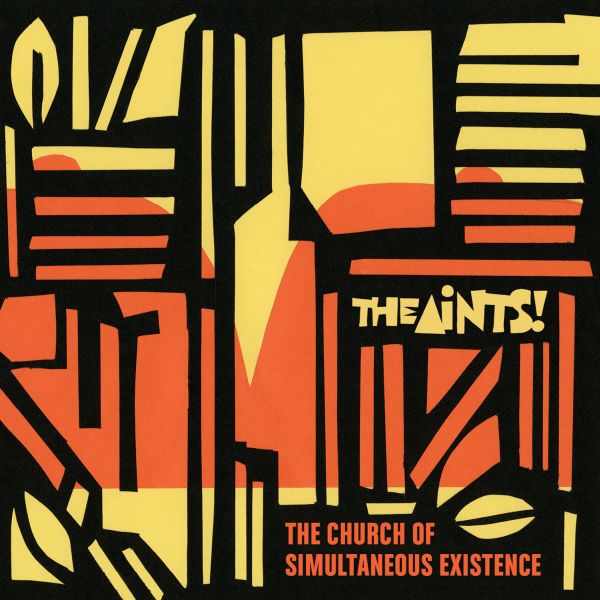 16 January 2019
The Aints! – The Church Of Simultaneous Existence (ABC AUS)
Hi folks!
Since I have now completed my two countdown radio shows for the top 50 albums of 2018—see The Big Takeover Show button above to hear one song from each—here is my complete list of the 160 best albums, 50 best archive/retrospective/reissue releases, and 50 best stand-alone singles and EPs of this previous year—my best bets on another great year for music, old and new. (Never mind the cranks, here's the good stuff, as ever.)
Hope this little list inspires you to find, or give a second look to, a few cool releases you might miss otherwise that you end up truly loving. Otherwise, lists are for time-wasting. Not my bag. But as I listened to all of these a great deal this year, perhaps you might like some of them, or will be glad to see them recognized if you are already enjoying them.
Cheers to you all and Happy New Year!
Jack Rabid's Picks, 2018's 160 Best Albums (New Recordings)
1 The Aints! – The Church Of Simultaneous Existence (ABC AUS)
2 Sloan – 12 (Yep Roc)
3 The Chills – Snow Bound (Fire)
4 Soft Science – Maps (Test Pattern)
5 Sam Phillips – World On Sticks (Littlebox)
6 Jet Black – L'ère Du Vide (L'oeil Du Tigre/Skeletal Lightning)
7 The Magic City Trio – Amerikana Arkana (Kailua)
8 The Goon Sax – We're Not Talking (Wichita)
9 The Love-Birds – In The Lover's Corner (Trouble In Mind)
10 Beths – Future Me Hates Me (Carpark)
11 Three Hour Tour – You Never Know (Martian)
12 La Luz – Floating Features (Hardly Art)
13 Rolling Blackouts Coastal Fever – Hope Downs (Sub Pop)
14 The Black Watch – Witches! (Atom)
15 Pugwash – Silverlake (Lojinx U.K.)
16 The Feeders (Sam Vicari) – The Feeders (Sip City)
17 The Decemberists – I'll Be Your Girl (Capitol)
18 Guided By Voices – Space Gun (Guided By Voices Inc.)
19 Smokescreens – Used To Yesterday (Slumberland)
20 The Damned – Evil Spirits (Search And Destroy/Spinefarm)
21 Dropkick – Longwave (Pretty Olivia Spain/Sound Asleep Sweden)
22 Tony Molina – Kill The Lights (Slumberland)
23 Cut Worms – Hollow Ground (Jagjaguwar)
24 Ash – Islands (Infectious U.K.)
25 Dot Dash – Proto Retro (The Beautiful Music CAN)
26 Tracyanne & Danny – Tracyanne & Danny (Merge)
27 The Bevis Frond – We're Your Friends, Man (Fire)
28 The Beremy Jets – Careless (Somewherecold Sweden)
29 The Persian Leaps – Pop That Goes Crunch! (Land Ski)
30 Deep Cut – Different Planet (Deep Cut)
31 D.O.A. – Fight Back (Sudden Death CAN)
32 The Lil Smokies – Changing Shades (The Lil Smokies)
33 The Fernweh – Brightening (Skeleton Key U.K.)
34 A.M. Nice – End Of An Era (Phratry)
35 Walter Lure & The Waldos – Wacka Lacka Boom Bop A Loom Bam Boo (Cleopatra)
36 Paul Smith – Diagrams (Billingham U.K.)
37 Paul Collins – Out Of My Head (Alive Naturalsound)
38 Chatham Rise – Meadowsweet (Picture In My Ear)
39 Totally Mild – Down Time (Chapter Music AUS)
40 TV Smith – Land Of The Overdose (JPK/Warner)
41 Calexico – The Thread That Keeps Us (Anti-)
42 GospelbeacH – Another Winter Alive (Alive Naturalsound)
43 Johnny Marr – Call The Comet (New Voodoo)
44 Gaz Coombes – World's Strongest Man (Hot Fruit/Caroline)
45 The Junior League – Eventually Is Now (Greenleaves Sound/Kool Kat)
46 Songs For Snakes – Crystal Vapour Figure (Songs For Snakes)
47 Willie Nelson – Last Man Standing (Legacy/Sony)
48 Deniz Tek – Lost For Words (Career)
49 Lolly – Nice Things (Lolly)
50 Neko Case – Hell-On (Anti-)
51 Belly – Dove (Belly)
52 Death Cab For Cutie – Thank You For Today (Atlantic)
53 Salad Boys – This Is Glue (Trouble In Mind)
54 Blank Pages – Before Your Summer Fades (FDR)
55 Alice Bag – Blueprint (Don Giovanni)
56 Dirty Sidewalks – Bring Down The House Lights (No-Count)
57 The Furious Seasons – Now Residing Abroad (Stonegarden)
58 Triptides – Visitors (Requiem Pour Un Twister FRANCE)
59 Film School – Bright To Death (Hauskat)
60 Ants Ants Ants – Why Why Why? (Pinwheel)
61 The Innocence Mission – Sun On the Square (Badman)
62 The Shins – The Worm's Heart: Heartworms (Flipped) (Aural Apothecary/Columbia/Sony)
63 The Ex-Optimists – Drowned in Moonlight (Shifting Sounds)
64 Ray Davies – Our Country: Americana Act II (Legacy/Sony)
65 Mike Gale – Beachhead Galaxy (Farm Music U.K.)
66 Hookworms – Microshift (Domino)
67 Paul McCartney – Egypt Station (Capitol)
68 Cliff And Ivy – American Saints (House Of Extreme Darkness)
69 Cloud Nothings – Last Burning Building (Carpark)
70 Math and Physics Club – Threadbare (Fika/Matinée)
71 Superchunk – What a Time To Be Alive (Merge)
72 Thunderegg – Cosmos (Bleeding Gold)
73 Buffalo Tom – Quiet And Peace (Schoolkids)
74 Eureka, California – Roadrunners (HHBTM)
75 Hinds – I Don't Run (Mom + Pop)
76 Teenage Wrist – Chrome Neon Jesus (Epitaph)
77 Morrissey – Low In High School (BMG)
78 Joy Formidable – AAARTH (Seradom)
79 Echo & The Bunnymen – The Stars, The Oceans & The Moon (BMG U.K.)
80 Reverend Horton Heat – Whole New Life (Victory)
81 Interpol – Marauder (Matador)
82 Sera Cahoone – The Flora String Sessions (Lady Muleskinner)
83 Courtney Barnett – Tell Me How You Really Feel (Mom and Pop/Marathon Artists/Milk!)
84 Car Crash Sisters – Sundance Sea (Blackjack Illuminist GER)
85 William Duke – Quarto (Familiar)
86 Ex Norwegian – No Sleep (Think Like a Key)
87 The Newsletters – The Newsletters (The Newsletters)
88 Various – Altered Sweet; a Tribute to Matthew Sweet (Futureman)
89 Bird Streets – Bird Streets (Omnivore)
90 Beach House – 7 (Sub Pop)
91 Tommy & the Commies – Here Come (Slovenly)
92 The Messthetics – The Messthetics (Dischord)
93 Poster Children – Grand Bargain! (Lotuspool)
94 The Hasbros – Cart Before the Horse (Hasbin)
95 Hot Snakes – Jericho Sirens (Sub Pop)
96 Whitehorse – The Northern South, Vol. 2 (Six Shooter CAN)
97 Tape Waves – Distant Light (Bleeding Gold)
98 The Breeders – All Nerve (4AD)
99 Addison Love – Thoughts On Lunch? (Big Stir)
100 Ty Segall – Freedom's Goblin (Drag City)
101 Jessica Moss – Entanglement (Constellation CAN)
102 The Purrs – Destroy the Sun (Swoon)
103 Parquet Courts – Wide Awake (Rough Trade)
104 Dragon Inn 3 – Double Line (American Laundromat)
105 Rocket 3 – What's the Frequency? (Rocket 3)
106 Pete Astor – One For the Ghost (Tapete GER)
107 Big Bliss – At Middle Distance (Exit Stencil)
108 Perry Serpa – Wherefore Art Thou—Inspired by Nick Hornby's, "Juliet, Naked" (Schoolkids)
109 Jeff Tweedy – Warm (DbPM)
110 Jon Brion – Lady Bird Original Soundtrack (Lakeshore/Frost/Fire)
111 Holly Cook – Vessel of Love (Merge)
112 Various – Feelings Called Glorious (Tribute to Adorable) (The Blog That Celebrates Itself)
113 Bloodshot Bill & The Hick-Ups – This Is It (Sleazy Spain)
114 Car Seat Headrest – Twin Fantasy (Face To Face) (Matador)
115 Adrian Whitehead – Nerd From the Suburbs (Popboomerang AUS)
116 The Moles – Code Word (Super Secret)
117 Wild Nothing – Indigo (Captured Tracks)
118 Neil Young – Paradox (Reprise)
119 Say Sue Me – Where We Were Together (Damnably)
120 True Primitives – Revolutions (Comet Rock)
121 Hamell On Trial – The Night Guy at the Apocalypse, Profiles of a Rushing Midnight (Saustex)
122 The Armoires – Incidental Light Show (Big Stir)
123 James Williamson & The Pink Hearts – Behind The Shade (Leopard Lady)
124 Sacred Shrines – Come Down the Mountain (Rogue Wave/Ripple)
125 Shannon & The Clams – Onion (Easy Eye Sound)
126 Zoom – Helium Octipede (Lotuspool)
127 No Age – Snares Like A Haircut (Drag City)
128 Heaven – All Love Is Blue (Little Cloud)
129 Nothing – Dance On the Blacktop (Relapse)
130 Matthew Sweet – Tomorrow's Daughter (Honeycomb Hideout)
131 The Orange Peels – Trespassing (Minty Fresh)
132 Sharon Jones & the Dap-Kings – Soul Of A Woman (Daptone)
133 Lord Buffalo – Lord Buffalo (Clerestory AV)
134 The Spook School – Could It Be Different? (Slumberland)
135 Yo La Tengo – There's a Riot Going On (Matador)
136 Dentist – Night Swimming (Cleopatra)
137 The Longshot – Love is For Losers (Crush)
138 Las Ligas Menores – Fuego Artificial (Laptra Argentina)
139 Kristin Hersh – Possible Dust Clouds (Fire)
140 Deerhunter – Why Hasn't Everything Already Disappeared (4AD)
141 Elvis Costello & The Imposters – Look Now (Concord)
142 The Condors – Joie De Vivre (Mini LP) (Big Stir)
143 Tombstones In Their Eyes – Nothing Here (Send Me Your Head)
144 The Holydrug Couple – Hyper Super Mega (Sacred Bones)
145 Paul Simon – In The Blue Light (Legacy/Sony)
146 Various – Untitled Love Songs, a Tribute to Moose (The Blog That Celebrates Itself)
147 77:78 – Jellies (Heavenly)
148 Low – Double Negative (Sub Pop)
149 J Mascis – Elastic Days (Sub Pop)
150 The Skids – Burning Cities (Nobad U.K.)
151 The Asteroid No.4 – Collide (The Asteroid No.4)
152 Cleaners From Venus – Life In a Time Machine (Mr. Mule U.K.)
153 Nostalgist – Disaffection (Nostalgium Directive)
154 Graham Parker – Cloud Symbols (100%)
155 Various – Standing at the Gates: The Songs of Nada Surf's Let Go (Mardev)
156 Frontperson – Frontrunner (Oscar St.)
157 Various – TBTCI – Popkiss TBTCI Meets Sarah Records (The Blog That Celebrates Itself)
158 No Joy/Sonic Boom – No Joy/Sonic Boom (split) (Joyful Noise)
159 Songs: Ohia – Travels in Constants (Temporary Residence)
160 Ford Madox Ford – This American Blues (Porterhouse)
HONORABLE MENTIONS:
A Cast of Thousands – Beige (Record Records)
Arcadian Child – Superfonica (Rogue Wave/Ripple)
Arthur Buck – Arthur Buck (New West)
Nick Batterham – Golden Boy (Popboomerang AUS)
Corrections – Birdsong (Custom Made)
Matt Edible & the Obtuse Angels – Stargazing (Farm Music U.K.)
Erie Choir – Old Rigs (Pot Luck)
Charlotte Hatherley – True Love (Sylver Tongue U.K.)
Rich Krueger – Nowthen (Rockin K)
Lowtide – Southern Mind (Rice Is Nice)
SPECIAL MENTION:
Various – There Must Be a Hole In Your Memory: a Tribute to The Sound & Adrian Borland – The Beautiful Music CAN (Full disclosure: My own Last Burning Embers is among the artists)
Jack Rabid's Picks, 2018's 50 Best Singles And EPs (Mostly Stand Alone/Non LP!)
1 Frankie Stubbs – My Heart is Home 7" (Sounds Of Subterrania GER) / "Don't You Ever Say Goodbye" (Little Rocket U.K.)
2 Swervedriver – "A Lonely Crowd Fades In The Air" / "Mary Winter" (Rock Action)
3 Shogun & The Sheets – "Hold On Kid" (What's Your Rupture?)
4 The Black Watch – The Paper Boats EP (Eskimo)
5 Lou Barlow – "Love Intervene" 7" (Joyful Noise)
6 Piroshka – "Everlastingly Yours" (Bella Union)
7 Bob Mould – "What Do You Want Me To Do" / "Sunshine Rock" (Merge)
8 The Shifting Sands – "Zoe" (Fishrider NZ/Occultation U.K.)
9 Bad Religion – "My Sanity" / "The Profane Rights of Man" (Epitaph)
10 Sleeper – "Look At You Now" (Gorsky U.K.)
11 The Lost Patrol – Redemption EP (The Lost Patrol)
12 Soft Science – "I Don't Know Why I Love You" ("Undone" b-side) (Test Pattern)
13 Sleaford Mods – Sleaford Mods EP (Rough Trade)
14 Agent Blå – Medium Rare EP (Luxury/Kanine)
15 The Decemberists –Travelin' On EP (Capitol)
16 Lake Ruth –Split Single With Pale Lights (Kleine Untergrund Schallplatten GER)
17 Belle & Sebastian – How To Solve Our Human Problems EPs, Pts. 1, 2, And 3 (Matador)
18 The Successful Failures – Red Bank EP (FDR)
19 The Blankz – "White Baby" 7" / "I'm A Gun" 7" / "Getting Over You" 7" (Slope)
20 Ty Segall – "Class War" (In The Red)
21 Ride – Tomorrow's Shore EP (Wichita)
22 Spectrums – II EP / "Catching Dart" Flexi 7" (Spectrums)
23 Trotsky Icepick – "World War X" 7" (Mustard Only)
24 Guided By Voices –100 Dougs and Wine Cork Stonehenge EP (Guided By Voices Inc.)
25 Dead Horse One – "Echo Street" (Requiem Por Un Twister)
26 Coast Office – EP 7" (Coast Office)
27 Fawns Of Love – Part Time Punks Sessions / "Someday" / "Zine Days" (Fawns Of Love)
28 Giuda – "Number 10" 7" / "Get It Over" 7" (Got Kinda Lost)
29 Tears Run Rings – Somewhere EP (Shelflife)
30 The Safes – A Tribute To Juliana Hatfield 7" (American Laundromat)
31 The Junior League – "The Wrong Kind Of Blue" (Greenleaves Sound/Kool Kat Music)
32 Pale Lights – "Come In The Spring" (Calico Cat)
33 Martin Frawley – "You Want Me" (Merge)
34 Ben Folds – "Mr. Peepers" (Ben Folds Productions)
35 Jess Ledbetter – Slow Desert EP (Shifting Sounds)
36 Dotsun Moon – "Sin Nombre En 18" (Dotsun Moon)
37 Sufjan Stevens – "Tonya Harding" 7" / "Lonely Man Of Winter" (Asthmatic Kitty)
38 Airstream Futures – If I & PR Nightmares 7" (Little Rocket U.K.)
39 Freddy "Boom Boom" Cannon – "Boppin' The Blues" 7" (Wondercap)
40 Fake Laugh – "On Loop" (Headcount U.K.)
41 The Fur Coats – Milkdromeda EP (Johanns Face)
42 Lemonheads – "Old Man Blank" (Fire)
43 Little Shrine – Wilderness Mini-LP (Little Shrine)
44 "Blind" Rage And Violence – "No Police" 7" (Pig Baby)
45 The Proletariat – "The Murder of Alton Sterling" (Bridge 9)
46 Dave Allison – "Hologram Hotel/Too Far Away" (Custom Made)
47 The Erotics – Stuck Between Venus and Mars EP (Cacophone)
48 Lake Ruth & Listening Center – To Recife (Lake Ruth)
49 The Paranoid Style – Underworld U.S.A. EP (Bar/None)
50 TC&I – Great Aspirations EP (TC&I/Burning Shed)
HONORABLE MENTIONS:
Amusement Parks On Fire – "All The New Ends" (Saint Marie)
Kramies – Of All The Places Been & Everything The End EP (Hidden Shoal)
The Local – Reverie EP (Wednesday)
M Ross Perkins – What Did You Do For Summer Break EP (Sofaburn)
Pineapples – "Shaken" (Wicked Ape)
The Raveonettes – "Ghost" (The Raveonettes)
Scary Hours – "Live To Serve/Serve To Live" 7" (Pyrrhic Victory)
Ultimate Painting – "Not Gonna Burn Myself Anymore" (Bella Union)
Jack Rabid's Picks, 2018's 50 Best Releases of Old Recordings and Reissues
1 The Choir – Artifact: The Unreleased Album (Omnivore)
2 The Beatles –Esher Demos / The Beatles Deluxe 50th Edition (Apple)
3 The Hollies – Live At The BBC (Rhino)
4 Gene Clark – Sings For You (Omnivore)
5 For Against – Reissues: Aperture, Mason's California Lunchroom, Shelf Life / '90s Reissues Vinyl Box Set (Saint Marie)
6 Wipers – Live At The Met December 31, 1982 (Zeno/Jackpot)
7 The Kinks – Are The Village Green Preservation Society (Super Deluxe Box Set) (BMG)
8 Love – Forever Changes (50th Anniversary Edition Box) (Rhino)
9 The Nils – Brave New Waves Session (Artoffact CAN)
10 Greg Sage – Straight Ahead reissue (Luxury Products/Light In The Attic)
11 Electric Light Orchestra – The U.K. Singles Vol. 1 1972-1978 Box (Sony)
12 Jeremy Enigk – Return Of The Frog Queen reissue (Sub Pop)
13 The Still Out – Crystallized reissue (The Still Out)
14 The Comsat Angels – Lost Sessions Vol. 1 (Panatlantic U.K.)
15 Joe Strummer – 001 (Ignition)
16 Shudder To Think – Ten-Spot reissue (Dischord)
17 Stimulators – "Loud Fast Rules" 7" reissue (Frontier)
18 999 – The Albums 1977-80 (Box) (Cherry Red U.K.)
19 R.E.M. – R.E.M. At The BBC (Craft)
20 The Members – Greatest Hits (Cleopatra)
21 Donovan's Brain – Convolutions Of The Brain (Box) (Career)
22 The Posies – Frosting on the Beater reissue (Omnivore)
23 Desario – III (Test Pattern)
24 Thin White Rope – Reissues: Exploring The Axis, Moonhead (Frontier)
25 Lee Hazlewood's Woodchucks – Cruisin' For Surf Bunnies reissue (Light In The Attic)
26 Magnet School – Tonight We Drink… Tomorrow We Battle The Evil At Hand reissue (Shifting Sounds)
27 Shoes – Black Vinyl Shoes Anthology 1973-1978 (mini-box) (Cherry Red U.K.)
28 Holiday Flyer – Reissues: Try Not to Worry, The Rainbow Confection (Darla)
29 Screamin' Jay Hawkins – Are You One Of Jay's Kids?: The Complete Bizarre Sessions 1990-1994 (Manifesto)
30 The Monochrome Set – 1979–1985: Complete Recordings Box Set (Tapete GER)
31 Big Black – Songs About Fucking (Remastered) (Touch And Go)
32 Dead Kennedys – Iguana Studios Rehearsal Tape – San Francisco 1978 (Manifesto)
33 Various – Stax '68: A Memphis Story box (Stax/Craft/Concord)
34 Felt – (entire album discography reissues) (Cherry Red U.K.)
35 Neil Young – Songs For Judy (Live 1976) (Reprise)
36 Martin Newell – The Greatest Living Englishman reissue (Captured Tracks)
37 The Stems – At First Sight: 30th Anniversary reissue (Citadel AUS)
38 Louis Armstrong & His All-Stars – Jazz is Back in Grand Rapids (ORG Music)
39 Permanent Green Light – Hallucinations (Omnivore)
40 The Click – Flood (Capital Punishment)
41 Zuider Zee – Zenith (Light in the Attic)
42 The Vibrators – The Albums: 1979-85 (box) (Cherry Red U.K.)
43 Bob Dylan – Live 1962-1966 (Columbia/Legacy/Sony)
44 Ella Fitzgerald – Ella at Zardi's (Verve)
45 Yachts – Suffice to Say: The Complete Yachts Collection (mini box) (Cherry Red U.K.)
46 Aretha Franklin – Lady Soul reissue (Rhino)
47 Various – Am I Dreaming: 80 Brit Girl Sounds of the 60s (box) (Cherry Red U.K.)
48 Nina Simone – The Colpix Singles ($Tateside)
49 Juliana Hatfield – Hey Babe reissue (American Laundromat)
50 Duke Ellington & His Orchestra – World Broadcasting Series Vol. 1: 1943 (ORG Music)
HONORABLE MENTIONS:
Cocteau Twins – Reissues: Head Over Heels, Treasure (4AD)
Bert Jansch – A Man I'd Rather Be (Part I) (Box) / A Man I'd Rather Be (Part II) (Box) (Earth/Fire)
The Quick – Mondo Deco reissue (Real Gone)
Slaughter & The Dogs – Slaughter—Bite Back (2CD/DVD) / The Slaughterhouse Tapes (Cleopatra)
Terminal Mind – Recordings (Sonic Surgery/Super Secret)
Note here's a couple DVDs I saw and enjoyed and a couple of books I read and liked, though to be honest, I didn't see or read nearly as many good ones as are out there from basic lack of time! So this list is woefully incomplete. Just thought they merited a mention:
BOOKS/DVDS:
Joni Mitchell – Both Sides Now: Live at Isle of Wight Fest 1970 (DVD) (Eagle Vision)
H.R. – Finding Joseph I: The H.R. From Bad Brains Documentary (DVD) (MVD)
Various – The Us Festival – 1982 The Us Generation (DVD/Blu-Ray) (MVD)
Wayne Kramer – The Hard Stuff (Da Capo Press) book
Matthew Cutter – Closer You Are: The Story Of Robert Pollard and Guided By Voices (Da Capo Press) book
Bill Sullivan – Lemon Jail: On The Road With the Replacements (University Of Minnesota Press) book
Curt Weiss – Stranded in the Jungle: Jerry Nolan's Wild Ride-a Tale Of Drugs, Fashion, the New York Dolls, and Punk Rock (Backbeat Books) book