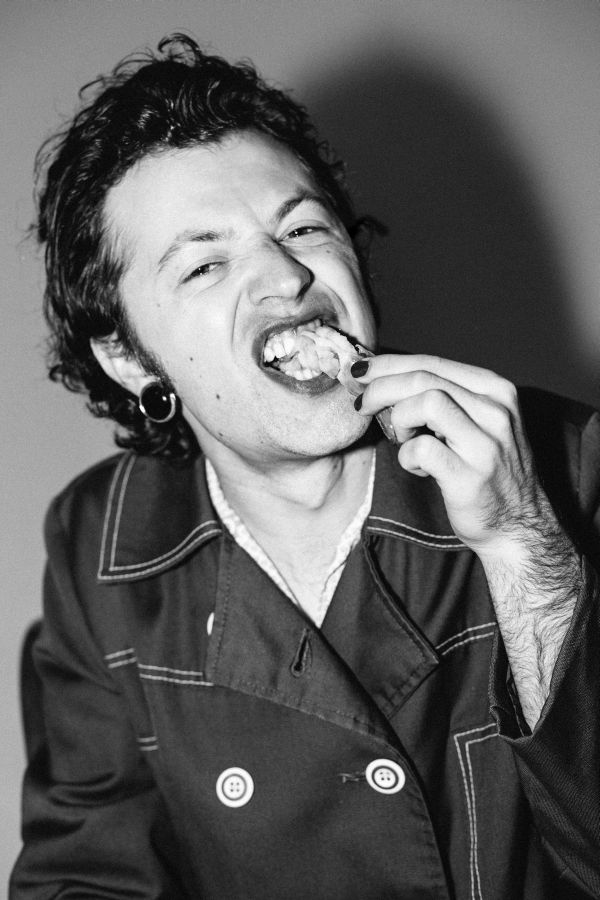 14 October 2019
A shrimp-eating Gabriel Delicious – Photo Credit: Josh Stuebe
Gabriel Delicious is the moniker that LA- and Melbourne, Australia-based songwriter Gabriel Nardin records and performs under. Masking anxiety with lyrical humor and overcompensating discomfort with cheeky expression, Delicious writes true stories of life on and off the road as a musician and being part of a band.
The garage/glam rocker's lyrics recall the playful idiosyncrasy of Thin Lizzy or Lou Reed tossed into a loosely tucked bed of "guitarmonies" and irreverently tinged mellow-punk attitude.
Delicious is a long-time touring member for many of today's top indie rock acts, but he's now stepping into the solo spotlight again with his upcoming second album.
The Big Takeover is delighted to host the premiere of the spiritedly delivered, lyrically jam-packed "Punisher In Paradise". It follows the first single, "Road Dogs", which was about the depressing dreams of a relentlessly touring young band.
On this spin, Delicious relates the narrative of the all-too-common relationship musicians find themselves in with inadequate and abusive upper management in the music industry. He does couches serious lyrics and scenarios in an insouciant vocal delivery, pirouetting and punching with aplomb amid spacey, '70s guitar lines, starry synths press, and a restless drum-driven pace.
facebook
Instagram
Bandcamp
Spotify