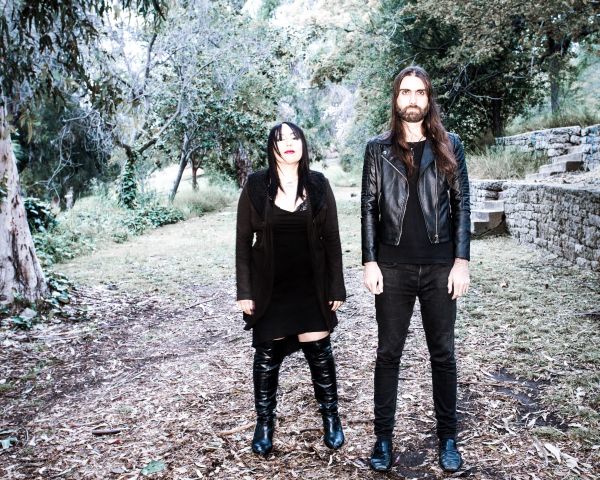 13 October 2019
Night Tongue – Photo courtesy of Night Tongue
Night Tongue are an aesthetically transgressive darkwave/post-punk duo originally from Australia, who are now based out of Los Angeles. The outfit is comprised of Carisa Bianca Mellado and Andrew Dalziell, and they are unveiling their darkly mesmerizing debut album, The Stag King, on October 11th as an independent release.
Night Tongue create a mythic and atmospheric world of romance, sex, death, horror, and ecstasy. The slow-burning, crepuscular darkwave songs (by way of austere Gothic, classical symphonic, and cinematic influences) weave captivating tales of love, tragedy, and transgression.
Vespertine soundscapes of doomed romanticism and bruised torment haunt The Stag King. Beauty and violence vie for dominance and end up melded together in bittersweet poignancy. Depending on the track, Mellado floats above and/or Dalziell stalks through the tracks, painting a chiaroscuro composition of ethereal light and foreboding shadows.
Mellado and Dalziell are post-punk veterans who have worked and/or performed with a litany of musical luminaries: David J (Bauhaus, Love and Rockets), White Magic, Steve Albini, Brian Chase (Yeah Yeah Yeahs), Eric Erlandson (Hole), Nora Keyes (Centimeters, Fancy Space People), Gitane Demone and Rikk Agnew (Christian Death, The Adolescents), and Nick Hudson of The Academy of Sun. They are also both are members of the experimental doom band Asva with Stuart Dahlquist (Sun O))), Burning Witch, Goatsnake), Toby Driver and Ron Varod (Kayo Dot), Nick Hudson (The Academy of Sun), and Adam Dahlquist.
In early 2018, Night Tongue released their 10" EP, Achelous + Melpomene. The mythology-themed EP tells the story of the birth of the Sirens in Southern Italy, mothered by the Muse of Tragedy, Melpomene, and fathered by the ancient underworld God of the oceans, Achelous.
Throughout 2017 and 2018, Mellado and Dalziell composed scores for a number of short films and plays, performed sound baths, and completed tours of Australia and Europe. They also found the time to write and record The Stag King. While still looking to mythology for inspiration, the band continues to explore the greater connections between mythology and personal life on this LP.
The Big Takeover is profoundly pleased to host the premiere of The Stag King in its entirety ahead of its official release date.
The album transfixes from the start, slowly unfolding with the spare, symphonic and industrial-influenced "The Flood". Mellado expresses her delicate vocals like a broken angel sighing downwards from above the clouds. A fragile tremble hangs on her lips as the strings and synths extend and scrape against the strict, heavy metallic beat.
Stuttering percussion and chiming guitar lines ring through "Blueblood", which winds with serpentine wordless vocals from Mellado and deep and reflective main vocals from Dalziell as he bemoans, "the emptiness held in our hands".
A kicky beat and dirge-like press of keyboard notes are pitted against scouring guitar line scramble on the proto-Cocteau Twins-sounding "Tongue". Mellado pushes out her vocals like a dark siren, troubled and calling out to her lost lover. She's balanced and mirrored by Dalziell's lighter and hazier vocal tone.
Stark and ominous "Swarm" rumbles with low-tone buzz and sways with Dalziell's strongly emotive vocal delivery. Spurs of sharp guitar strike out sporadically in the sparse sonic space that is occupied by Dalziel as the focal point, as he exclaims forcefully, "I won't forget you / Forever with you / Never to part." amid a building storm of guitars.
An icy drift flows through "The Trees" as Mellado's mournful, layered vocals whisper through the piece like a lost, spectral visitor reaching out with longing into the real world. Suspended strings, eerie backing vocals, and sporadic guitar cascade support Mellado as she wanders through, expressing her yearning musings.
Fiery guitar sparks light up album closer "Drift". The searing guitar line flames with feedback and is then deepened by other weighty instrumentation, a measured, but lashing beat, and ruminative to aching vocals from Dalziel. He's supported by Mellado's glowing vocals that radiate like a harbinger of the unknown.
"The cycles of nature are represented through the Triple Moon Goddess of life, death, and rebirth and the Stag God as he crosses the seasons of birth, fertility, death, and renewal. This is heard as lovers meet, connect, devour, lose, go through the dark, and are reborn on a higher level," the band explains. "This album is about love fundamentally, but it really is about searching for the eternal space of that, through all seasons, life and beyond death."
Website
Facebook
Twitter
Instagram
YouTube
Bandcamp
Spotify
SoundCloud