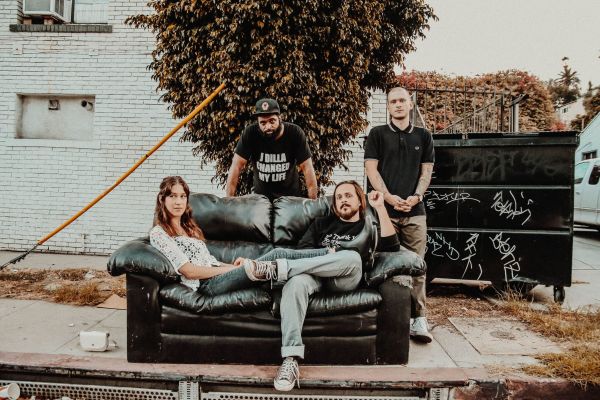 29 January 2019
Broken Field Runner – Photo Credit: Madison Stern (IG: "at" madisonphoto
Los Angeles, CA's Broken Field Runner has seemed quiet since 2017, when the band released their four-song EP Heavy Hanging Fruit with Chicago-based label Jetsam-Flotsam. That's not to say the band hasn't been busy; in fact, singer and guitarist Anthony Bucci has been writing, performing, and recording non-stop since the release.
As the band gears up for another full-length, Bucci and Broken Field Runner are ready to share the fruits of their most recent labors. The Big Takeover is pleased to host the premiere of "Put An Ocean Between My Self-Pity and Me," the latest single by the band.
Though more peaceful and restrained than the pop-punk featured on the band's 2015 debut Clear a Place in Heaven So This Earth Can Breathe, "Put An Ocean Between My Self-Pity and Me" captures the depth of emotion and poetic lyricism listeners have come to expect from Bucci—and sets the table for the band's next set of songs.
Airy and direct, "Put An Ocean Between My Self-Pity and Me" started with a collaboration between Bucci and his friend Nicholas Warchol (Aficionado, Self Defense Family, Geoff Gordon). "We were jamming at his home in Albany, NY in anticipation of our tour in November of 2017 that Nick played bass on," Bucci says. "We both picked up guitars in his living room and the melody came out."
Bucci's lyrics, however, were inspired by darker subject matter and feelings. "Lyrically, I was watching The People v. O.J. Simpson: American Crime Story on Netflix and in one of the episodes John Travolta's character Robert Shapiro says, 'Put an ocean between me and Johnnie Cochran!' That phrase couldn't leave my mind for weeks, so before long I started to think about what I would want to distance myself from and landed on my primary modes of communication: self-deprecation, self-pity, self-entitlement, jealousy, and ultimately what I too often do to cope with those feelings: get drunk."
To capture this track at its rawest, Bucci asked producer and musician Derek Ted Shultz to help him realize the song. "It utilizes an approach to production that I have never pursued before," Bucci says, "i.e., what would happen if just an engineer and I saw a song through to its end without any other input? And it also relies fully on the limited resources we had at our disposal at the time: Derek and I produced the drum tracks using 808s and samples from the GarageBand app on his cell phone; we borrowed a bright pink Mark Hoppus bass guitar from my friend Tommy Meehan (the Manx, Sweatband Records) and wrote the bass line in the studio; we recorded the entire song over two sessions in Derek's guest room in Canoga Park and in his living room in Burbank."
The result is an unmistakable Broken Field Runner song, but one unlike the band has ever written. It is also a song that wields a fascinating disparity—a bright and relaxing aura with a darker sentiment behind it—and an impressive step forward. "I think it showcases how far my band and I have come with song-writing in the past five years," Bucci says. "It's simple but effective lyrically, when I so often am long-winded. It's a triumph of trusting your artistic vision and pursuing it until it's right. It was a song we did not expect to be a stand-out that is now the first single to be released from this batch of songs."
Broken Field Runner
Spotify
Bandcamp
Facebook
Twitter
Instagram
Jetsam-Flotsam
Website
Bandcamp
Facebook
Twitter
comments powered by