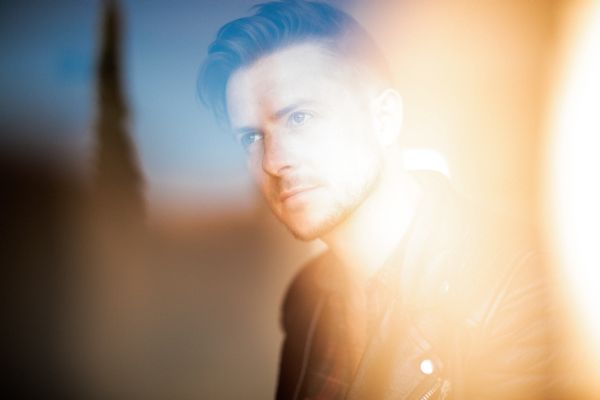 10 October 2018
Chris Ayer – Photo Credit: Chris Wood
Chris Ayer is a Los Angeles-based artist who combines heartfelt performances with poetic lyricism that makes for classic and engaging music. Equally at ease in the pop, folk, soul, and Americana genres, and singer-songwriter tradition, Ayer mixes elements of each in his reflective, yet vivid songs.
The Big Takeover is pleased to premiere one of his new numbers, the vibrant "Ringing In My Ears". With each instrument being introduced one by one, the track resonates with a heartfelt urgency. Mellifluous, gentle acoustic guitar lines are soon joined by soft piano notes, then flowing picked banjo, and finally bittersweet strings. And one by one, they disappear and rematerialize, creating swells of intensity and pockets of calm. Throughout the instrumental interplay, Ayer's light, earnest vocals rise and recede, at times quiet and delicate, and at others, plaintive and searching.
California-born and Virginia-raised, has made a name for himself on the music circuit in NYC, playing emotive solo shows in New York's lower east side. He's also collaborated with musician friends including longtime tourmate Matt Simons. Ayer has played over 1K shows throughout America and Europe and self-released his latest album, The Noise, which he co-produced with Grammy-winning producer Will Hensley.
Ayer is currently touring extensively and will be releasing a run of new singles over the coming months with the goal of dropping an album next year.
The artist reveals details about "Ringing in My Ears", commenting it's, "…a song I wrote unsure if I'd ever release it. It is a personal song about trying to let go of a person or a time in your life, but having that persistent unresolved feeling hang over you, long after that time has passed. I wrote it pretty quickly and I liked playing it live pretty much the day it was finished, but it took a couple years before I could figure out how to produce the song – when I started working with mixer/producer Ryan Gilligan on co-producing some of my more acoustic style songs, I finally felt like we were able to build something that had folk and acoustic elements but also leaned into more experimental and non-traditional sounds to give the song more of the haunted quality I was searching for. "Ringing in My Ears" is supposed to feel little like a lullaby sung to a ghost, where in the middle the narrator gets a little carried away – hopefully that comes across!"
"I'm really enjoying writing and recording, collaborating with friends, writers and producers, and trying to let each release kind of reveal itself. I will be putting out at least a song a month over the next 6-9 months, and those will be leading up to a couple longer form album releases in 2019. I'm going to be in performing LA on October 11th at The Hotel Café. I'm heading out in November opening for Matt Simons on his US & Canada tour, and I will be playing a bunch more dates around America and Europe in early 2019. The rest of my time I'll be spending on getting more music ready. I'm kind of obsessed with the preparation at this point, I'm just leaning into it. I can't wait to share it all!"
Website
Facebook
Instagram
Twitter
Bandcamp
SoundCloud
YouTube
Spotify
comments powered by