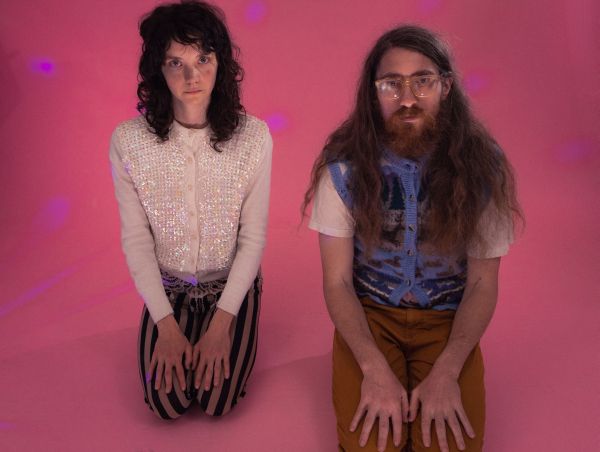 3 July 2019
Origami Ghosts – Photo Credit: MJ Haha
Austin-based (by way of Seattle) indie folk/rock duo Origami Ghosts is comprised of vocalist and guitarist J.P. Scesniak and keyboardist and vocalist Cassandra Wulff. They are preparing to release their new album, Healthy Travel Potions, on July 12th.
The LP is a fifteen-track collection of shimmering, folk-tinged jangle pop, that was recorded by Adam McCollom at Gravelvoice Studios in Ballard, WA (Arcade Fire, Animal Collective, Mudhoney). On Healthy Travel Potions, Origami Ghosts deftly merge the mundane with the fantastic, exploring the magic of the Earth, the complexities of aging, and the inherent joy and meaning that can be drawn from something as simple as sharing a meal.
There's a pervasive thread of of the mystical that runs throughout the album.The pair has created a celebration of nature and spirituality unveiled over a thick haze of jangling guitars, atmospheric keys, and Scesniak's infectious vocal melodies.
The Big Takeover is mighty pleased to host the premiere of the brisk and uplifting "Solitary Beast", a sparkling jangle pop track that marvels at the Earth's beauty and its surreal sway over all its inhabitants.
It's just one page in a 15-year scrapbook of ideas and sounds that Scesniak and various band members have collected in the different iterations of the outfit. Wonder of the natural world and spiritual enlightenment are topics meant to give the sense that maybe, hopefully, that all is not as negative and dire on the planet we co-inhabit.
"These songs are like potions for us," says Scesniak, grinning. "They heal us, in a way."
Pre-Order Healthy Travel Potions
TOUR DATES
July 5 – Seattle, WA at Cafe Racer
Website
Facebook
Twitter
Instagram
Bandcamp