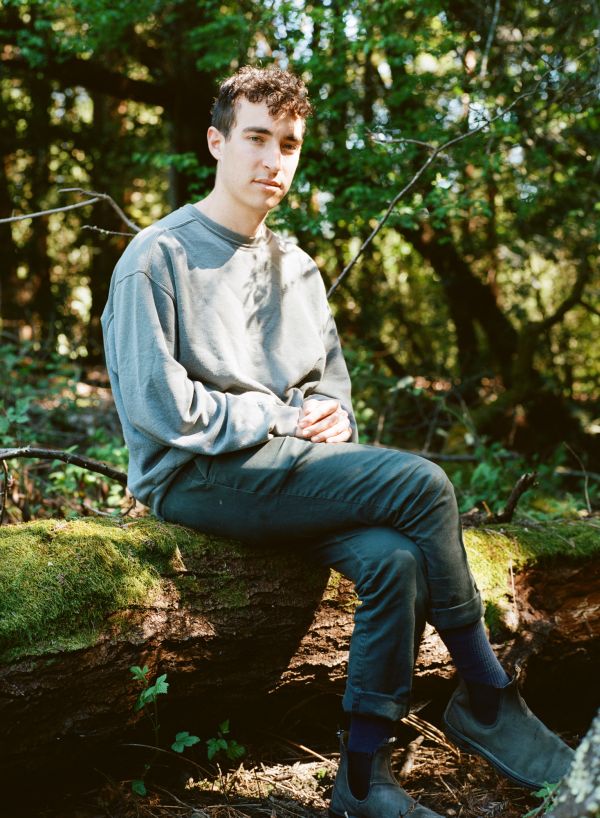 2 July 2019
Adam Hirsch of Abe Hollow – Photo Credit: Ginger Fierstein
Abe Hollow is the new songwriting project of Oakland-based composer and producer Adam Hirsch. His songs are a sublimation of his skills as a multi-instrumentalist and recording engineer, his experimental tendencies toward collaboration and improvisation, and his continual obsession with family history and the mythologies of the Jewish diaspora.
Hirsch's self-produced debut album, A Palace in Time, which arrives on July 10th, emerged from a process of holing up for an extended period in San Francisco's Tiny Telephone Recording (where Hirsch is a staff engineer), and unfolding and re-shaping the songs through spontaneous contributions from over a dozen of his East Bay musical comrades.
The result is what one friend called "a Yiddish gothic trip" —a dizzying to serene journey through Hirsch's interior geography. His music has the airy mysticism of Sufjan Stevens or Big Thief, layered with studio experimentation that recalls Mount Eerie and the freak folk of early Animal Collective.
Singles "Paradise" and "Golden Calf" showcase opposing sonic facets of Hirsch's musical style. "Paradise" is a sprightly guitar-strummed folk-pop track that rides on Hirsch's airy vocal waves. "Golden Calf" features guitar as well, but the pace is measured and the mood is spare and ruminative.
Many of the acoustic guitar-based songs, with subdued synths/strings in the background, radiate a troubadour vibe, including "Abe Is Gone" – until that track opens up with flashes of a fuller sound, including low-blown horn, cymbals crush, and hard drum strikes.
Silky cycles of mellifluous guitar lines, and the occasional pull of strings, flow through the dreamy "Papa", with Hirsch lost in reverie. The album is punctuated by four spoken word tracts, with Hirsch's friend Aaron Goldstein speaking in Yiddish, holding on to an ancient language and putting it to record as a way to preserve Hirsch's Jewish heritage and part of his identity.
Hirsch describes the details and overarching backstory of his album, relating, "Some themes I thought a lot about in making this record include: time travel, family history, the geography of diaspora, liminality, transitions, hallucinations, potential energy, restlessness, the desert, and my great grandpa Abe. These were all pieces of a larger effort to think about how we mythologize our own histories and identities, through telling ourselves stories that could be real or imagined. It was a process that felt like digging into parts of myself I didn't know were there—and in the end, I could have never even broken ground without the dozen-plus friends that contributed their amazing sounds and ideas."
Pre-order A Palace in Time