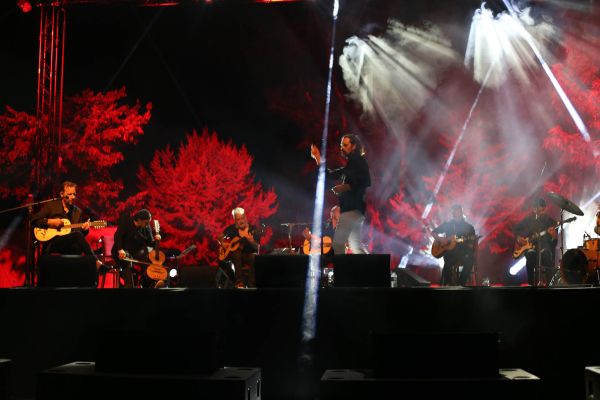 14 September 2021
Lusitanian Ghosts – live – Photo Credit: Ana Isa
It isn't very often that we explore the music offerings of the Iberian Peninsula and even less often that such articles should focus on Portugal. Today we shall take the road less unknown, shall we? We should qualify though that the project we shall introduce to you today is largely based in Portugal – that still counts right? Right…. So let's proceed.
A little-known collective – at least on this side of the Atlantic – we think you should be aware of (and support) is Lusitanian Ghosts, a Portuguese-Canadian-Swedish folk-rock collective. Their music could similarly be labeled Americana, folk pop, jangle folk, indie folk or Americana pop. You can probably create a few on your own, but better to just jump to the punch line – this music ROCKS!
For starters, listen to their new 'Soul Deranium' single, which features ancient Portuguese chordophones and other European string instruments. Lusitanian Ghosts impressively channel tools of the past to create a beautiful sonic vision for us listeners now. Innovative in their use of traditional instruments to make clearly modern pop-rock, this music is upbeat, quirky, feels familiar and is catchy as hell. The fact that this is entirely performed with traditional instruments is mind-boggling.
The delightful "Soul Deranium" dances on the breeze with brisk and upbeat guitar strum, other plucked and jangled strings, thumped drum beats, and light vocals that sway from enthusiastic to yearning emotions.
Soon enough, Lusitanian Ghosts will release their second album Exotic Quixotic through the European Phonographic label. Recorded on analog tape, it was mixed by Sebastian Muxfeldt (Elbow, Peter Doherty, Teenage Fanclub) at Hamburg's Clouds Hills Studios.
Re-casting heritage folk violas into rock and roll songs, the collective writes from a socio-political perspective about building a better world, creating songs from and for the heart and the mind. Their compositions mix indie songwriting with traditional Portuguese instruments like the Beiroa, Campaniça, Braguesa, Terceirense and Amarantina guitars – or violas as they are called in Portugal: each with its own string arrangements and tunings.
Founded in 2015, Lusitanian Ghosts are Neil Leyton, Mikael Lundin (a.k.a. Micke Ghost), João Sousa, Omiri, O Gajo, Abel Beja, Janne Olson and other artists that come and go within the collective. The genesis of the band happened when Neil Leyton brought Micke Ghost a Viola Amarantina from Lisbon to Stockholm, and their subsequently performance in Portugal, opening for Primitive Reason on the Ericeira beach.
Their debut self-titled album, recorded at Portugal's Canoa Studios and produced by Ricardo Ferreira, was a successful experiment in mixing the various regional Lusitanian (Portuguese) chordophones with what has come to be the band's unique brand of singer-songwriter rock n roll.
The feature documentary film 'Lusitanian Ghosts: Making Of the Lusitanian Ghosts debut album – Chordophone Rock n Roll' elucidates on why most of these Portuguese ancient instruments have become forgotten – almost extinct – over time. These historic instruments… they are the real Lusitanian Ghosts.
The first album is novel in that it features ancient Portuguese chordophones over a basic rock and roll setup of guitar, bass and drums, they've now totally done away with the guitars for the new album. This experimental folk-rock singer-songwriter record has only chordophones – the violas Amarantina, Braguesa, Terceira and Campaniça – along with bass and drums. Even the snare was replaced on many songs with the Adufe, a Portuguese square drum.
"Micke sang some great Swedish mambos over this tune, and asked me whether "Deranium" was actually a word in English. "Sure, why not?" I replied. If Marc Bolan can sing about Futuristic Dragons and Cosmic Dancers, I wanna open the album with a reverie song, about the killing of an evil President of the United States whilst engaging in ludicrous amounts of gun totin' self-indulgent passion. All made up, of course. We don't believe in killing anyone, most of the time. Outcomes, outcomes," says Neil Leyton.
"I guess after committing a crime that serious some kind of soul deranium must occur. It's a great opening track for the album. Sets the tone just right," says Micke Ghost.
"This is all Chordophone violas from Portugal – namely the viola Amarantina, Braguesa, Campaniça and Terceira, played by the Lusitanian Ghosts collective including Canadian-Portuguese artist Neil Leyton, Micke Ghost (the first Swede to play the viola Amarantina!), Vasco Ribeiro Casais aka OMIRI (Portugal), Abel Beja (USA/Portugal, viola Terceira from the Azores), João Sousa on drums (sometimes replacing the snare with the Portuguese square drum Adufe) and Jan-Eric Olson on bass. But not just bass! Janne borrowed O Gajo's viola Campaniça for some extra dark licks. Chordophone rock n roll, Alt-Folk, Urban-Country-Folk, however it gets labelled what should come across are the humanist messages in these songs."
'Soul Deranium' is out now, available everywhere online and can be found at Spotify. Now we can look forward to the Exotic Quixotic album, slated for release on November 19, which can be ordered at Bandcamp.
ALBUM CREDITS
Neil Leyton: Lead vocals
Mikael Lundin: viola Amarantina, backing vocals, bass, Mellotron, viola Campaniça. Lead vocals on 'Exotic Quixotic' and 'Hometown'
João "Johnny" Sousa: drums and Adufe
Vasco Ribeiro Casais: viola Braguesa
Abel Beja: viola Terceira
Jan-Eric Olsson: bass and viola Campaniça
All songs by Neil Leyton and Mikael Lundin aka Micke Ghost
Published by Lusitanian Music Publishing
Recorded at Clouds Hill Studios, Hamburg
Engineered and Mixed by Sebastian Muxfeldt
Produced by Neil Leyton and Mikael Lundin
Mastered at Soundgarden by Florian Siller
Cover Illustration by Johan Lindberg Brusewitz
Do also take in their latest two singles, also to be found on their upcoming album, as well as the inspiring documentary film 'Making Of Lusitanian Ghosts debut album'
Lusitanian Ghosts
Website
Bandcamp
Facebook
Twitter
Instagram
YouTube
Spotify
Apple Music