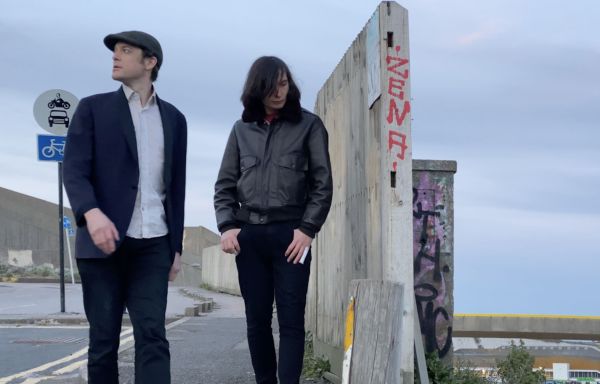 14 September 2021
Nick Hudson and Kianna Blue – Photo Credit: Adrian Goycoolea
An artist who has been turning heads and reaching more and more welcome ears over the past few years is Brighton's rising singer-songwriter Nick Hudson – also a composer, writer and painter. Of course, as a music magazine, we know him foremost as a solo artist and also frontman of The Academy of Sun.
Tomorrow is a big day for Hudson, who will be self-releasing his K69996ROMA:EP on and he has come to the table with a bonus gift – not just a regular music video, but a royal treat of a short music film for the EP's lead track 'The Ballad Of K69996 Roma', created by innovative and socially-conscious Brighton filmmaker Adrian Goycoolea.
'The Ballad Of K69996 Roma' transposes a conscience upon the slick Alfa Romeo car that was owned by and weaponised in the 1975 murder of queer Marxist filmmaker, poet and essayist Pier Paolo Pasolini. This is echoed in the accompanying film, which features Hudson himself as the protagonist and bandmate Kianna Blue (who also performs score transcription, keys and synth on this EP) as the antagonist.
This single was originally released on the Font Of Human Fractures album, released earlier this year – Hudson's first album in five years and his first solo studio LP since Ganymede In A State Of War (2016). But with so many fantastic tracks on that album, it may have gotten buried in the noise, so to speak, and certainly is worthy of its own stage…. Enter the K69996ROMA:EP.
"This new release is the shadow cast in the desert by the brutalist garret of _Font Of Human Fractures – like 'Amnesiac' to its 'Kid A', if you will. This takes the Pasolini-inspired 'The Ballad Of K69996 Roma' from that record and refracting it through a prism of gay communist black metal chamber electronica,"_ says Nick Hudson.
"While cinema has always been pivotal to my work, it's never been stronger than here, with references to Alain Delon, French cine-essayist Chris Marker, and the aforementioned Pier Paolo Pasolini, scattered throughout."
The EP consists of 8 diverse tracks, including 'Asymmetric: A Forgery', a track that was originally composed and recorded for Font Of Human Fractures, but was omitted due to running time restrictions on the vinyl edition. 'The Florist', co-written with Kianna Blue (The Academy of Sun), proposes a kind of metaphysical tabula rasa, as the protagonist self-immolates in a flower shop, and ascends.
"Channeling Pasolini's communism, and the contradictions within his own 'brand' of it – alongside my own contemporarily-heightened anxieties and allegiances – the political angles are sharper on this release than on others. As such it felt right to include my interpretation of Robert Wyatt's beautiful 'Amber And The Ambergrines' in the set," says Nick Hudson.
Nick Hudson is a prolific figure on the UK underground music scene. Apart from fronting art-rock band The Academy Of Sun, who released their dystopian epic The Quiet Earth last year to critical acclaim, Nick's vast output also encompasses painting, film, and a recently-completed novel.
Hudson has also collaborated with Wayne Hussey (The Mission) and Matthew Seligman (Bowie, Tori Amos, Morrissey), members of Kayo Dot, David Tibet (Current 93), Asva and queercore icon GB Jones. As The Academy Of Sun, he's also collaborated with Massive Attack's Shara Nelson. Having toured 3 continents, highlights include appearances with Mogwai, Toby Driver and Keith Abrams (Kayo Dot), and Timba Harris (Mr Bungle, Amanda Palmer).
K69996ROMA:EP will be released digitally and as a hyper-limited edition 4-panel CD digipak of 50 copies, 25 of which will be presented in an ACAB-silkscreened metallic gold envelope, with a bonus track in the form of a score booklet, printed on Nepalese floral paper and featuring an original miniature artwork by Nick Hudson. This and Hudson's other music and artwork can be ordered at Bandcamp.
CREDITS
Nick Hudson – Piano, programming, vocals
Lizzy Carey – Strings on Track 1
Kianna Blue – Score transcription, keys and synth
Juliet Russell – Voice of Anna Magnani on Track 1
All tracks produced, performed and mixed by Nick Hudson
K M Abrams – Mastering (Tracks 2,3,4,6,8)
Paul Pascoe – Mastering (Tracks 1,5,7) at Church Road Studios
All tracks written by Nick Hudson, except for 5 (written by Robert Wyatt and Hugh Hopper) and track 8 (written by Nick Hudson and Kianna Blue)
Cover artwork by Julian Kenning
'The Ballad Of K69996 Roma' video directed by Adrian Goycoolea.
Also do enjoy two great videos for two beautiful songs he released in spring on the Font of Human Fractures LP, the first of which was directed by renowned Scottish writer Ewan Morrison, featuring Kayo Dot vocalist Toby Driver on vocals, and the second of which was filmed amidst the brutalist post-Soviet architecture of Bulgaria.
Nick Hudson / The Academy of Sun
Facebook
Bandcamp
Instagram
Twitter
YouTube
Spotify