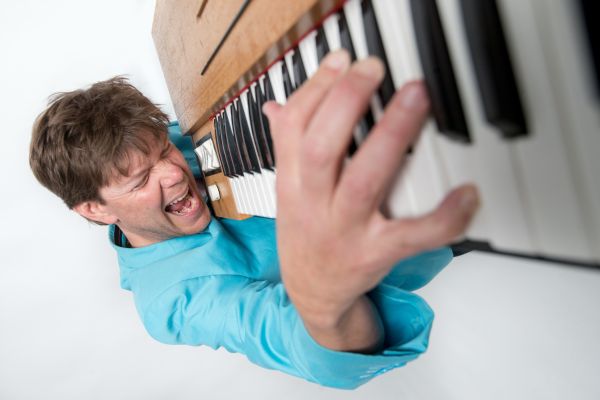 25 February 2020
Kyle Hollingsworth – 2020
Kyle Hollingsworth, keyboardist of the renowned and beloved band The String Cheese Incident, has started the new decade with a fresh batch of songs. Appropriately titled 2020, Hollingsworth's new EP ranges stylistically from the Emerson, Lake & Palmer-influenced prog organ tunes to West Coast soul and hip album rock.
2020 arrives on February 28th via SCI Fidelity Records. Lead single "Tufnel's Retreat" was recently premiered at Relix. It was originally meant to be a String Cheese Incident song, but finally came to fruition with the help of Hollingsworth's solo project. Hollingsworth also released his second single from the album, "Live Forever," via Jam Base a couple of weeks ago.
About 2020, Hollingsworth states, "With this EP, I was just throwing out a collection of songs that speak of where I am right now in my writing, just a fun project to bring in the new decade. From old school prog rock to '90s alt grunge…Hope you enjoy it."
Ahead of the EP release, Hollingsworth is dropping a special cover song of Vampire Weekend's lyrics-heavy "Step" from 2013. The Big Takeover is excited to host the premiere of Hollingsworth's take on the track, where he adds a fresh twist of psychedelia to the crisp, yet wistful original. Squelchy, bottom-end keyboard notes, a smattering of handclaps, and peppier, but hazed vocals give the song an added dimension.
Hollingsworth explains how he picked "Step" to cover, revealing, "I discovered Vampire Weekend a few years back with the album Modern Vampires of the City. I was really blown away by the production and songwriting. I love when albums challenge my ear and my mind. "Step" came to mind as a cover idea because of its deep instrumentation and fantastic lyrical imagery. I thought it would be fun to try a different take on this tune."
TOUR DATES
Feb 27 at Klondike Mike's Saloon & Road House BBK | Palmer, AK
Feb 28-29 at Alyeska Resort & Hotel | Anchorage, AK
Mar 6 at Fox Theatre | Boulder, CO
Mar 7 at Ullrs Tavern | Winter Park, CO
Apr 4 at Charleston Pour House, Charleston, SC
Apr 10 at Washington's Sports Bar & Grill | Fort Collins, CO w/ Joel Cummins, The Jauntee
Apr 11 at Cervantes Masterpiece Ballroom | Denver, CO w/ Joel Cummins, The Jauntee
Apr 30 at Goodfood Pub & Lounge | Portland, OR
May 5 at Nectar Lounge | Seattle, WA
May 21 – 22 at Summer Camp Music Festival | Chillicothe, IL
May 23 at Harmony Park Music Garden | Ellendale, MN
Jun 14 at Hog Farm Hangout | Laytonville, CA
Website
Facebook
Twitter
Instagram