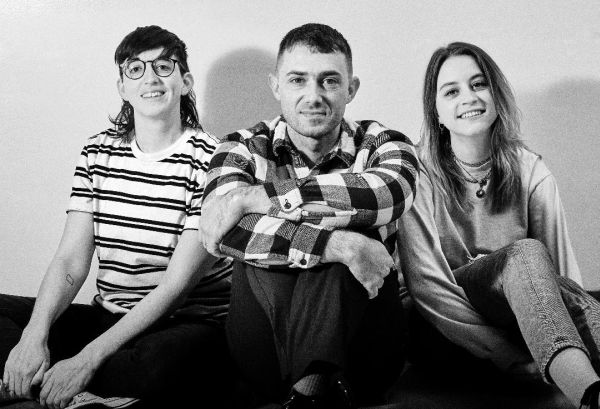 24 February 2020
Freezing Cold – Photo Credit: Darren Nanos
New York-based indie/punk rock band Freezing Cold recently released their debut album, Glimmer, via Salinas Records. The LP should appeal to fans of earnest storytellers like Lemonheads, Weakerthans, Sebadoh, and Archers of Loaf.
Glimmer not only introduces us to a band at the beginning of their stride, but also to a group of individuals with a passion for their craft. The album was recorded and mixed by engineer, producer, and recording artist J Robbins (Against Me!, Promise Ring, Lemuria, Jawbox) at Magpie Cage Studios in Baltimore.
Freezing Cold came together in early 2017 as friends. Jeff Cunningham (guitar, vocals), Angie Boylan (drums, vocals), and Nick Rice (bass) have all known each other for years, having spent time growing up together in the New York DIY music community in bands like Bridge and Tunnel, Weed Hounds, and Aye Nako. Boylan might also look familiar because she's been behind the drum kit for Sleater Kinney on recent tours. Leanne Butkovic from the band Never is a new addition to the band, replacing Rice on bass.
The Big Takeover is excited to host the premiere of the video for "Teenage Insights," a vibrant and heartfelt track off Glimmer. The fun narrative video, which was directed by Brendan McKnight, follows three teenage girls on a typical rites-of-passage day as they prep to go see their favorite band play live.
The suburbs-residing girls get (s)toked and get the munchies, watch some TV and chat, spin their fave band's disc, and then pile in the car later on for a drive into the city. They get a guy to buy them some alcohol and the girls get silly, spending their time hanging out on the streets.
They see a flyer for the show they want to go to – and realize a lot of time has flown by. So they break into a run to get to the venue in time and… watch to find out the whole storyline:
Order the Glimmer at Salinas Records
SHOWS:
3/12/20 New Brunswick, NJ w/ Glazer, Ogbert the Nerd, and the Ozarks
3/13/20 Ridgewood, NY w/ Radiator Hospital and Quaker Wedding (Info at Facebook)
3/14/20 Philadelphia, PA w/ Field Mouse, Iffy, and Unclaimed Diamonds
4/30/20 New Haven, CT
5/2/20 Boston, w/ Dump Him, Me In Capris, and Little Musket