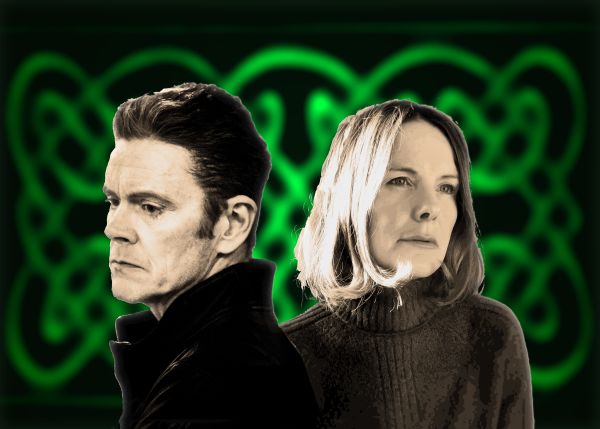 11 May 2021
Chris Connelly – Photo Credit: Derick Smith; Monica Queen – Photo Credit: Johnny Smillie; Composite image by Alexander Kretov
It's always nice to be privy to an artist's plan well ahead of their realization. It's even cooler when the said artist happens to be a musical legend of sorts, meaning with respect to multiple genres at once.
The artist in question – Scottish alternative music legend Chris Connelly and, whose latest project has yet to see the light of day publicly. We do have the honor of being the ones to reveal what he's been getting up to for the past few years with Scottish vocalist Monica Queen (Thrum, Belle & Sebastian).
The two noted artists have been collaborating on a new concept album, titled The Birthday Poems, which is a fictionalized account of the romance between Scottish personalities Stella Cartwright and George Mackay Brown, and their friendship with Stanley Roger Green.
If this sounds overly Scottish for in content for your taste buds, let's just say that this will fit elegantly in the playlists of fans of such artists as Leonard Cohen, Nick Cave, Lou Reed, Scott Walker, Jackie Leaven, and even David Bowie.
Today we present 'Tae The Poets', their first offering from the upcoming 18-track album. While Stella's voice is sung by the incomparable Monica Queen throughout the album, this first taster features vocals by Connelly. On his part, he delivers a perfect performance, somewhat recalling Joe Strummer on 'London Calling', which can only be taken by anybody as a compliment.
The sauntering beat follows Connelly down the street as he confidently unfurls his storytelling spoken word vocals. The chorus is punctuated with his enthusiastically exclaimed vocals, even as the instrumentation maintains its swaying rhythm.
There is a certain endearment here and the song pulls you into the different world – a world of yesteryear, a world experienced on familiar Caledonian corner pubs, the world of the character Connelly and Queen have dedicated this album to.
Named for the poems that George would write for Stella every birthday until she died, _The Birthday Poems'_is a song cycle based on the relationship between celebrated Scottish poet and author George Mackay Brown and his muse Stella Cartwright. It also addresses the platonic relationship between Stella and the Edinburgh born poet Stanley Roger Green, spanning three decades (from the mid 1950s until Stella's tragic and untimely death in 1985).
Despite the current lockdown situation, 2021 is actually great timing for the release of this album, it being the 100th birthday of Scotland's internationally recognized poet George Mackay Brown. Thus, this album represents a sometimes overlooked but very important part of Scottish culture.
Stella started going out with Mackay Brown, with whom she had a deep relationship that turned into a friendship that endured from the '50s until her death in the '80s. It was not always a happy one – neither of the pair were particularly happy, and their love of whisky did not help.
"While she had relationships with many of the poets who would haunt the bars of Edinburgh's Rose Street during the '50s and 'early '60s, her love of literature, art and culture was insatiable, she was never given credit or encouraged in her own art and expression. I hope that this album illuminates the beautiful treasure that she was, and how hugely significant she is to Scottish literature of a certain era. As a child and younger man in Edinburgh, I walked the same streets, drank in the same bars and walked the same hills. I was also lucky enough to be close friends with Stanley Roger Green's children, who, highly creative in their own ways, greatly informed and inspired my life," says Chris Connelly.
This album is produced by 30-year Connelly collaborator Chris Bruce, a long-time musical partner and band member of Meshell Ndegeocello, who has also worked with Seal, Aaron Neville, Bob Dylan, The Waterboys, My Brightest Diamond, Cheryl Crow and Sam Phillips, amongst others. This album also features strings by Dave Eggar and sax by Levon Henry, as well as contributions by Blake Collins and Phil Faconti.
While Monica Queen may have fronted early '90s band Thrum and released a couple of mellow, introspective albums under her own name with her partner John Smillie, she has gained a reputation as Glasgow's guest vocalist of choice. Her formidable voice is now familiar all across the music scene thanks to her vocal turn on Belle & Sebastian's much-loved 'Lazy Line Painter Jane' single.
For Chris Connelly, art only moves forward. For almost forty years, he has completed creative pieces ranging from the triumphant to the tragic, from the humble to the hilarious – each time promptly moving on to seek his next inspiration.
Since his nascent beginnings with FiniTribe in his native Edinburgh, Connelly has in excess of twenty solo releases, impressing with their beauty, diversity, earnest intent and wit. He is also a frequent and keen collaborator with other musicians, building on long-established projects with Ministry, The Revolting Cocks, and Pigface by evolving and contributing to newer collectives such as Cocksure and The Joy Thieves.
As an explorer of art as a broader endeavor has also issued four books, encompassing the realms of poetry, autobiography, and fictional narrative. For Connelly and Queen alike, The Birthday Poems project feels like the beginning in such an exciting way.
As of May 14, 'Tae The Poets' will be released via Jnana Records and available everywhere digitally. The full album The Birthday Poems will be released on June 15, and can pre-ordered HERE.
To celebrate the release of this album, Connelly will perform a short run of limited-seating shows in Chicago, two of which have already sold out. 'An Evening with Chris Connelly' will feature performances of songs from The Birthday Poems, as well as stories associated with Connelly's discovery and investigation of the relationship which inspired the album. An online event is also in the works. Links to all events can be found HERE.
CHRIS CONNELLY
Website
Facebook
Twitter
Instagram
YouTube
Bandcamp
Soundcloud
Spotify
Discography
Bibliography