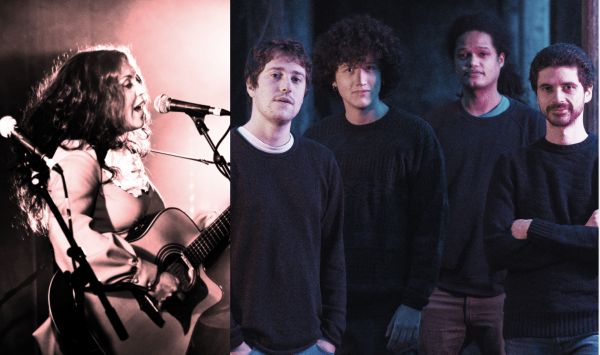 11 May 2021
Lori Sky – Photo Credit: Ryan McEwan; Bilbosa – Photo Credit: Beatrice Fanari
Oh my, Italy is sure hot these days – loads of new music output (I know we've said it before). Today we are the lucky ones to offer you a first listen to 'Neon', the new single from indie pop-rock collective Bilbosa.
Purveyors of instrumental dreamrock-tinged soundscapes, this track happens to involve a guest appearance that shakes things up in the best way possible. Any fan of Ireland's Delores O'Riordan (The Cranberries), Scotland's Amy Macdonald, or England's Florence and The Machine will be pleased with this particular sonic slice.
This track is the first taste of Ayla, their four-track EP slated for release in mid-June via Seahorse Recordings. But how is this possible, you might ask? With the help of Scottish-based Irish singer-songwriter Lori Sky, who contributes both vocals and lyrics.
'Neon' is impeccable in every way – delivery, composition, emotion, depth and production. Major credit to all those involved in this effort. It's quite a pleasure to hear the voice of Lori Sky fill the cavernous hole that was left behind with Delores O'Riordan's passing. It's encouraging to see her walk the sonic bridge between her native Ireland and newfound home of Scotland. It's equally as inspiring to discover this track, a creation of international forces between this Celtic daughter and these Italian sound maestros.
On "Neon," fizzy synths mix with a peppered drum beat, restless percussion and rhythm, a dancing guitar line, and Sky's emotively heartfelt, yet direct vocal delivery.
Hailing from Genoa in northern Italy, Bilbosa are David Carroll (guitar), Stefano Pulcini (guitar and synth), Daniele Ferrari (bass and synth), and Gabriele Gennaro (drums). Formed in 2016 from the ashes of their former band Chaos Del Signor Gaza, the remaining four musicians spent much energy collaborating, jamming and trying to understand what musical route to take. Finally, they desperately decided to lock themselves in a recording studio in 2018, resulting in the recording of their first official album, Diamond Dust, which they released in December 2020.
Formerly writing under the name Lorraine McCauley, Scottish-based Donegal-raised Lori Sky offers a powerful new voice and perspective on the arts scene, making music for the soul and senses. Performing at Irish Feis since the age of four, she formed her first band while living in Japan. Following her 2010 debut solo EP Haunt Me, she formed Lorraine McCauley & The Borderlands and debuted with album Light in the Darkest Corners in 2012, tipped as the next Scottish contemporary folk breakthrough. After returning to university for her master's degree, in 2014, she began an artist residency in songwriting and singing with La Banda di Piazza Caricamento in Genoa, where she met and collaborated with Bilbosa's David Carroll, sowing the seeds for this new single.
"I saw the 'Neon' music as a bright light, like the love that a close relationship brings into your life. So I ended up writing this song to celebrate my Mum, who I had just lost. The music helped me to express what I was learning about grief, that when you allow yourself to feel the pain of loss you are more able to appreciate and understand the love," says Lori Sky.
"Covid forced us to become more creative in how we collaborate with others. As a band, we wrote the music and then sent it to Lori Sky, an Irish singer-songwriter. Lori listened to the track and wrote lyrics to the song, which are very personal to her and yet, there are very universal themes here about love, loss and grief," says David Carroll.
"We all shine our own light and reflect that light to others that care for us and are near us. There is a very close connection with the bright light and those close relationships that we have. Even when we lose those we love, they will always be with us in spirit and that light will never leave us and still affects us. There are other cases though where, to feel alive and connected to the world, he has to emulate that bright light with 'manmade' Neon light. Emulating that bright light that surrounds other people is no easy task, so tapping in our personal Neon light could give us the boost that we need to finally find that shiny bright light again, that we were all born with. In the world we live in, even our smallest action or deed could make somebody else's day and give a little boost to that light that they own."
As of June 3, 'Neon' will be released by Seahorse Recordings and made available everywhere in the wide expanse of the digital music realm. The full Ayla EP will be released on June 18.
CREDITS
Written by Bilbosa and Lorraine McCauley (Lori Sky)
Lyrics and vocals by Lorraine McCauley (Lori Sky)
Music performed by Bilbosa
Produced, recorded and mixed by Tristan Martinelli
Mastered by Mattia Cominotto at Greenfog Studio (Genoa, Italy)
Cover artwork by Stefano Pulcini with Jellyfish sculpture by Gabriele Gennaro
BILBOSA
Facebook
Bandcamp
Instagram
SoundCloud
YouTube
Spotify
Apple Music
LORI SKY
Website
Facebook
Instagram
Twitter
SoundCloud
YouTube