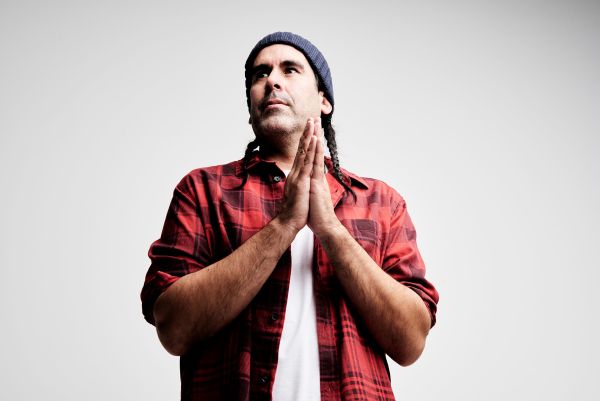 9 November 2021
Nevaris A.C. of Loud Apartment – Photo Credit: Michael Black
With last year's release of Loud Apartment's 'System Breakdown' album doing as well as it did, it's no wonder that they are back already so soon with a new album. We wrote about them at the time HERE As with last time around, legendary bass player and producer Bill Laswell worked with the NYC-based funk art collective.
The new album is optimistically named 'New Future' and it is their third major release. Ahead of that, we present the lead track 'Technology', conveying the thoughts of frontman Nevaris A.C. on this topic and its gross misuse (and useful prospects) for the people.
Loud Apartment, even when protesting, come through with a proper and much-welcome dose of sanguinity much needed in today's society – serving up highly vibrant sonic excellence that expounds the human possibility for expansion and evolution. 'Technology' follows suit and, if this is indicative of the goodness found on the rest of this album, that would be a true blessing.
This is the sound of New York Fusion – a blend of sounds that have Funk as a core ingredient. Largely influenced by music from the '70s and early '80s, this is actually a modern sound that pays respect to the music of New York. For this release, Bill Laswell created three Dub mixes from the tracks, which were designed as the second side of the vinyl pressing. These mixes create a sonic landscape reflecting on the themes of 'Technology', 'Rebellion' and 'Rhythm and Rhyme'.
Their unique NYC fusion of funk, soul and rock with Latin, reggae, dub and hip hop influences is inspired by growing up on the old upper west side. Influenced by such artists as Parliament-Funkadelic, Miles Davis, Santana, Gil Scott Heron, Mongo Santamaria and Ray Barretto, their sound embodies the intersection of culture that is New York City, loose enough to give room for improvisation and extended grooves.
"The album looks to the future with hope but not in a naive way. There's a lot of trouble in the world right now especially with regards to the environment and human rights. It's an urgent plea for radical change and a different world. A new future," says Nevaris A.C.
"As the lyrics read, "technological revolution can bring solutions / innovation creation no degradation no pollution / too much exploitation from the governments and corporations / privacy invasion intrusion and manipulation.
Formed by Nevaris A.C. (voice, percussion, keyboards), the band also currently includes Bill Laswell on bass, turntablist DJ Logic, Peter Apfelbaum (flute/sax), guitarist Will Bernard and drummer Lockatron. Iconic Jamaican-born NYC-based artist Garrison Hawk, long-term collaborator of Tricky and Sly & Robbie, also contributes to this record on the trail of his own album 'The Adrenaline' and we premiered a music video for a track off of the LP HERE (a release that also involves Nevaris A.C. himself).
The band debuted in 2012 with their 'Get Up Get Down' LP, mixed by Bill Laswell and featuring Bernie Worrell (P-Funk, Talking Heads), who also appeared with them for live performances at Galapagos Art Space, Drom, and Public Assembly in NYC.
In 2019, Nevaris approached Bill Laswell about working with him and drummer Lockatron on new material. From the first time playing together in the studio the new project took off.
'Technology' is now available via Bandcamp and is also being offered as an instant-grat download upon ordering the full 'New Future' album. On December 10, this long-player will be released digitally across platforms such as Spotify and Apple Music, and can also be pre-ordered HERE
TRACK LIST
1. Rhythm and Rhyme
2. Technology
3. Blessing
4. Rebellion
5. Dub Rhythm
6. Dub Technology
7. Dub Rebellion
ALBUM CREDITS
Nevaris A.C.: voice, electric piano, hammond organ, congas, percussion
Bill Laswell: bass
DJ Logic: turntables
Lockatron: drums
Will Bernard: guitar
Peter Apfelbaum: tenor saxophone, flute, melodica
Garrison Hawk: vocals on 'Rebellion' and 'Dub Rebellion'
Produced by Bill Laswell
Created at Orange Music, West Orange, NJ
Engineered by James Dellatacoma
Mastered by Michael Fossenkemper at Turtletone Studio, NYC
Cover Illustration by José Ortiz
All songs written by Nevaris and Bill Laswell except 'Rebellion' and 'Dub Rebellion'
by Nevaris, Bill Laswell, and Garrison Hawk
Horn arrangements by Peter Apfelbaum.
Loud Apartment
Website
Bandcamp
Facebook
Instagram
SoundCloud
YouTube
Spotify
Apple Music