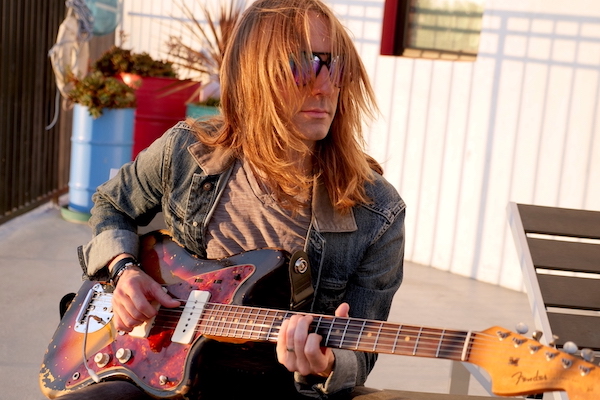 25 March 2022
Taylor Barefoot — Photo Credit: Steve LaBate
Shoe-gazing singer/songwriter Taylor Barefoot is priming a new album for release on April 8 — but the Big Takeover has an early peek at the record with "Why So Serious," a new song we're premiering today.
The self-effacing, cinematic escape anthem lifts off, fueled by cautious optimism, before expending all its triumphant energy in a highly combustible bridge section that coasts on anxious fumes to a static-drenched landing.
The album on which it will appear, Distressed Signals, was born of a desire for something more. Its roots lie in a turbulent move from Boston to Los Angeles, the painful dissolution of a past relationship and the promising start of a new one, the isolation of the pandemic, a temporarily crippling bike accident and, ultimately, a newfound resolve, forged in fire, that took Barefoot from sideman to solo artist, while allowing him to musically and psychologically confront a once-paralyzing mix of depression and anxiety.
"The excitement of the bridge was me trying to capture what it felt like leaving behind my life in Boston and moving to L.A.," Taylor recently told the Big Takeover. "I didn't have a place to live, I didn't know where I was gonna end up — but I was on a plane to L.A., and it felt good to leave all the sadness behind.
"Of course, it follows you," he continued. "I remember taking off and being so excited just being shot down the runway at a couple hundred miles an hour. But it's a long flight to L.A., so the feeling wears off. There's triumph in the bridge, but for the rest of the song, anxiety is always percolating. The title 'Why So Serious' is a bit of self deprecation."
A transcendent emotional odyssey of a record, Barefoot's solo debut, Distressed Signals, is at once ethereal and bracing — an effortless fusion of shoegaze, dream-pop and post-rock. Layers of gauzy, beautifully flawed, effects-laden guitar pour from the speakers over gently pulsing sampled beats and analog drum machines, unfolding cinematic dreamscapes both magnificent and forlorn.
Get an earful of "Why So Serious" right here: