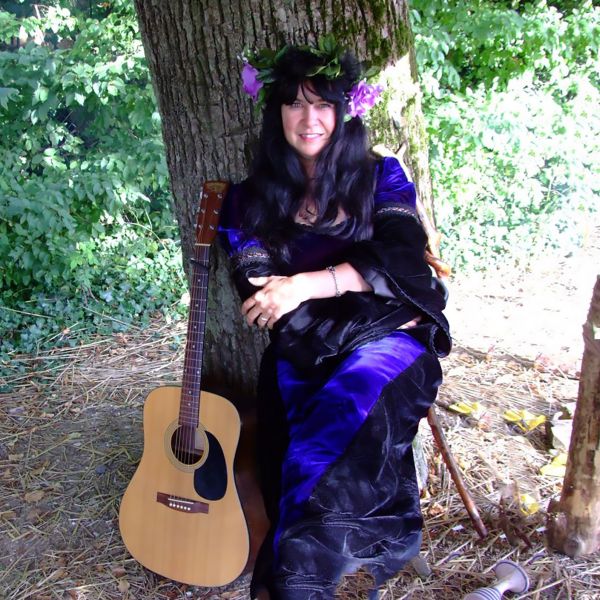 26 March 2019
Kim Thompsett – Photo Credit: Ben Sharp
In the early '90s, when Loreena McKennitt was taking North America by storm and even folks in Caledonia and Albion were becoming aware of her uniqueness, it was not yet known just how big interest in Celtic music would be. Fast forward to 2019, where we discover British songstress Kim Thompsett.
A genuine gem in the world of folk music, Thompsett has announced her second album The Hollows, from which we present you the first single 'Woebetide Hill'. While her craft is partially rooted in Celtic ways, her art extends beyond to also encapsulate medieval and old English folk music. Clearing wearing her roots on her sleeves, she creates fantastically unique folk compositions in her own right.
Four years in the making, this record explores themes that are rooted in nature, mysticism and the arcane. Apart from McKennitt, other immediate mind associations include the likes of Pentangle, Kate Bush, Sandy Denny, Mediaeval Baebes and Jacqui McShee.
Her songs celebrate ancient connections with forest, with earth, with sky and with water – the shedding of ego and an immersion in the universe. In doing so, she summons source and becomes one with her music, conveying this in ultimately positive frequencies.
The Big Takeover is under Thompsett's spell and hosts the premiere of her enchanting story-telling track "Woebetide Hill". Thompsett's spins a beguiling web of subdued instrumentation, from low-key drum thump and percussion to bittersweet violin ache and gleaming and reverberating patterns of acoustic guitar lines. Thompsett delivers her vocals softly, but assuredly, with a hint of warning to her warm and rich tone.
'Woebetide Hill' is a convincing and captivating work that gets under your skin and leaves you eager to hear the full album. It is also a track that leaves you intrigued as to how her mind works to create such brilliant music in modern times and perhaps even ethnic and time lineage of its influences. It sounds like ancient folklore, but is coming from the mind of this very lively musical architect.
"Woebetide Hill tells the tale of a meeting of initiates on a well-guarded moonlit hill, where the circle is drawn and a dance with a cloven-footed entity ensues," says Kim Thompsett.
"I was just noodling by an open fire in a pottery workshop where I used to hang out, with an autumnal wind wuthering around, and it just came together. The concept of Woebetide Hill is that it is not a place not for the faint-hearted to attempt to climb. Maybe it represented a challenge presented and a 'girding of the loins' or determination to overcome it."
Credit for recording, mixing, mastering and production of this album goes to Harvey Summers at Broadoak Studios in Bexhill, East Sussex, who is well known for his work with Sir Paul McCartney, Daniel Lanois, Moby, Steeleye Span, Pentangle, Ellie Ford, Danny Thompson (Kate Bush, Peter Gabriel, Nick Drake, Pentangle), Hossam Ramzy (Peter Gabriel, Led Zeppelin), Cutting Crew and Divine Comedy, among others.
The Hollows is the long-awaited follow-up to Songs from the Uglee Meadow, her debut album, released in 2008. Like that album, The Hollows evokes an archaic atmosphere and nuances of Celtic and medieval times. while branching out into new territory with a more diverse range of instrumentation and more sophisticated production.
"I wanted to make an album that was primarily something I would enjoy listening to. If other people like it too, that's great. Having come to fruition some ten years after the debut album, I wanted to ensure it was a natural progression from the previous work and that the songs were manifested in the fully-developed compositions that only the songwriter can hear during the creative process," says Thompsett.
"I approached Harvey Summers, who conveniently runs a studio near me, and he was ultimately empathetic with the kind of music I wished to create. He 'got it' immediately and after a very brief introduction we started work. Harvey's sensitivity to the kind of soundscape I wished to create has been present throughout our sessions making decisions on arrangements, instrumentation and feel of the album very easy to conclude."
Kim Thompsett has several decades under her belt as a songwriter and performer. Her music has attracted a niche following of primarily pagan and traditional folk music fans with a penchant for nature and literary references.
Jethro Tull, Black Sabbath and Paul Giovanni (The Wicker Man soundtrack) number among her musical influences, as do Circulus, Gong, Pamela Wyn Shannon, Beck Sian, Hexvessel, Cara Dillon, The Strawbs, Fairport Convention, Les Derniers Trouveres, Omnia, Priscilla Hernandez, Pentangle and Steeleye Span.
As of April 30, the 'Woebetide Hill' single will be available across online stores. Then on May 31, The Hollows album will be released via Meniscus Hump Records on vinyl, CD and digitally. It can already be pre-ordered via Bandcamp
SINGLE CREDITS
Kim Thompsett – guitar, vocals
Lee Igglesden – guitar, bass, djembe
Garry Blakeley – violin
Will Summers – flute
Harvey Summers – synth, effects
Recorded, mixed, mastered and produced by Harvey Summers at Broadoak Studios in Bexhill, East Sussex
Artwork by Natalia Drepina
TRACK LIST
1 Moonchild's Lullaby
2 Snowbound
3 Soul Song
4 Woebetide Hill
5 Child of the Breeze
6 Strange Garden
7 Brocéliande
8 Hollow Hill
9 Hollow Tree
10 Say it with Flowers
11 Woebetide Hill (single)
Please also enjoy 'Snowbound' from this album, which she earlier released as a single, and 'Lord and Ladies' off her debut album
Kim Thompsett
Facebook
YouTube
Soundcloud
Bandcamp
iTunes
CD Baby
Spotify